I'd been told that Lakeland is "in the middle of No-where" — but I think it's actually smack in the middle of "Where"! Located roughly mid-way between Orlando and Tampa, it's a pleasant, easy-to-get-to small city with a terrific small art museum.
The Polk Museum of Art is affiliated with both the Smithsonian and Florida Southern College, resources that allow this small museum to seem bigger than it is. Once housed in a former Publix supermarket building, the Polk Museum of Art has resided in a spacious purpose-built home since 1988.
The Polk, which celebrated its 50th anniversary in 2016, has a growing permanent collection — now more than 2500 objects, including works by Rembrandt, Warhol, Faith Ringgold, Picasso, James Rosenquist, Barbara Kruger, Chagall, Damien Hirst and Hung Liu — and a rich special exhibition program.
At the time of our visit, exhibitions of the work of Edgar Degas and Will Barnett were up, following on the heels of shows of Chagall and Romaine Brooks, which had recently closed.
As we stepped into the light-washed, barrel-vaulted lobby, a cheerful young woman called out a friendly "good morning" and announced that "entry to the Polk is always free." What a nice welcome!
Five major collection areas
Art of the Ancient Americas was one of the earliest collecting areas, and holdings now feature ceramics, textiles, stone carvings and precious metal pieces — dating from c. 800 BCE to c.1500 CE — from many cultural groups in Central and South America.
The Asian Art collection includes Korean Silla-period ceramic and metal objects, dating from 300-900 CE, and a portfolio of rare 19th-century Japanese woodblock prints by Tsukioka Yoshitoshi depicting the Thirty-two Aspects of Women.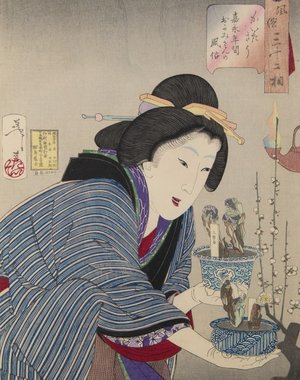 The Polk's collections are diversified with holdings of African Art, European Decorative Arts, and Modern and Contemporary Art, including the recently-acquired figurative American art collection. The museum is noted for its Student Gallery which features several exhibitions per year of artwork by Polk County School District students. One piece is purchased by the Museum from each show for its Student Collection.
Current Special Exhibitions
We had planned to head straight for the main exhibition galleries to see the special Degas and Barnett shows, but we were waylaid by a series of small equine sculptures and works on paper by William Schaaf.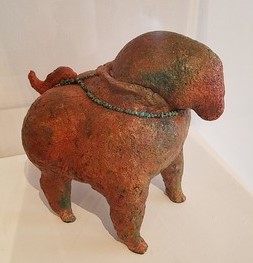 For almost 50 years Schaaf has explored horse imagery as an iconic symbol for power, sensuality, and beauty.
The work — while exuding contemporary energy — springs from historical references to cave paintings in the Dordogne in France, as well as ancient Greek sculpture, Native American fetishes, and Asian arts including T'ang Dynasty ceramics.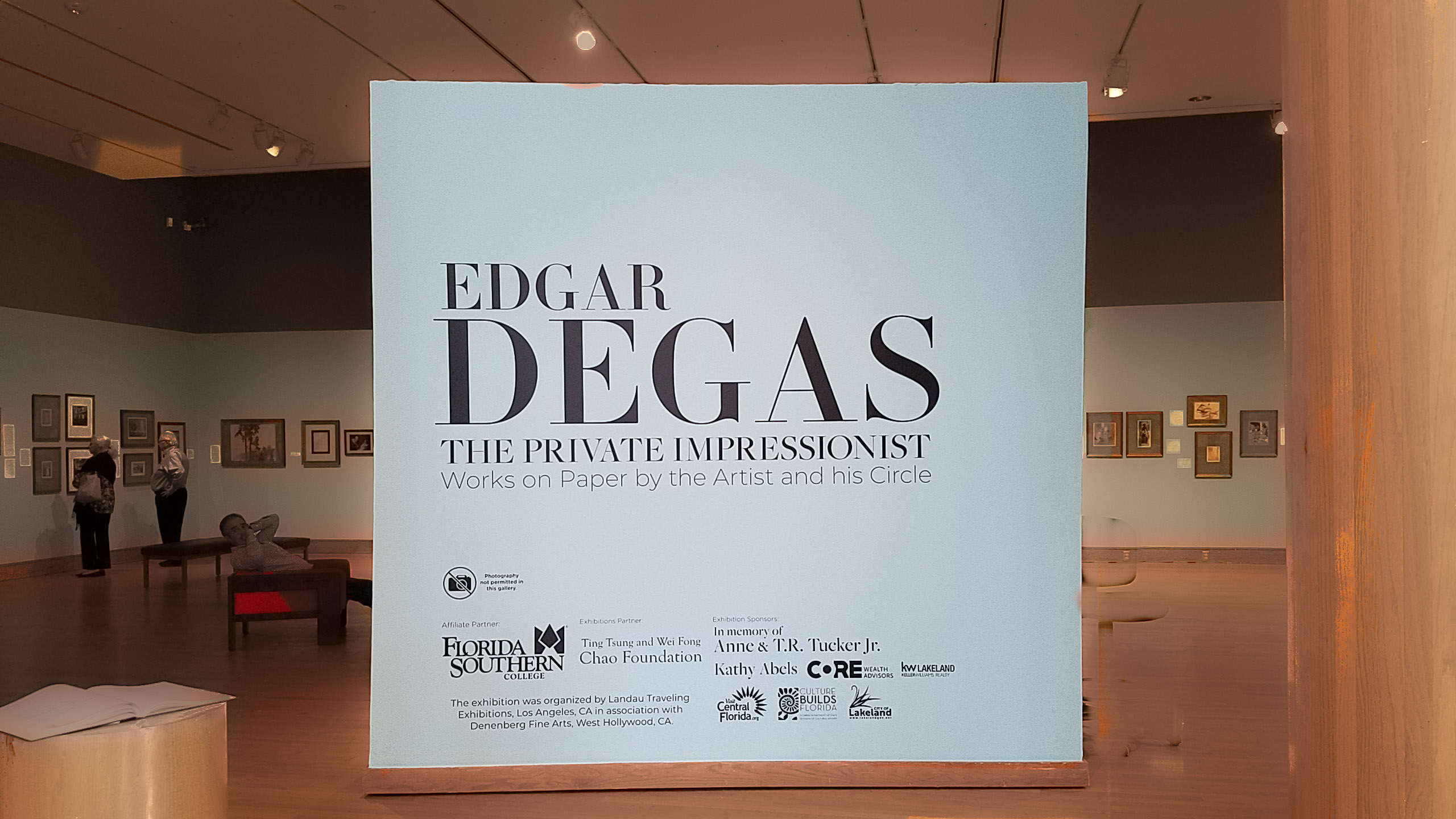 Degas: The Private Impressionist (on through March 24, 2019) is a delight of works on paper by Degas and his contemporaries, on loan from a single collector, Robert Flynn Johnson. Johnson is Curator Emeritus at the Achenbach Foundation for Graphic Arts, Fine Arts Museums of San Francisco, and the collection reflects his deep knowledge of his subject.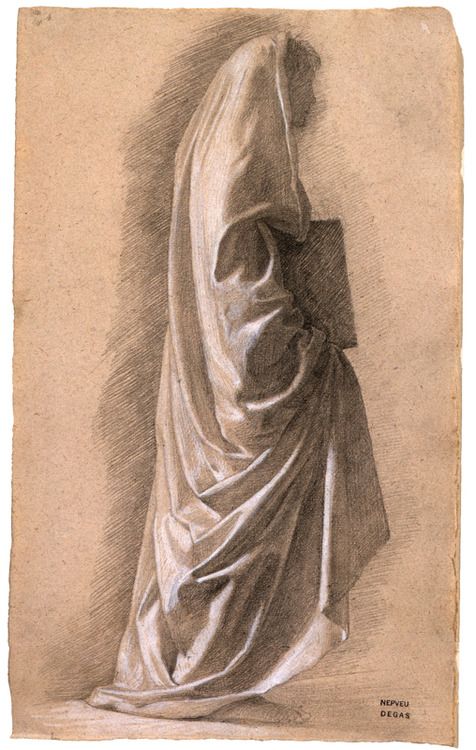 Degas has an undeserved reputation as a misogynist and cynic, stemming from his frank depiction of women and his biting wit. In fact, he was arguably the keenest artistic observer of human nature since Rembrandt. Aloof with strangers, he was warm and loyal to his family and a wide circle of friends, which included some of the greatest writers and artists of the epoch.

The subject matter is often quite personal, including self-portraits, depictions of his father, his brother Achille, a niece and his housekeeper, as well as portraits of Édouard Manet and Mary Cassatt. Roughly 1/4 of the works are portrait of artists.
The Degas works in this exhibition include 24 drawings, 20 prints, one sculpture and more, most relating to three notable themes of Degas' oeuvre: the human body, horse racing, and the ballet.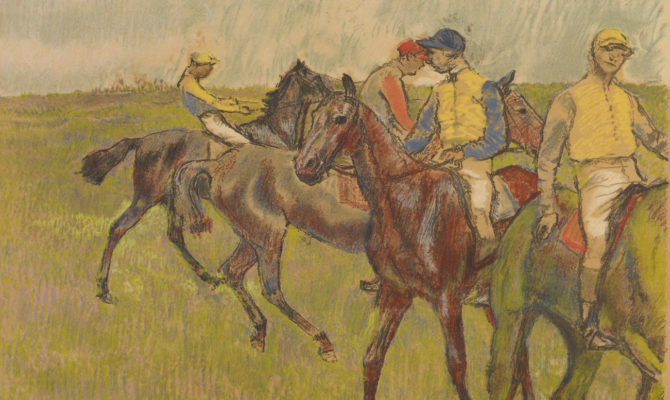 Along with the pieces by Degas is a group of six brilliant color engravings and aquatints after Degas monotypes, and more than 40 rare works on paper by well-known artists, many of whom were friends of Degas. These include Boldini, Mary Cassatt, Cézanne, Gérôme, Ingres, Legros, Alfred Stevens, and Toulouse-Lautrec.
Works on paper encourage intimate engagement, and this show provides a rewarding exploration into the art and personality of a most skilled, intelligent and complex artist. The exhibition sheds new light on the life and personality of Edgar Degas the man, while attaching context to his brillliance as an artist.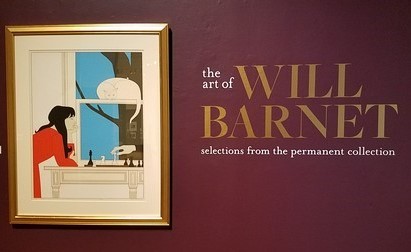 Displayed in an adjacent gallery, The Art of Will Barnett (on through March 10, 2019) resonates on rich plum-colored walls. This selection of 22 Barnett works represents about half of the "study collection of Barnett's art" held by the Polk, reflecting the museum's new focus on building a strong collection of American figurative art.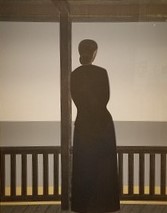 Barnett (1911–2012) created art for 80 years, and the works in the show span that career — from early social realism in the 1930s, to his abstract expressionism in the 1940s-50s, to the signature minimalist style of line and solid color that he settled on in the 1960s.
I found his poetic images of meditative figures especially appealing, both those that are monochromatic and those that are charged with blocks of color.
Additional exhibitions are to be seen in galleries on the second floor and in the Student Gallery. A nicely-lit permanent installation of the Art of the Americans collection is located toward the front of the building on the first floor. I was struck by the appealing exhibition design and lighting throughout the museum. Kudos to the exhibition designer!
A visit to the Polk Museum was well worth the drive to Lakeland. The Polk is one of the oh-so-many lesser-known art museums in the US that deserve to be better known.
This was definitely a rewarding museum experience!
Hmm … maybe it's time to plan a little trip?
Polk Museum of Art,
800 E. Palmetto St, Lakeland FL
863-688-7743

Hours: Tuesday through Saturday, 10am to 5pm / Sunday, 1 to 5pm / Closed Sunday from June 1 through Labor Day / Closed Mondays and major holidays and for the annual Gala. As always, it's a good idea to call before your visit.