In the late 19th century, the wave of Japonisme that washed over Western culture merged with the American Arts and Crafts reform movement — with its heightened interest in craftsmanship and the handmade — leading to the broad acceptance and popularity of color woodcuts. This centuries-old art of Japan inspired American artists to design beautiful, colorful, original art — that were affordable for the average homeowner.
Unlike their Japanese counterparts, printmakers in the West did not have a centuries-old tradition to rely on. They had to learn about materials, where to purchase the right papers, what woods responded best to carving and printing, and what inks were suitable. Studios had to be redesigned for efficiency. The result was much experimentation with materials, tools and techniques. Rather than being daunted by the complexities, early 20th-century American artists took to woodblock printing like gangbusters!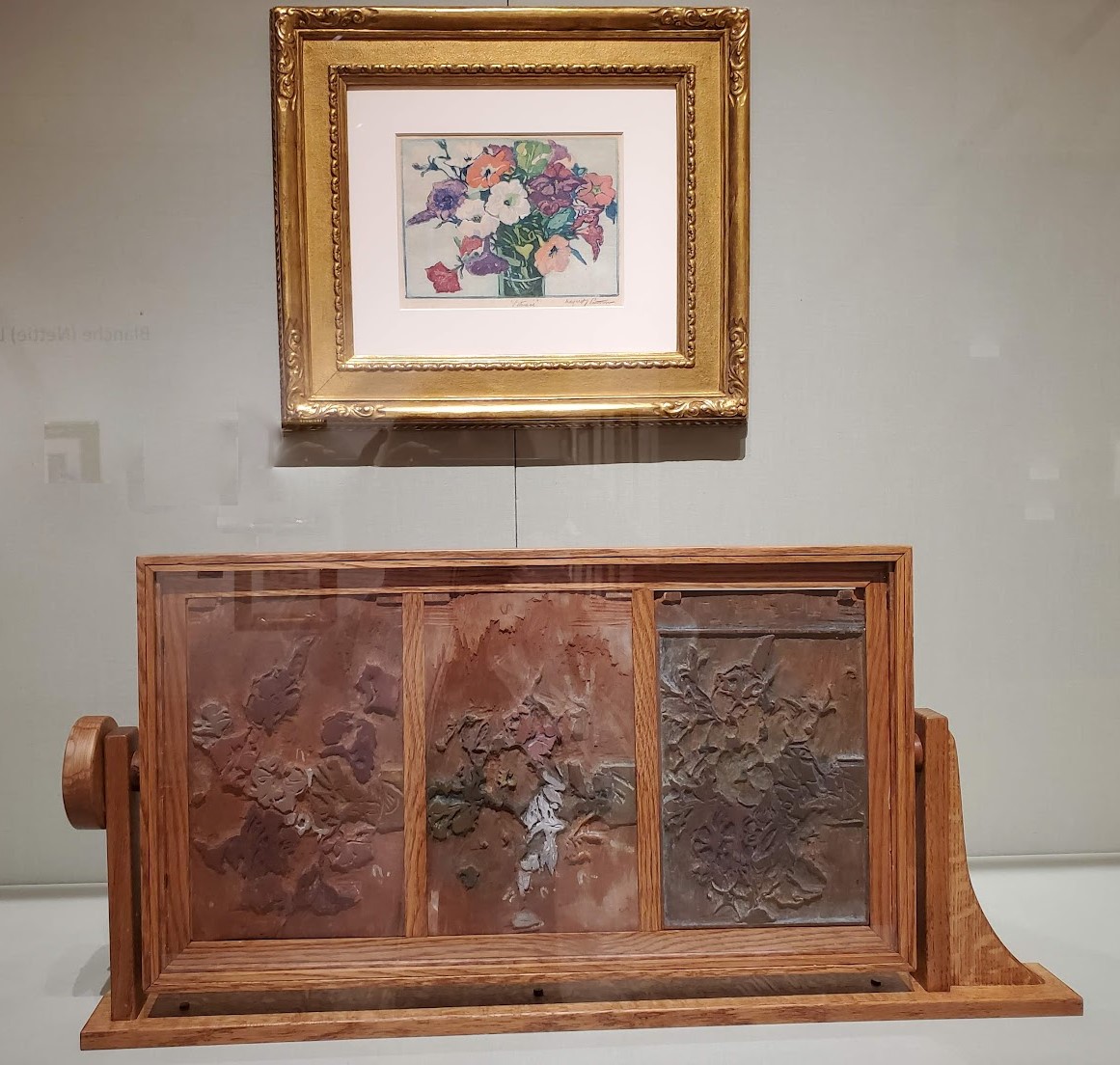 The introduction of the color woodcut in America is generally attributed to Arthur Wesley Dow who began making woodblock prints in 1891. His ideas about design and aesthetics were widely disseminated throughout his lifetime and beyond, forming the basis of art instruction in American schools for decades.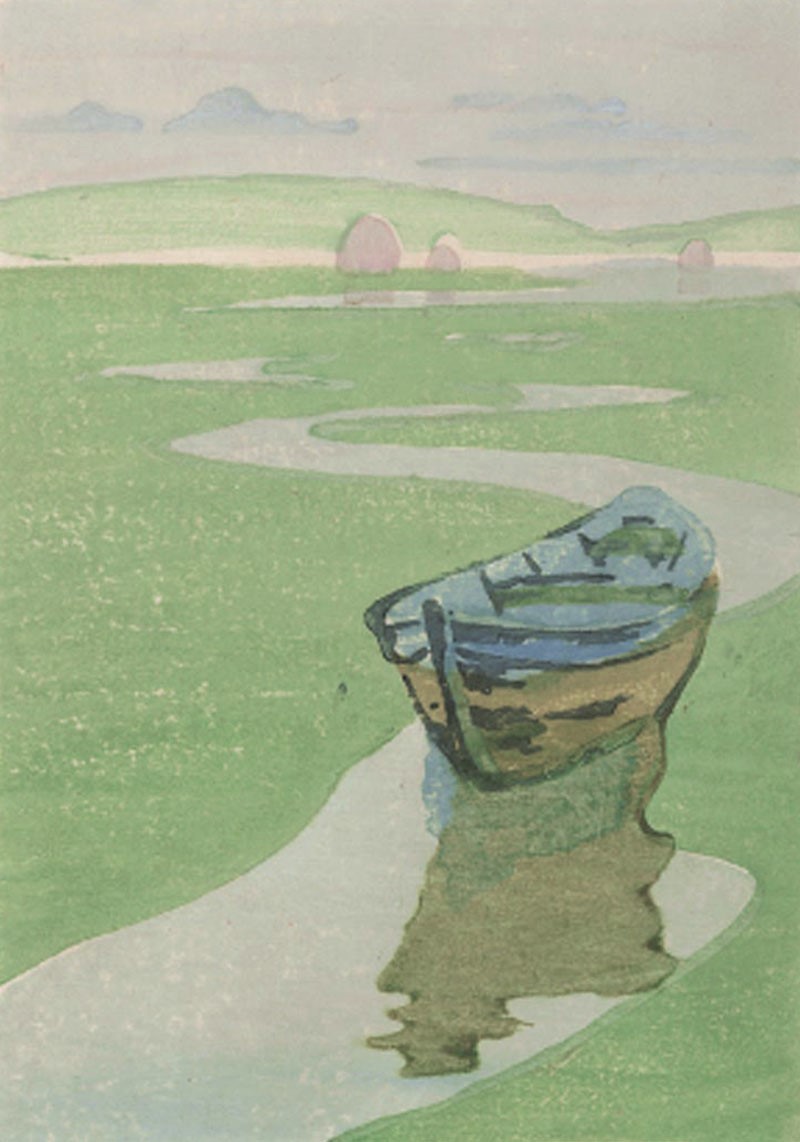 Why was Dow the first? Read our blog article, Have You Met Arthur Wesley Dow?
---
American Arts and Crafts Woodblocks, on through February 26, 2023
Museum of American Arts and Crafts Movement (MAACM), St. Petersburg, FL
The more than 250 rare, varied, and vibrantly colorful woodcut prints on display at MAACM through Feb 26, 2023 will open your eyes to the medium! Subjects include still lifes, children at play, landscapes, industrial constructs, and domestic scenes. Style runs from Realism to Modernism. Color is sometimes subdued, sometimes vivid. Line might be geometric, or curvaceous. All the major American artists who produced woodblock prints during the Arts and Crafts era are represented in this exhibit!
To learn about MAACM, the exceptional host museum, read our blog article, Exploring the Museum of the American Arts and Crafts Movement.
Some artists are represented by just a single print, others line a wall. Some artists' we knew, many others were new to us. One familiar printmaker who was well represented is Gustave Baumann.

Living in New Mexico for a few years, we got to know and love the ubiquitous work of Gustave Baumann (1881-1971) — at least, the work he did after he moved to Santa Fe from Chicago. We knew he'd done woodblock printing back East, and we knew those subjects were very different, but we got a full picture of his early work at this exhibit.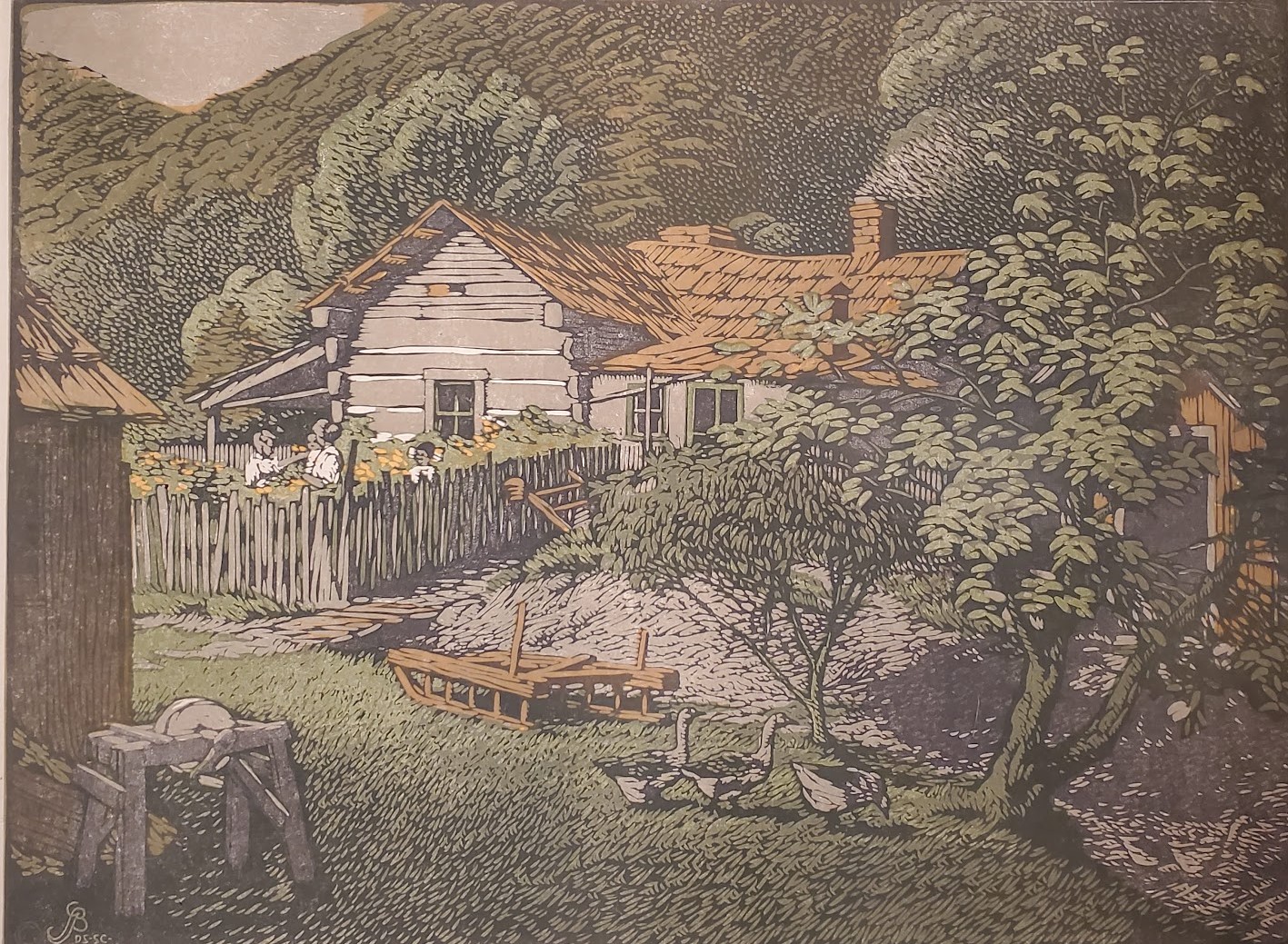 At age 23 he went to Munich to study art, and there he learned the European method of woodblock printing — using bold oil-based inks on multiple blocks and printed on a press. This contrasted with the trend of American woodblock printers of the time who employed the Japanese tradition in which colors were brushed onto blocks with watercolor inks and delicately rubbed by hand onto the paper.
In 1910, Baumann took a summer break from his commercial art studio in Chicago with a group of fellow artists to rural, rustic Brown County in Indiana. Here he produced a portfolio of 12 prints, titled In the Hills o' Brown, depicting life and landscape of the area. The portfolio was selected to be exhibited in the 1915 Panama Pacific Exposition in San Francisco and — although he was virtually an unknown artist at the time — his prints won the gold medal for color woodblocks.
In 1918 he moved to Santa Fe, where he married and lived for more than fifty years until his death in 1971. Bauman created nearly 400 color woodcuts in his lifetime. To see images of his New Mexico work, read our blog review of the Baumann exhibition mounted at the New Mexico Museum of Art in 2021, GO WEST SAID A SMALL VOICE: Gustave Baumann and Dreams of New Mexico.
---
Then there are the dozens of artists we didn't know previously. For those who are represented by multiple works, there is adjacent text, with a portrait photograph, to place the individual artist in context within the movement as a whole.
Margaret Jordan Patterson (1867-1950) is an example. The collection is rich with her work, which is arrayed on two walls. Patterson earliest art education was through a correspondence course — no YouTube videos in those days! Later she attended Pratt Institute, where she met Arthur Wesley Dow and was greatly influenced by his techniques and theories. She too became an art teacher in the Boston area, producing vibrant woodcut prints throughout her long life.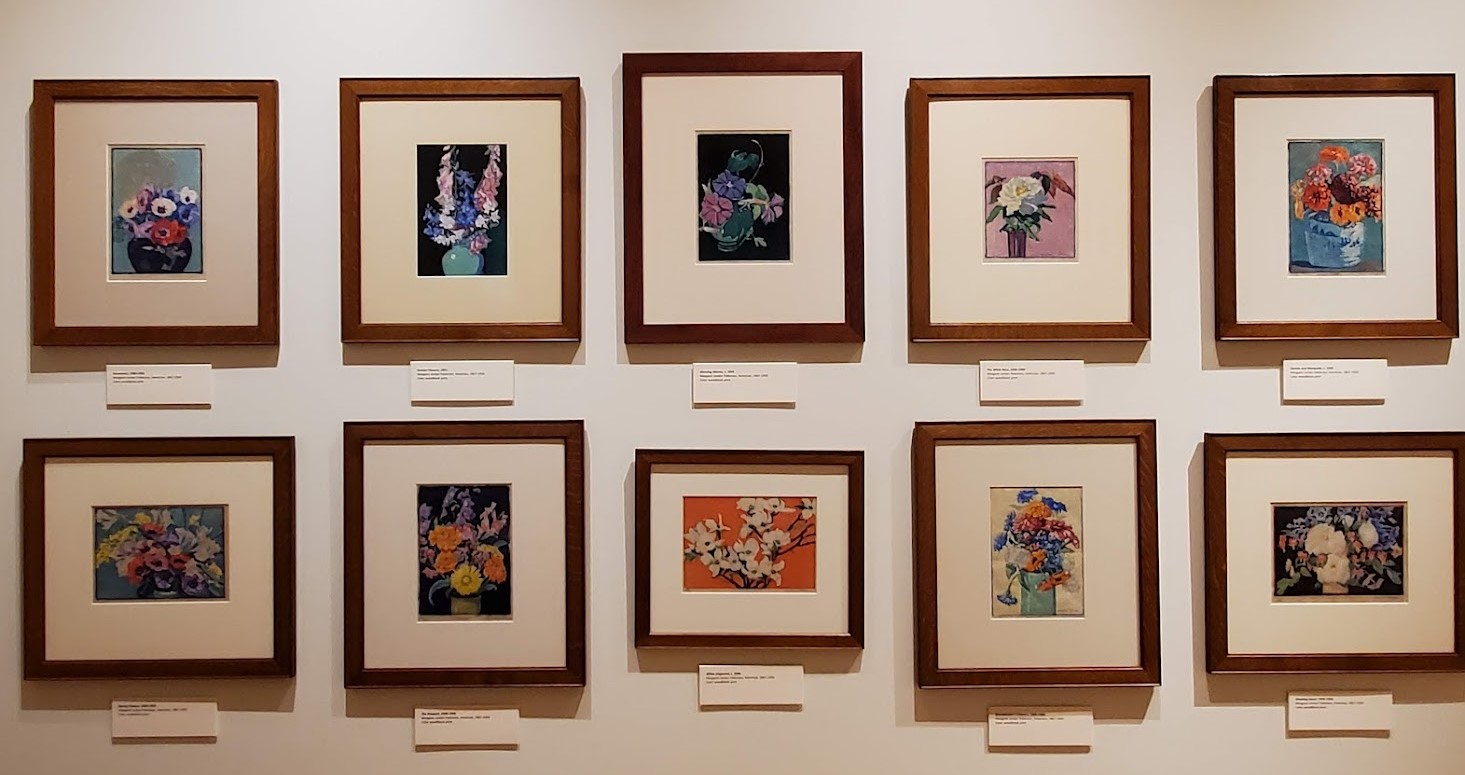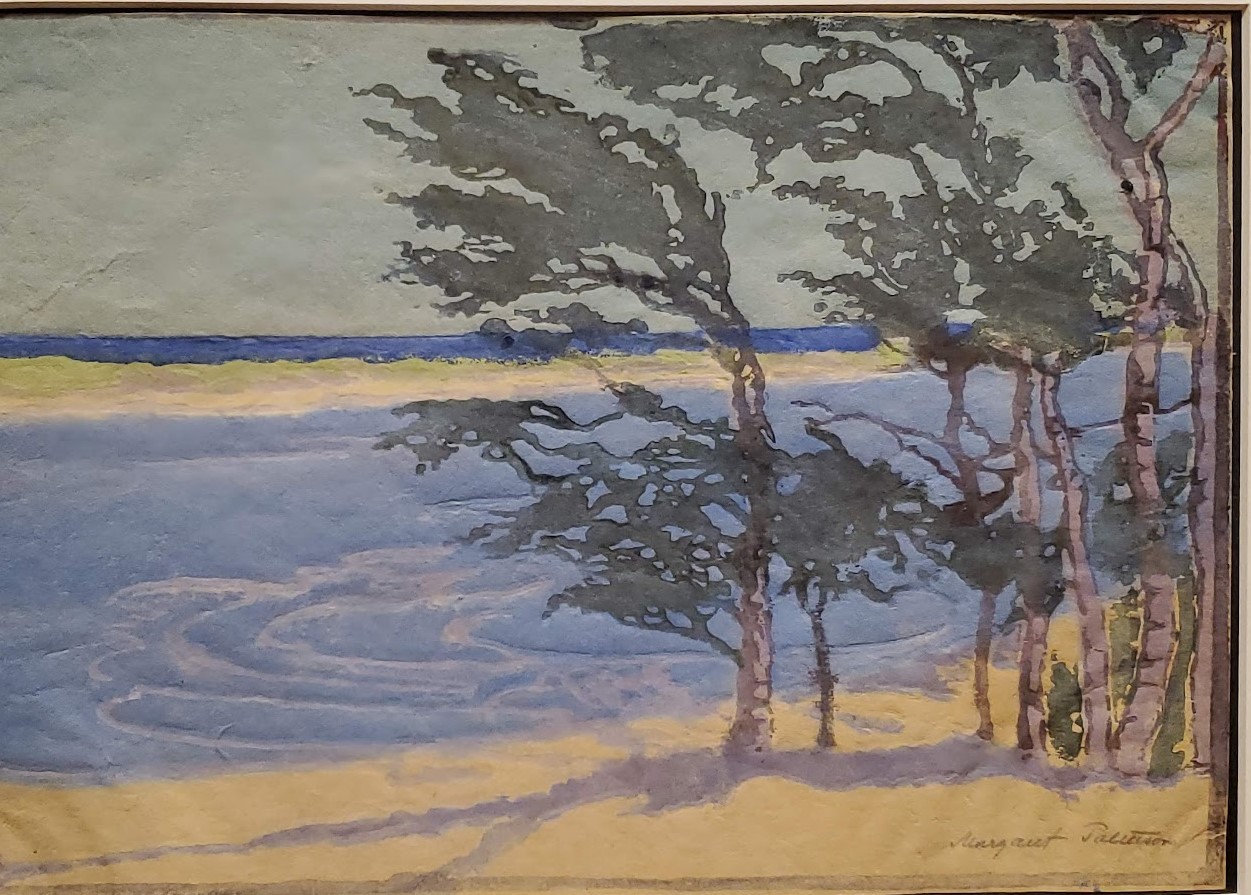 Eliza Draper Gardener (1871-1955) is also well represented. She received her art education at the Rhode Island School of Design. Like Dow and Patterson, she went on to be a teacher, teaching art at RISD for forty years. She is best know for simple shapes, subtle colors, and images of childhood.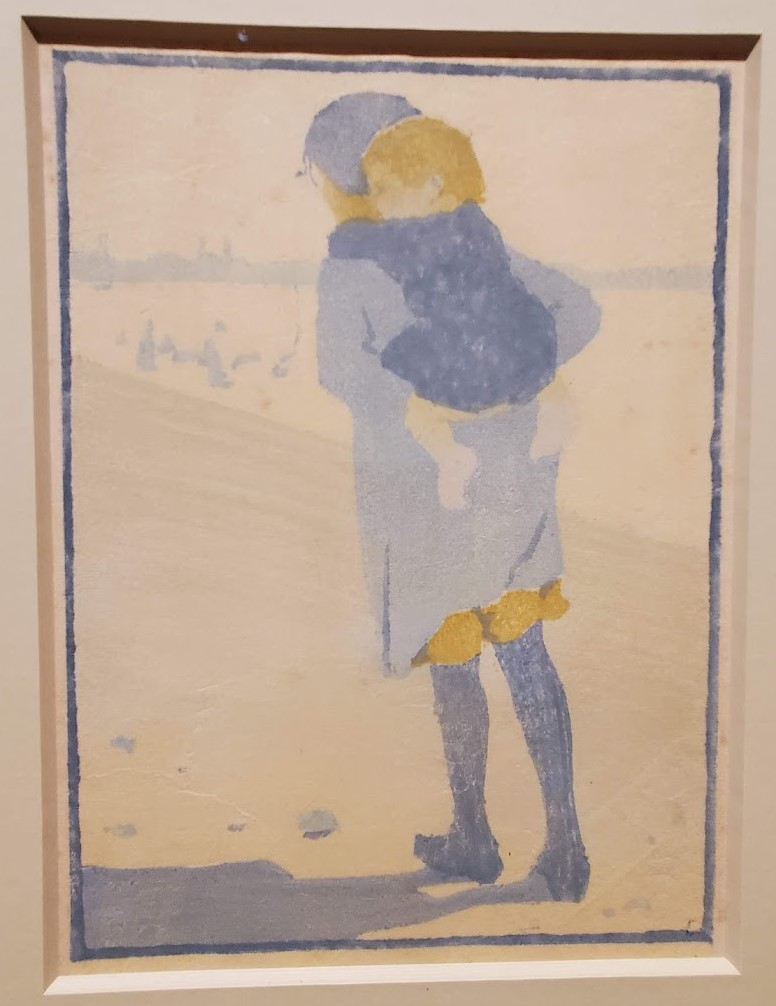 Throughout the exhibit signage provides biographies of the artists. We can't introduce them all, here, but we can select a few more works to show you.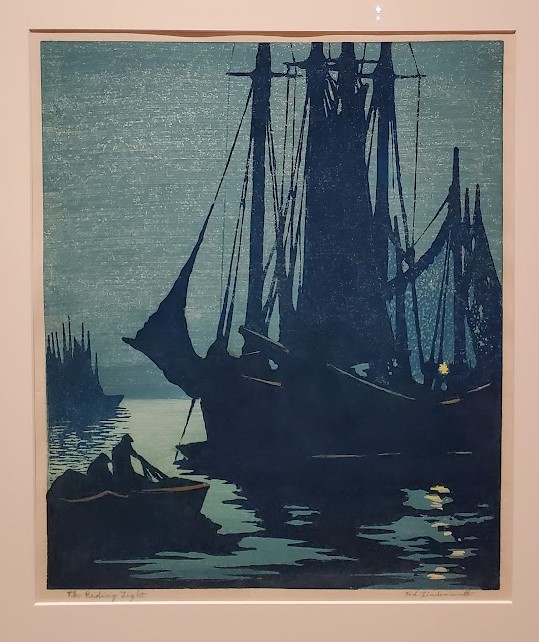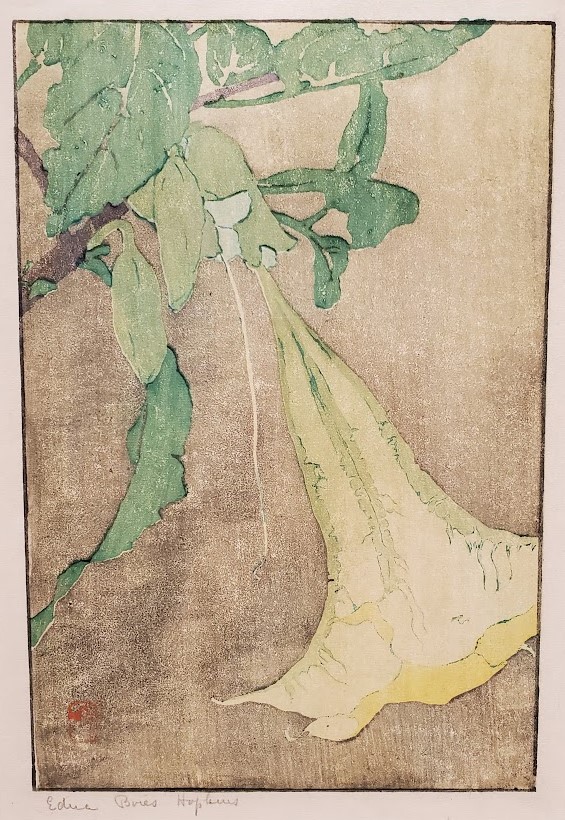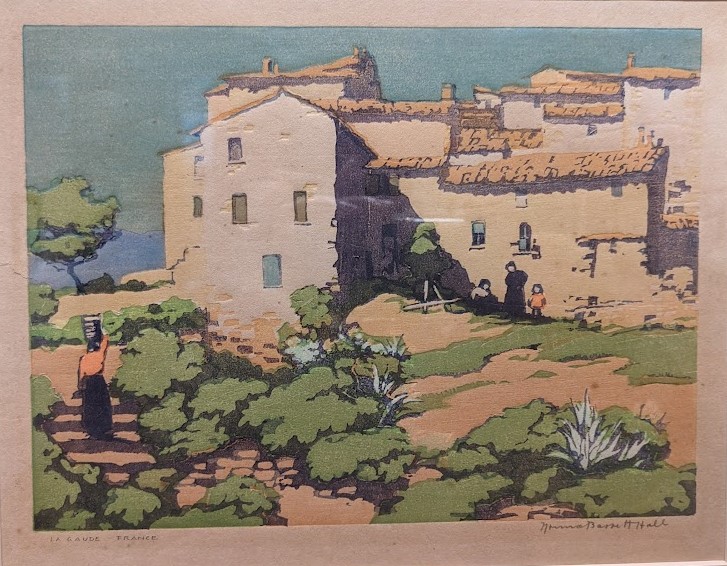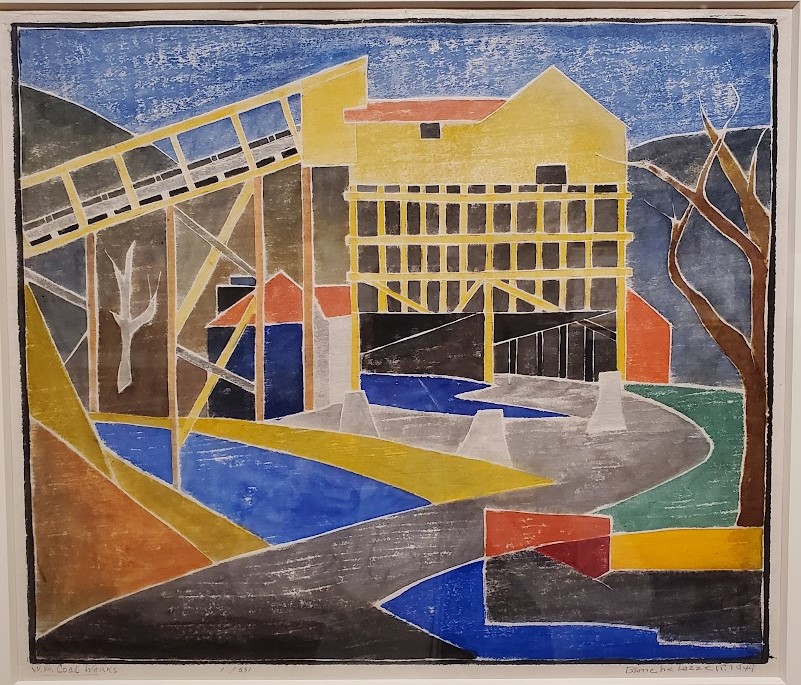 The color woodcut is known for being one of the most difficult printmaking methods. But artists across time have continually engaged with this medium, innovating new techniques to cut into a piece of wood, transforming it into an eloquent image.
The popularity of the medium in the US was a result of a number of factors, not the least of which was the rural population in the late 19th and early 20th centuries. In order to create a woodcut, all that was needed was a piece of wood, some cutting tools, ink, paper, and a "barren" or a wooden spoon. There was no need for expensive presses, heavy lithography stones, acids, or copper — all of which was available in the cities, but hard to find in rural America — no Amazon in those days.
Most of the artists in this show were trained in the medium at art school, achieving a high degree of skill and sophistication. Their work represents a sliver of American art history that was wildly popular a century ago. Happily, this exhibition, American Arts and Crafts Woodblocks, is helping to keep appreciation of this charming — deceptively simple-looking — medium alive.
---
Hmmm … maybe it's time to plan a little trip …
Museum of American Arts & Crafts Movement
355 Fourth St. North, St. Petersburg, FL
727-440-4859
---
Credit for the featured headline color woodblock print: Waterway, c. 1905, Frank Morley Fletcher (1866-1949)
Please note that some of the images, photographed by the author, are a tad cockeyed as a result of attempts to minimize reflections of gallery lighting on the glass protecting the framed prints. Apologies!
---
Art Things Considered is an art and travel blog for art geeks, brought to you by ArtGeek.art — the only search engine that makes it easy to discover almost 1700 art museums, historic houses & artist studios, and sculpture & botanical gardens across the US.

Just go to ArtGeek.art and enter the name of a city or state to see a complete catalog of museums in the area. All in one place: descriptions, locations and links.
Use ArtGeek to plan trips and to discover hidden gem museums wherever you are or wherever you go in the US. It's free, it's easy to use, and it's fun!
© Arts Advantage Publishing, 2023