Arthur Wesley Dow (1857, Ipswich, MA – 1922, NYC, NY) should be more widely recognized as a leader on the American art scene of the late-19th and early-20th centuries. He worked in watercolor, oils and ink, was a printmaker, a photographer and a lifelong designer. But his real influence was carried forward by his students.
While the importance and impact of both the Arts and Crafts Movement and Japanese art in the US are widely recognized, the person most responsible for their impact on painters, printmakers, designers, potters, furniture makers, metalsmiths and so many art teachers, has heretofore been a matter known to specialists rather than a wider community"

Arthur Wesley Dow: His Art and His Influence, by Nancy e. Green et.al. Spanierman Gallery, 1999
Many of America's leading artists and craftspeople studied under Dow at the Pratt Institute (1895-1904), the Art Students' League in New York (1897-1903), and Teachers College at Columbia University (1904-1922). His students included Georgia O'Keeffe, Max Weber, Edward Steichen, Shirley Williamson, Charles Sheeler, Charles J. Martin, two of the Overbeck Sisters, Delle Miller, Charles Burchfield, Isabelle Percy West and Walter King Stone. Quite an illustrious cohort!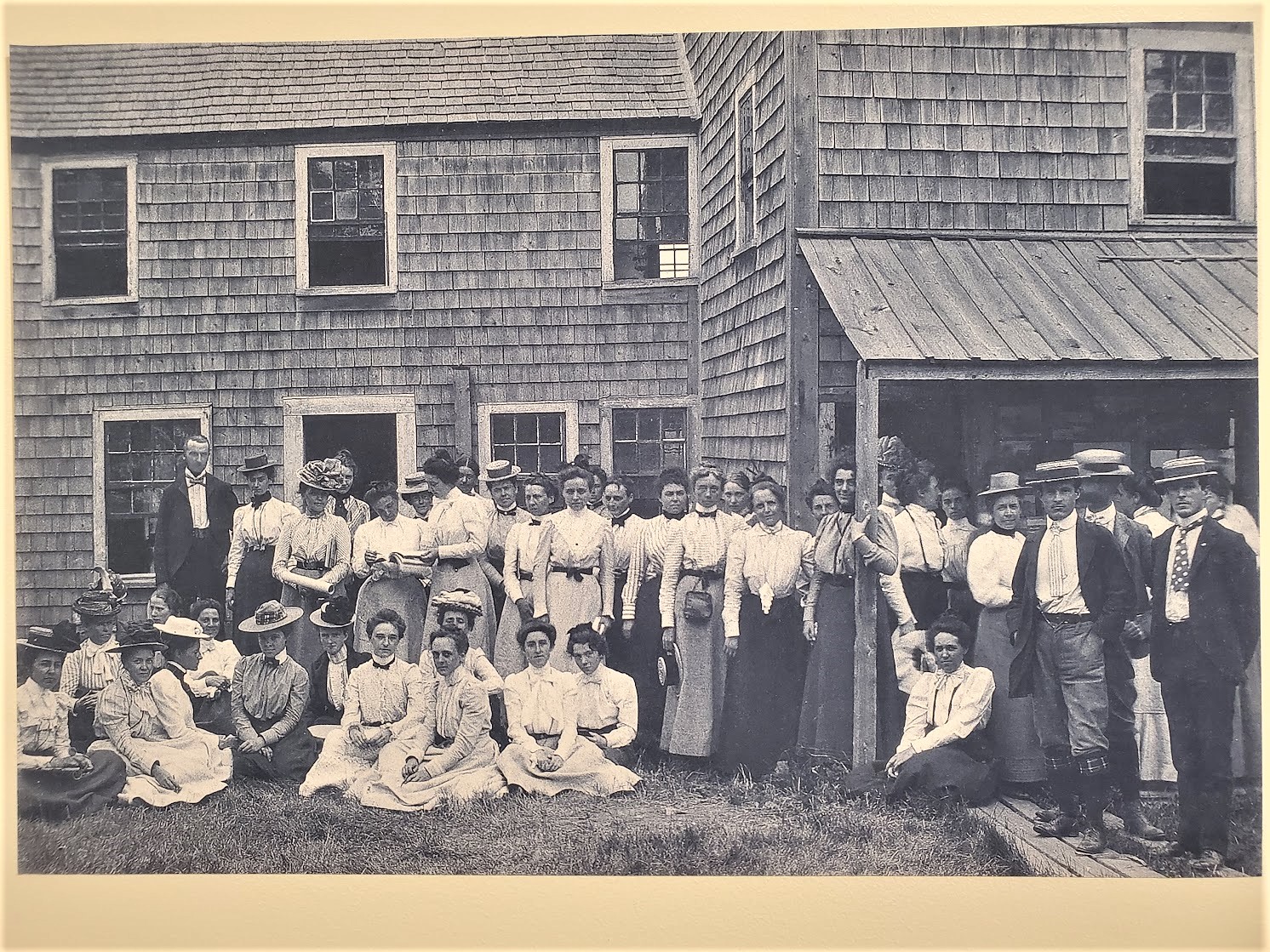 As an artist, Dow first trained as a tonalist landscape painter, and he admired the work of Gustave Courbet and Jean-Francois Millet of the Barbizon artist colony, even before he traveled to Paris to study at the Académie Julian.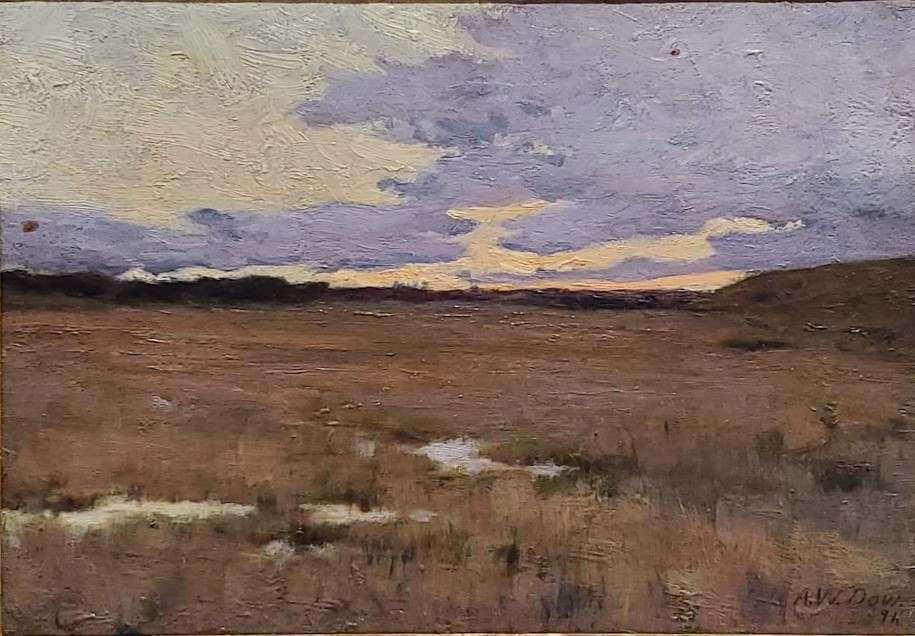 Not long after his return in 1889, after five years in France, Dow met Ernest Fenellosa, curator of Oriental Art at the Museum of Fine Arts, Boston. Fenollosa introduced him to the wonders of the ​"floating world" (ukiyo‑e), the great woodblock prints of Hiroshige and Hokusai, and revealed to him what was at the core of Japanese art: the conviction that art need not imitate nature but should develop organically from the formal relationships of line, hue, and tone.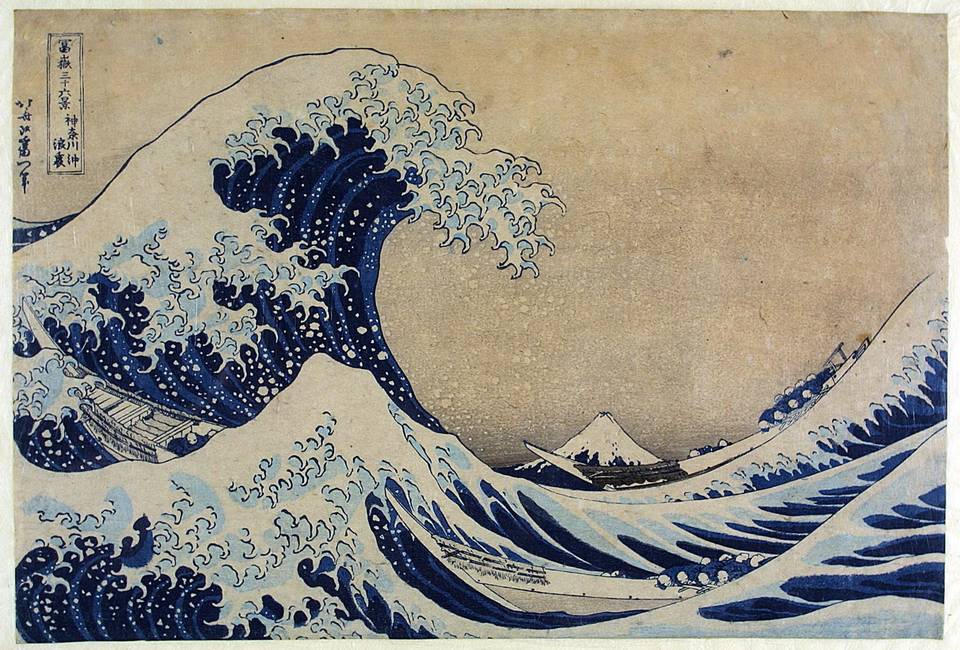 His own work began to reflect the Japanese linear approach to form as well as broad planes of mass and color as he sought to integrate the concepts of Japanese art with his knowledge of Western painting.
This profound influence on his ideas about art and aesthetics caused him to discount many of the traditions he had known. In his teaching he began to disseminate his newly discovered aesthetic principles, and in 1899 he wrote a textbook, Composition: A series of Exercises in Art Structure for the Use of Students and Teachers, in which he outlined new principles of teaching art –namely the manipulation of the elements of composition — line, color, and tonal relationships — to create harmonious works of art that reflected a "new appreciation of all forms of art and the beauty of nature."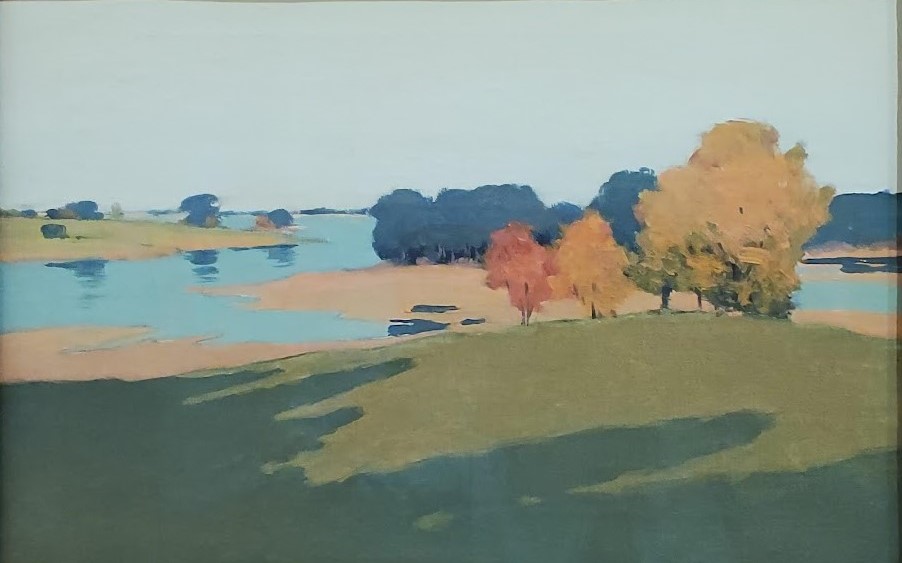 The ideas expressed in Composition influenced many generations of young artists and expanded the traditional views of art education and expression. Many of Dow's students went on to teach in colleges and universities throughout the country, influencing the first generation of American modernist painters. One of his pupils, the educator and printmaker Pedro Joseph de Lemos, adapted and widely disseminated Dow's theories in dozens of theoretical and instructional publications (1918–1950) for art schools.
The ideas about art-making that Dow began to develop in the late 1870s were revolutionary. Copying nature had been fundamental to academic art instruction for more than 400 years, but Dow rejected that as an outdated approach. He also rejected the prevalent belief that painting and sculpture were of a higher value than the decorative arts. This premise — that all art forms were equal and should be simultaneously beautiful and functional — was the foundation of the Arts and Crafts movement in America.
---
Arthur Wesley Dow: His Beloved Ipswich: Photographs, Paintings, and Prints
An outstanding collection of Arthur Wesley Dow's eclectic artwork is currently on view (through Feb 26, 2023) at the Museum of American Arts and Crafts Movement in St. Petersburg FL. The exhibition features more than 60 works, including 18 color woodblocks, six paintings, and 41 original cyanotypes from the rare Ipswich Days album. Also on display are the original album By Salt Marshes, where Dow illustrated his friend Everett Stanley Hubbard's poems with simple woodcuts, and the three sets of Ipswich Prints, which include 18 prints of Dow's original designs.
Dow was born and raised in Ipswich MA, a coastal community 30 miles north of Boston. The surrounding landscape figured in his work throughout his life. He described the marshes as "always new, always surprising us with unexpected light and color." The exhibition presents 41 small photographs he took of his hometown, originally arranged into an album titled Ipswich Days and dedicated in 1899 to his lifelong friend, the artist and poet Everett Stanley Hubbard (1859-1932). The pair grew up together in Ipswich and shared a deep connection to the place.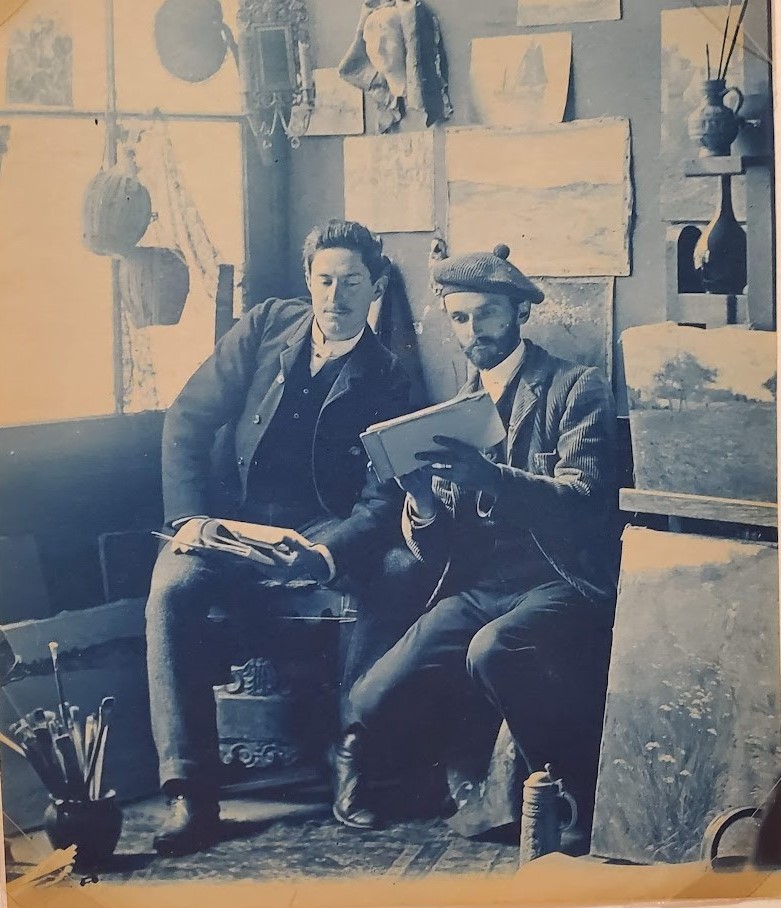 These are not simple snapshots. Dow's carefully composed photographs can be viewed as nearly abstract arrangements of line and shape, light and dark — creating, in his words, "a mosaic of hues and shades." The artistic effect is heightened by the photographic process Dow chose, called cyanotype. Also used for blueprints, the technique was valued by photographers for the ability of the cyan blue to create moody, atmospheric effects. Dow's use of the camera as a graphic tool, rather than solely as a means to record reality, was innovative and profoundly influential.
Also on display are three sets of images that Dow called Ipswich Prints, which he produced between 1901 and 1905 for teaching purposes, to illustrate color, composition and techniques for classroom teachers. Each set included six prints of his own work, Japanese woodcuts, ink drawings or textiles, all meant to illuminate his theories of art. The introduction of each portfolio included teacher instructions as to how to use the images.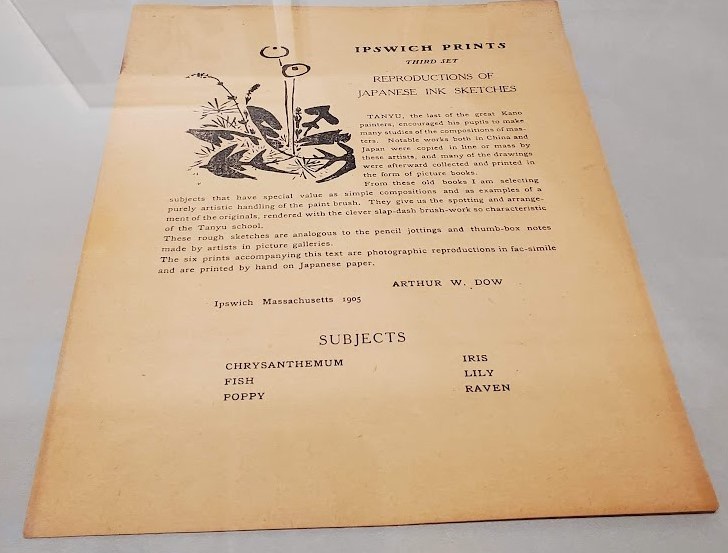 The 18 color woodblock prints in the exhibit range in date from 1893 to 1916. Dow first encountered Japanese woodblock prints in the 1880s while studying in France, where artists such a Manet, Monet, Gauguin and Van Gogh had been swept up in a wave of japonisme. But it was the compositional techniques that defined the ukiyo-e aesthetic that had the most profound effect on him: flattened planes of color, asymmetry, truncated forms, the division of an image into sections through devices like windows, screens and walls, and the use of strong diagonals and unusual perspectives.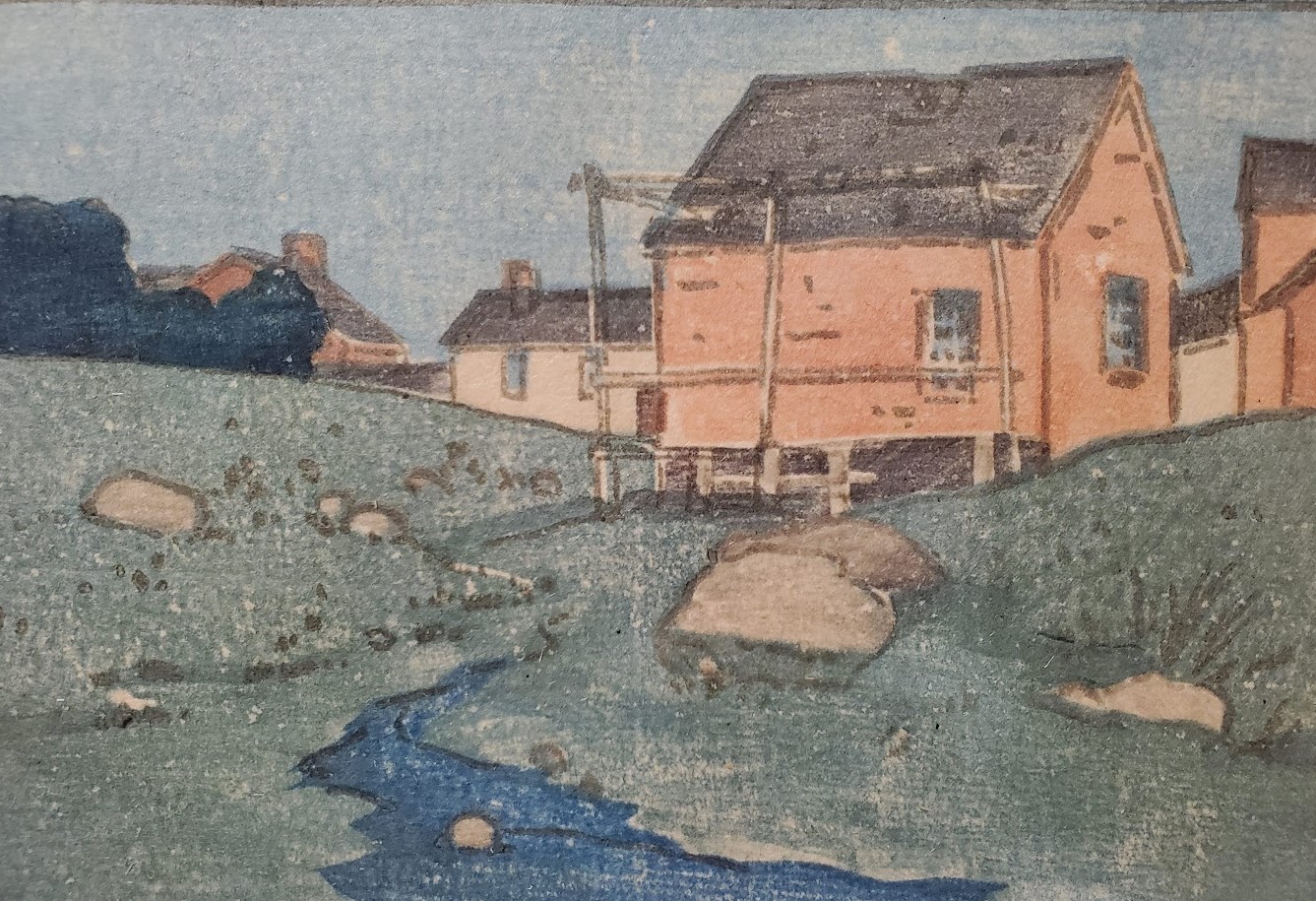 The series, The Dory, shows that Dow often printed from the same block multiple times using different colors to suggest a range of seasons, or time of day, creating various moods and interpretations of the same scene.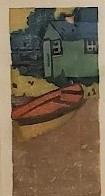 On one wall in the exhibition was a series of charming pairings of poems by Everett Stanley Hubbard and prints by Wesley Dow from a book they published together in 1908, By Salt Marshes: Pictures and Poems of Old Ipswich. This is one pairing:
A back corner of the exhibition was given over to an art classroom of sorts. Enlargements of pages from his book, Composition, were posted on the wall beneath a banner reading "Become a student of Dow!" and baskets of tools nearby allowed visitors to participate in the lesson. Could be fun, but instead of putting in the time there, I bought the book, published in facsimile by Dover Publications, to study at home. I think there is much I can learn from the theories of Arthur Wesley Dow!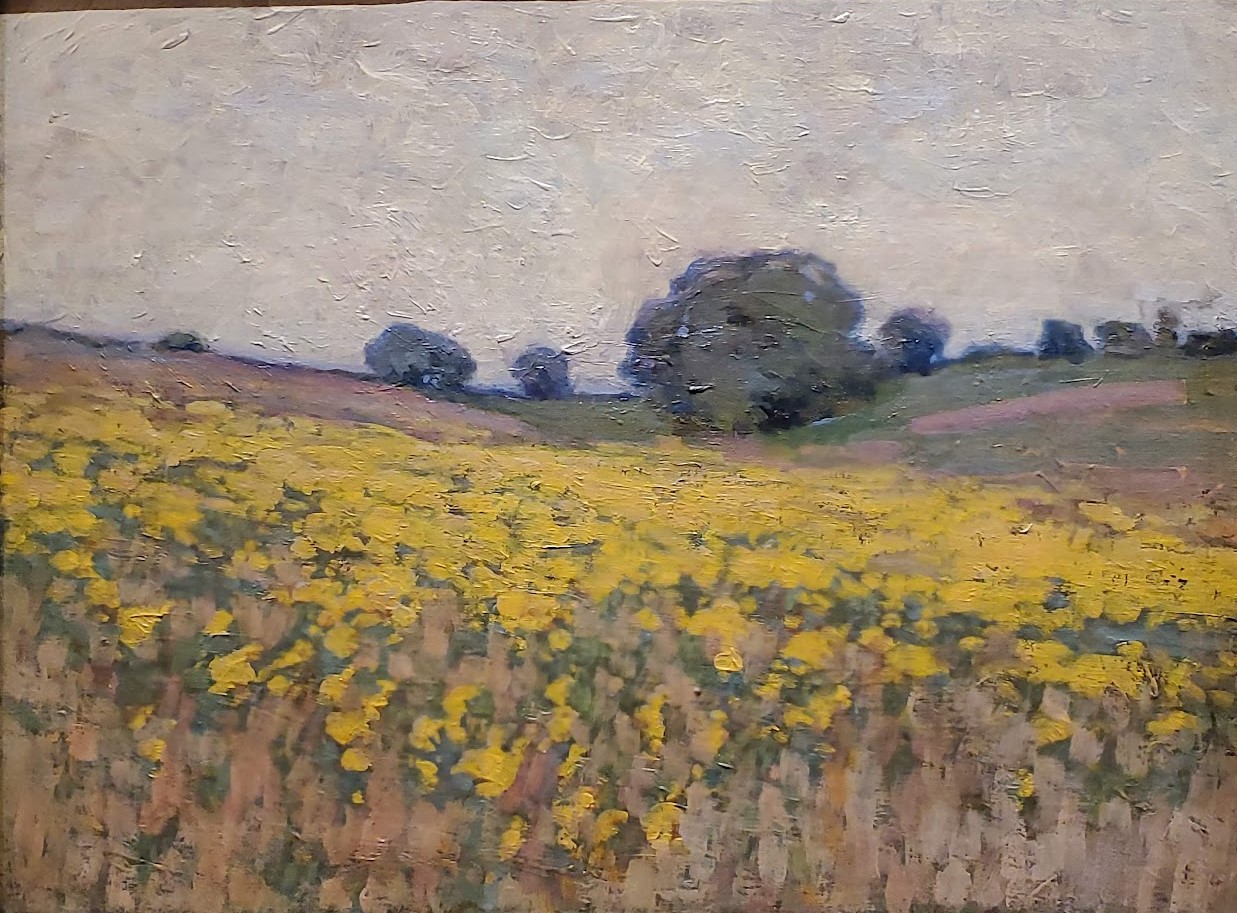 ---
Read our blog article about the Museum of American Arts and Crafts here.
---
Hmmm … maybe it's time to plan a little trip …
Museum of American Arts & Crafts Movement
355 Fourth St. North, St. Petersburg, FL
727-440-4859
---
Art Things Considered is an art and travel blog for art geeks, brought to you by ArtGeek.art — the only search engine that makes it easy to discover almost 1700 art museums, historic houses & artist studios, and sculpture & botanical gardens across the US.

Just go to ArtGeek.art and enter the name of a city or state to see a complete catalog of museums in the area. All in one place: descriptions, locations and links.
Use ArtGeek to plan trips and to discover hidden gem museums wherever you are or wherever you go in the US. It's free, it's easy to use, and it's fun!
© Arts Advantage Publishing, 2023