Orlando is a city of wonder for children and adults alike, and all the more so for art geeks. There are some exciting art destinations in the area, too!
Take the Charles Hosmer Morse Museum of American Art, for example. Located in Winter Park, it's just a half-hour drive away from Walt Disney World Resort. Behind the pristine white walls that line the 400-block of North Park Avenue, the Morse Museum holds a breath-taking surprise for anyone who hasn't previously ventured through the green-canopied entrance.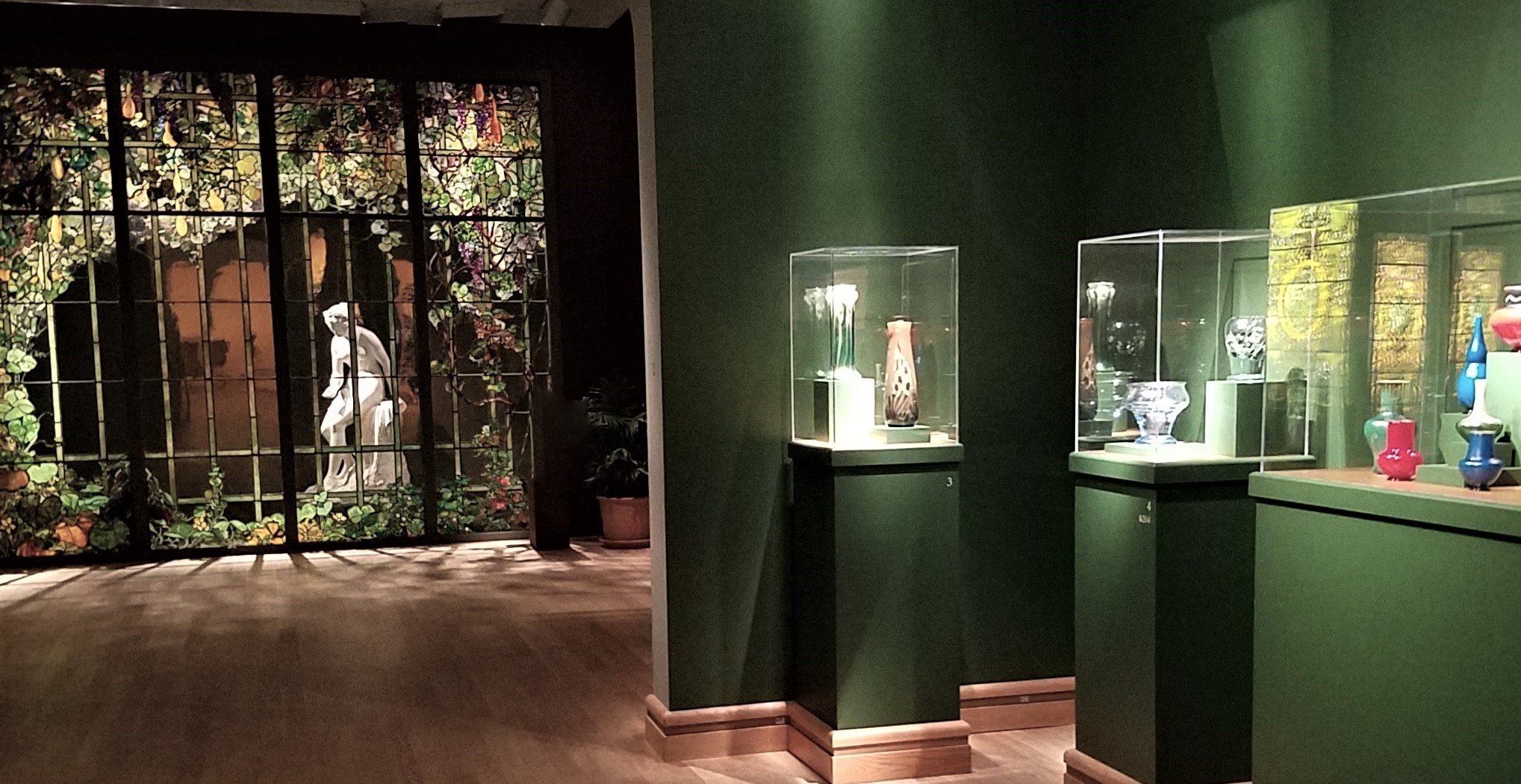 The Morse is world-renowned for its comprehensive collection of works by the American artist and designer, Louis Comfort Tiffany (1848-1933). Gallery after gallery display not just his lamps – which we're all familiar with — but a Byzantine-style chapel interior and rooms from his beloved Long Island estate, Laurelton Hall, recreated using many original architectural features and furnished with pieces of his own design and objects from his collections. His leaded-glass pictorial windows gleam brilliantly at every turn, along with examples by numerous other makers.
---
We were impressed by the well-designed contextual signage which guided us from room to room, giving us a much deeper understanding of the man, his life and art, and the times in which he lived.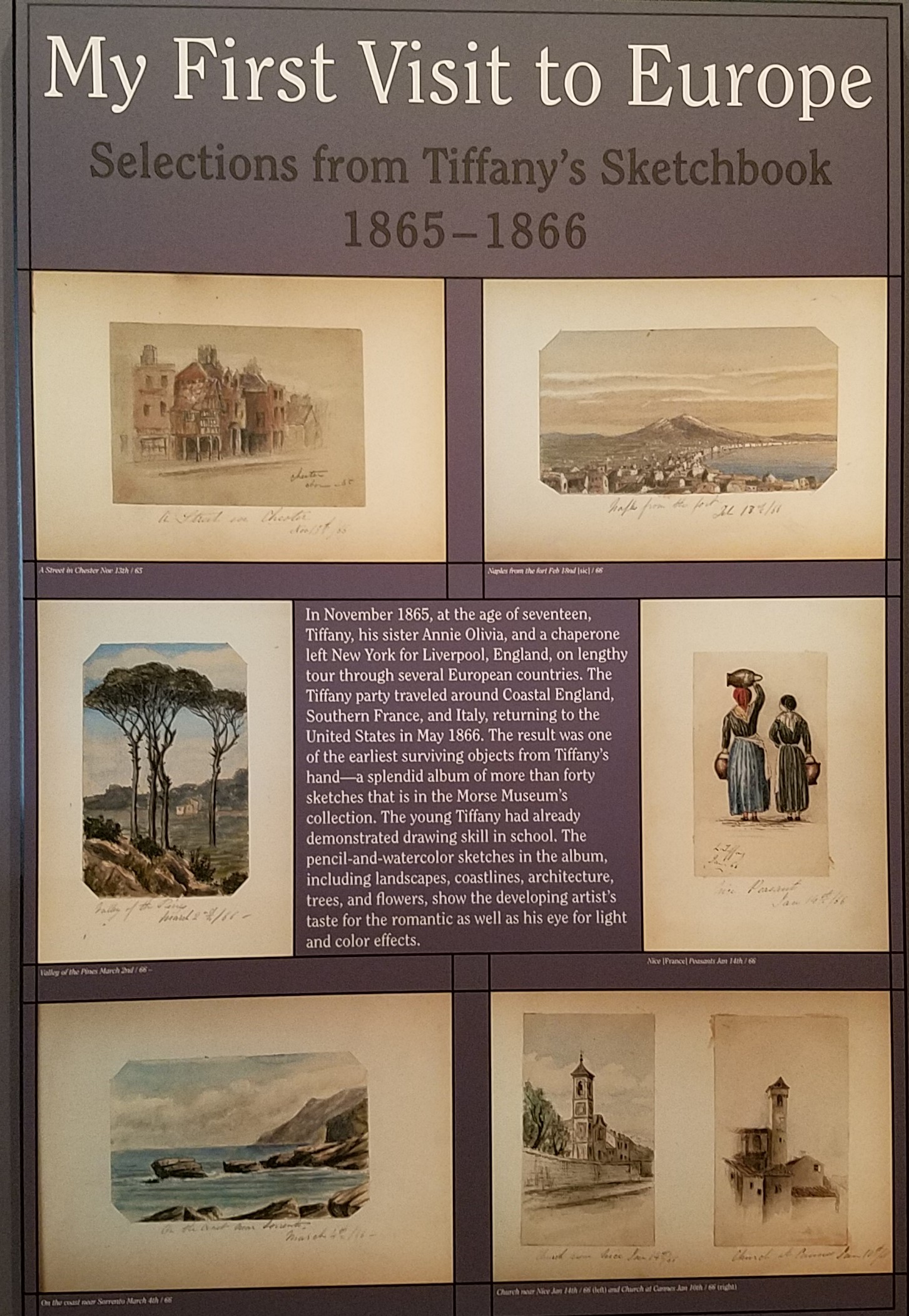 A sweet peek into his youth was provided by a placard showing selections from his 1865-66 sketchbook, titled My First Visit to Europe. These pencil and watercolor sketches, drawn when he was just 17, "show the developing artist's taste for the romantic as well as his eye for light and color effects."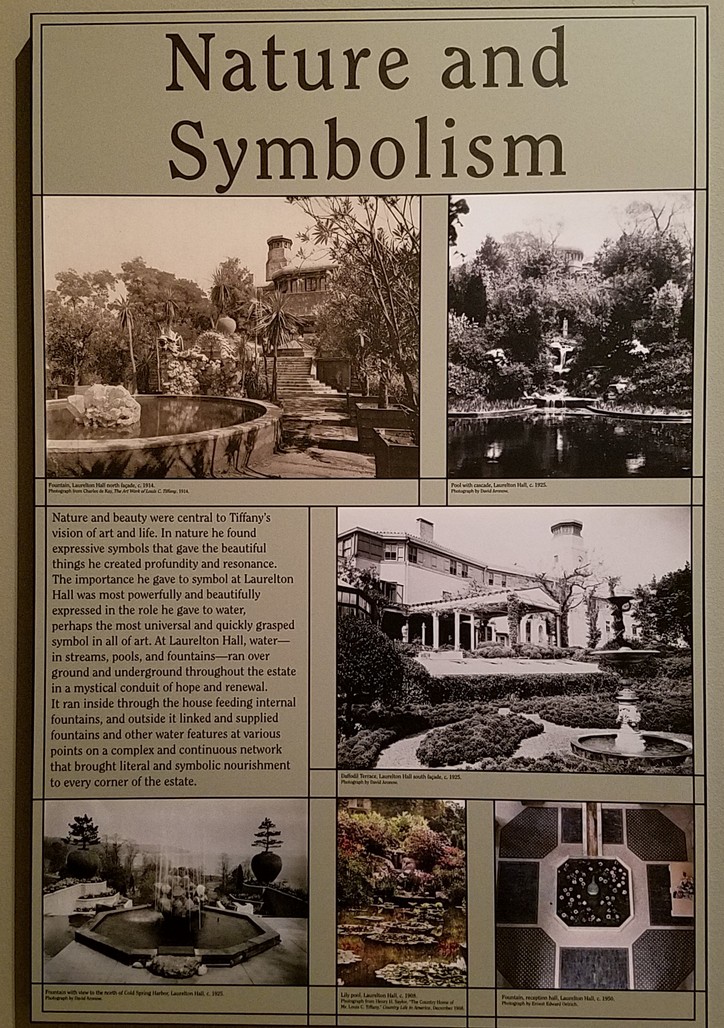 Lots of old photographs make the unbelievable Laurelton Hall … believable.
Too much text to stand and read? Each gallery throughout the museum repeats the information in a multi-page pamphlet, free for the taking. Each pamphlet provides context for the objects in the room and includes a keyed description corresponding to each item. Together they provide a focused mini art history education.
The overall lesson for us? Louis Comfort Tiffany's creative talents and the output of his workshop soared well beyond anything we had imagined!
---
The Chapel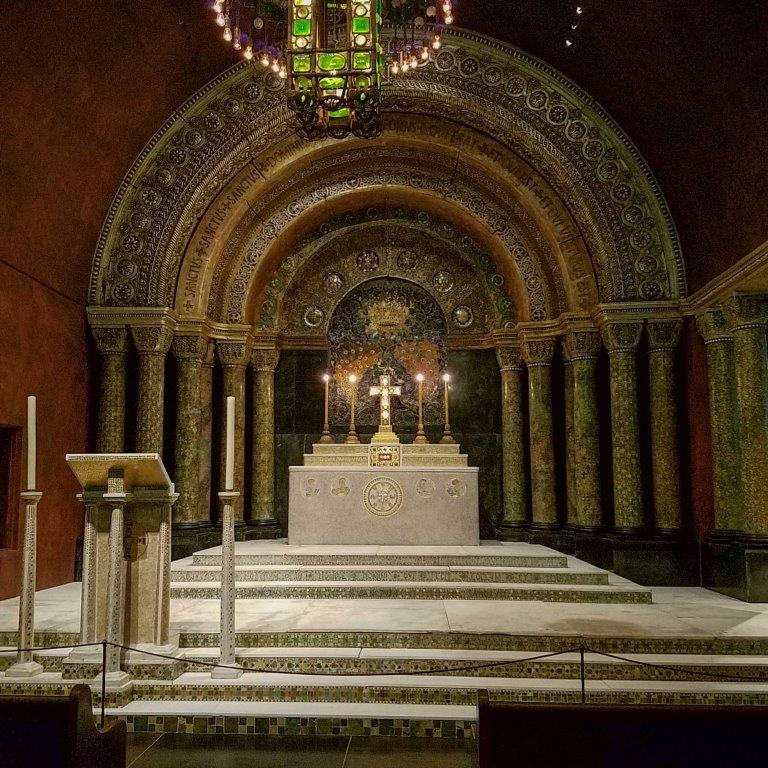 A highlight of the 1893 World's Columbian Exposition in Chicago was the chapel interior Tiffany designed for the Tiffany Glass and Decorating Company exhibit. This masterpiece in the arts of mosaic and glass created a sensation at the time, and it sealed Tiffany's already illustrious reputation at home and abroad.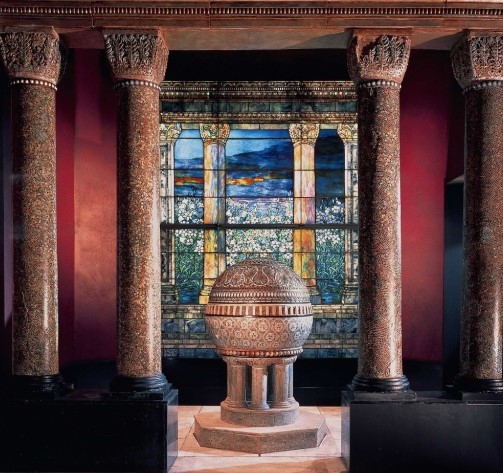 ---
When the fair ended, the chapel was dismantled and eventually reinstalled in the crypt of New York's Cathedral Church of St. John the Divine where, for about a decade, it was used for services. But by 1916 it sat unused and deteriorating, so Tiffany reacquired it and installed it in a small building on the grounds of his own Laurelton Hall estate.
In 1959, 26 years after Tiffany's death, the chapel had again fallen into disrepair so Jeannette and Hugh McKean – the founders of this museum – acquired it and reassembled it using all the original furnishings and windows with the exception of two benches. Among the original elements are four leaded-glass windows, sixteen columns encrusted with glass-mosaic tesserae (tiles), and a 10-foot by 8-foot electrified chandelier.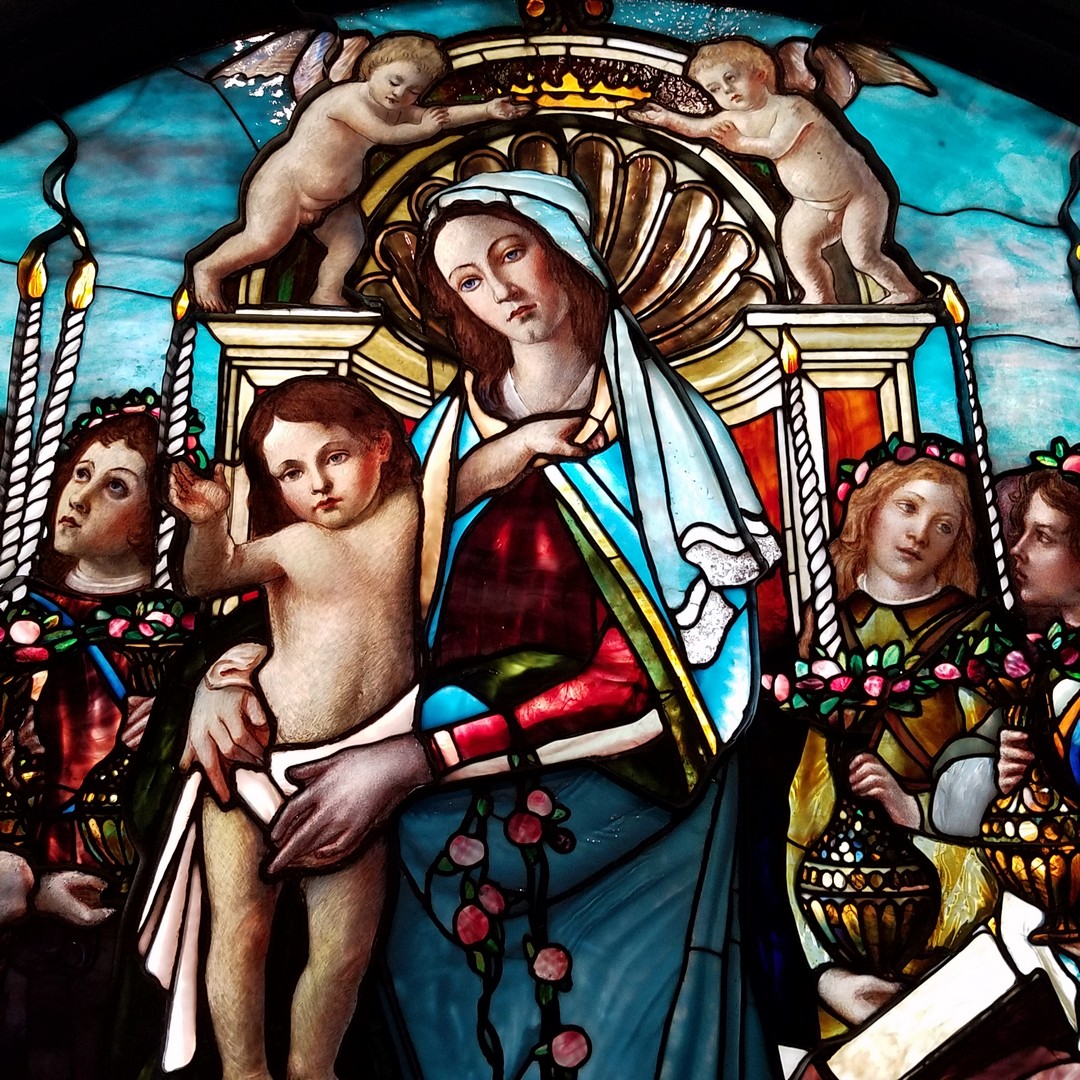 Three of the leaded glass windows that were in the Chicago chapel set-up are in an adjacent gallery, including a round window simulating a painting by Botticelli (shown here). It was made in one piece, eight feet in diameter. Only the flesh tones are enameled using soft powdered colored glass mixed with a medium and painted onto the glass. The rest of the image is assembled of several thousand pieces of "pot metal glass," which is made by adding various metallic oxides to the crucible in which the glass is melted. Very effectively lit from behind, the window is a-glow with "jelly-bean colors"
---
Laurelton Hall
We owe the McKeans a huge debt of gratitude for salvaging what was salvageable of Laurelton Hall after it had been ravaged by fire. Aside from being President of Rollins College and co-founder and director of the Morse Museum, Hugh McKean was an artist himself — and had studied with Tiffany at Laurelton Hall in 1930. Thus he knew first-hand how unique and artistically-important the estate had once been, and felt a personal calling to preserve of it what he could.
In its glory days it was a spectacular estate, with an 84-room, 73,000 sq. ft. house, an art gallery, stables, conservatories and other outbuildings set on 600-acres overlooking Long Island Sound.
Of this, the Reception Hall, Living Room, Dining Room, and Daffodil Terrace have been reimagined at the Morse, installed using architectural elements from the original home and referencing photographs that document the layout and furnishings. Along with the chapel, the wing of eight Laurelton Hall galleries accounts for roughly half the floor space of the museum.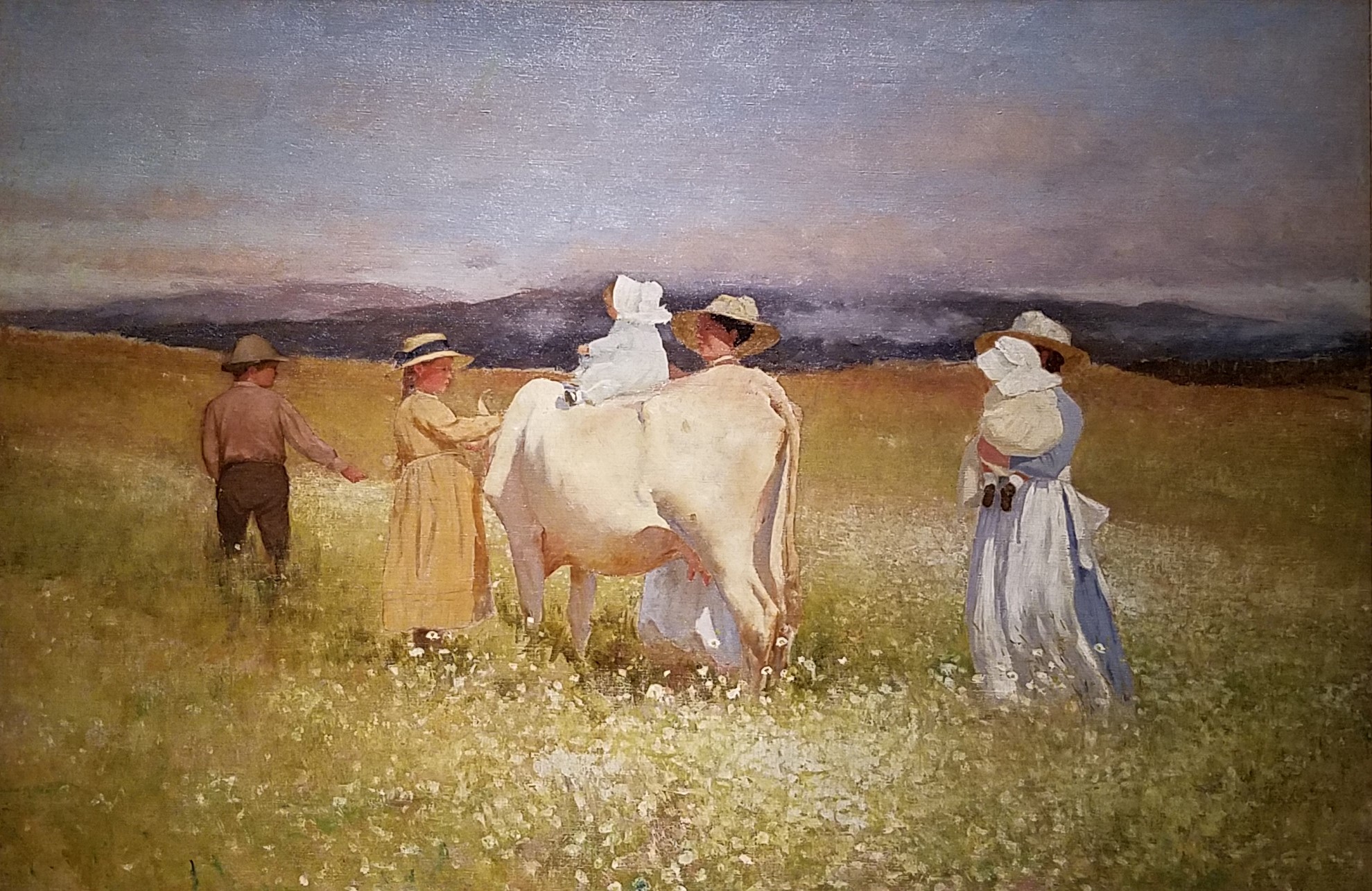 To meander through these rooms is to realize the full scope of Tiffany's visionary artistic talent. He was an accomplished painter, a designer, decorator, architect and photographer. He designed pottery, furniture, enamels and jewelry, in addition to the glass lamps, windows and vases for which he is so widely known.
---
Here we see it all, this being the largest holding of Louis Comfort Tiffany's personal collection of objects — both pieces created by his own hand and by the skilled artisans he employed, and works he admired, made by the hands of others.
---
In the Living Room Gallery — as it was in the original house — the centerpiece is a massive wooden table over which hang three green-glass turtleback dome lamps. Covering the table are pots of plants and flowers, stacks of magazines and various personal items. Pull up an overstuffed arm chair and this is a room to live in!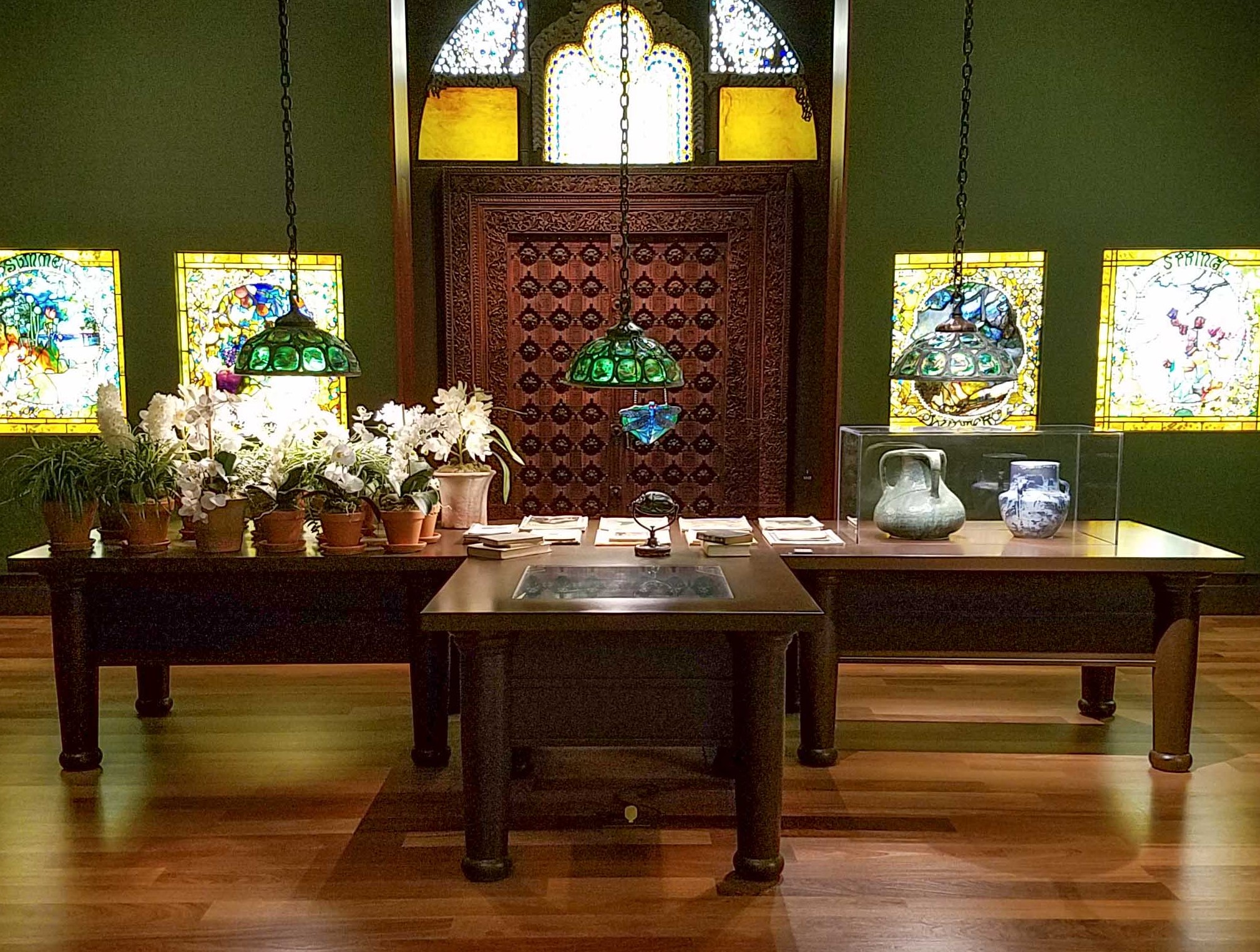 The original Laurelton Hall Daffodil Terrace was a covered outdoor porch open to the surrounding landscape. The terrace was named not for flowering bulbs in the adjacent garden beds, but for the unique capitals atop the columns — made of concrete encrusted with cast-glass daffodils.
---
Window walls separate the Daffodil Terrace Gallery from a quiet courtyard, filling the space with natural light. Despite being enclosed, the essential components of the original terrace are here. Besides the fanciful capitals, the Carrara marble columns and corbels, the painted cedarwood ceiling, and the iridized glass in the skylight are true to the original.
---
And there's more! More Tiffany and more other lovely things.
Gallery X is colorfully replendent with all shapes and sizes and styles of Tiffany lamps. There's a roomful of Tiffany jewelry, another of Tiffany art glass, and an exhibit that explains the secrets of Tiffany glassmaking.
---
Undoubtedly, the work of Louis Comfort Tiffany is the centerpiece of the Morse Museum collection, and the museum is internationally renowned for its unique and historically invaluable Tiffany collection. But the Morse is more than a Tiffany museum.
There is a gallery where the Morse's collection of American paintings and sculpture is displayed on long-term rotation, and a few rooms for changing exhibitions. When we visited, a special exhibition focused on iridescence in pottery glazes and glass, using pieces from the collection as exemplars.
The Morse is also home to a collection of American decorative art from the mid-19th century to the early 20th century. There is an Art Nouveau gallery and an extensive display of American Art Pottery. The Morse has especially rich holdings of work of the Arts and Crafts Movement.
"Have nothing in your houses which you do not know to be useful or believe to be beautiful."

William Morris, 1880; Morris was leader of the Arts and Crafts movement in Britain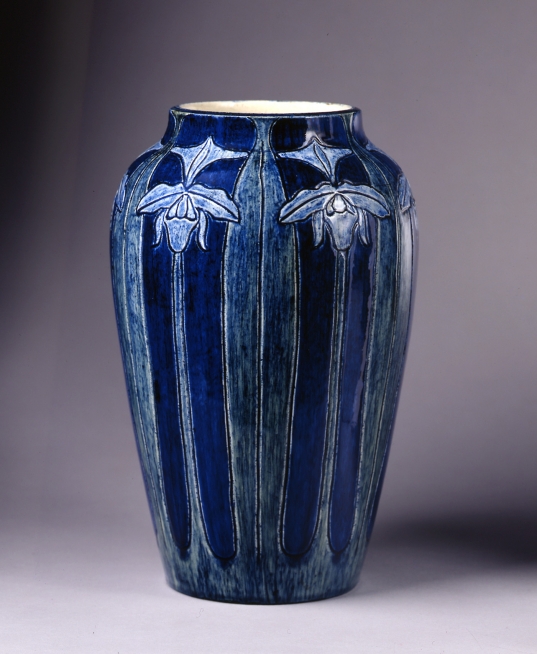 ---
The Morse Museum in the picturesque town of Winter Park is definitely worth a trip. It this article hasn't convinced you of that, to fully appreciate the breadth and depth of the collection you can peruse the collection highlights on the museum website.
Morse Museum of American Art
445 North Park Avenue, Winter Park, FL
407-645-5311
Hmmm … maybe it's time to plan a little trip?
---
Art Things Considered is an art and travel blog for art geeks, brought to you by ArtGeek.art — the search engine that makes it easy to discover more than 1300 art museums, historic houses & artist studios, and sculpture & botanical gardens across the US.