Ladies and Gentlemen step right up and discover the rich history, fun and fanfare of the great circus impresario's world-famous art collection!  Be amazed by Cà d'Zan — John and Mabel's awe-inspiring Venetian-style mansion by the bay!  Wander with wonder through Mabel's prodigious rose garden! 
Hyperbolic, you say? Only slightly.
A visit to the John and Mabel Ringling Museum of Art in Sarasota FL really does provide hours of sensory delight — from the setting on Sarasota Bay, the lush grounds, the Venetian-Gothic mansion, the Circus Museum, and the stunning Art Museum that houses a world-class collection of European art and more.
The Ringling fortune had its beginnings in the circus, and grew from there.
Read our post about how a man from humble roots became one of the wealthiest and best-loved names in America.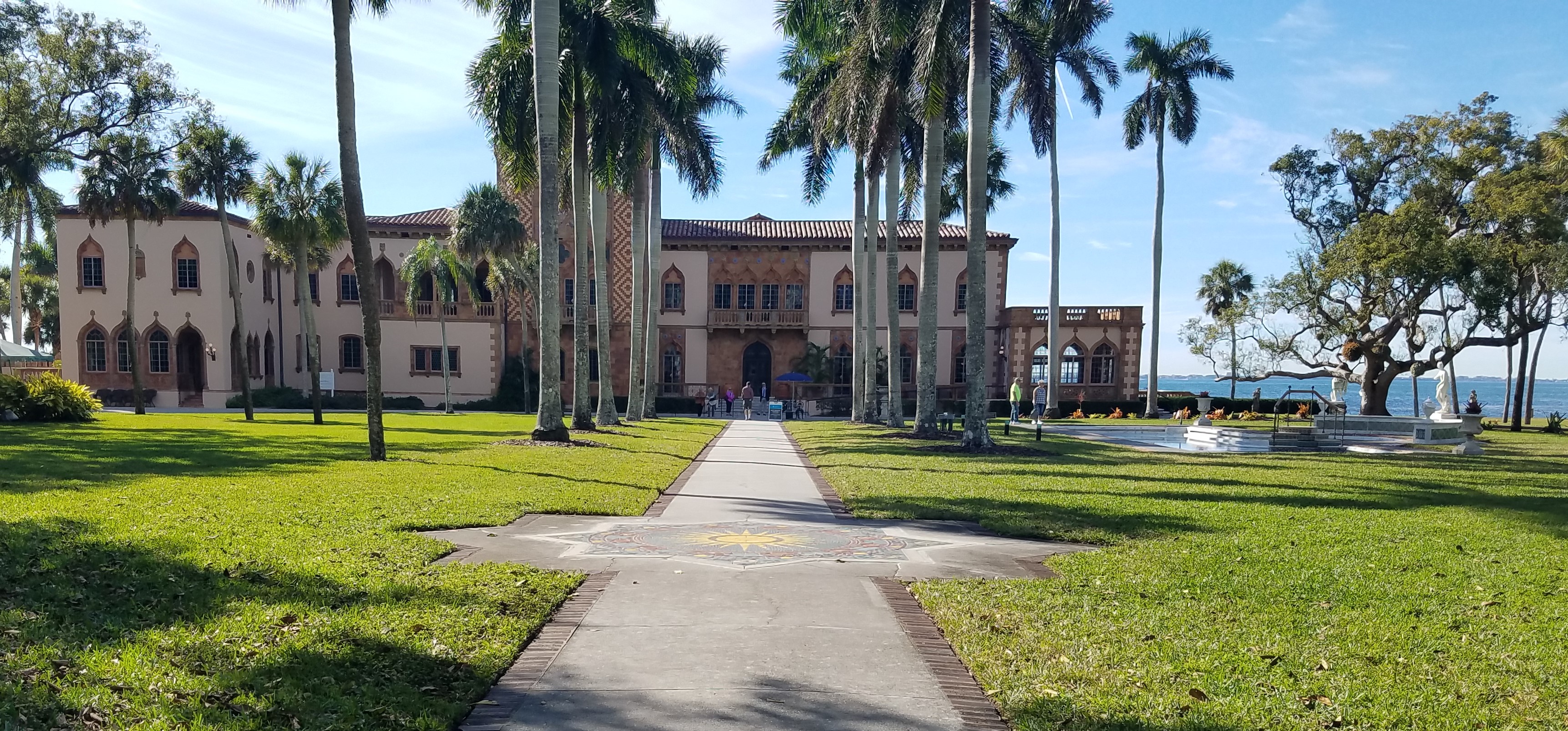 John and his wife Mabel bought 20 bay-front acres and — inspired by the Venetian Gothic palaces they'd admired on their annual trips to Europe — they built a 32-room mansion. They named it Cà d'Zan, meaning "the House of John" in Venetian dialect.
Bitten by the art bug during their European travels, they engaged the services of a Munich dealer and began collecting paintings and sculpture, including exemplary works by Rubens, van Dyck, Velázquez, Tintoretto, Veronese, El Greco, and Gainsborough.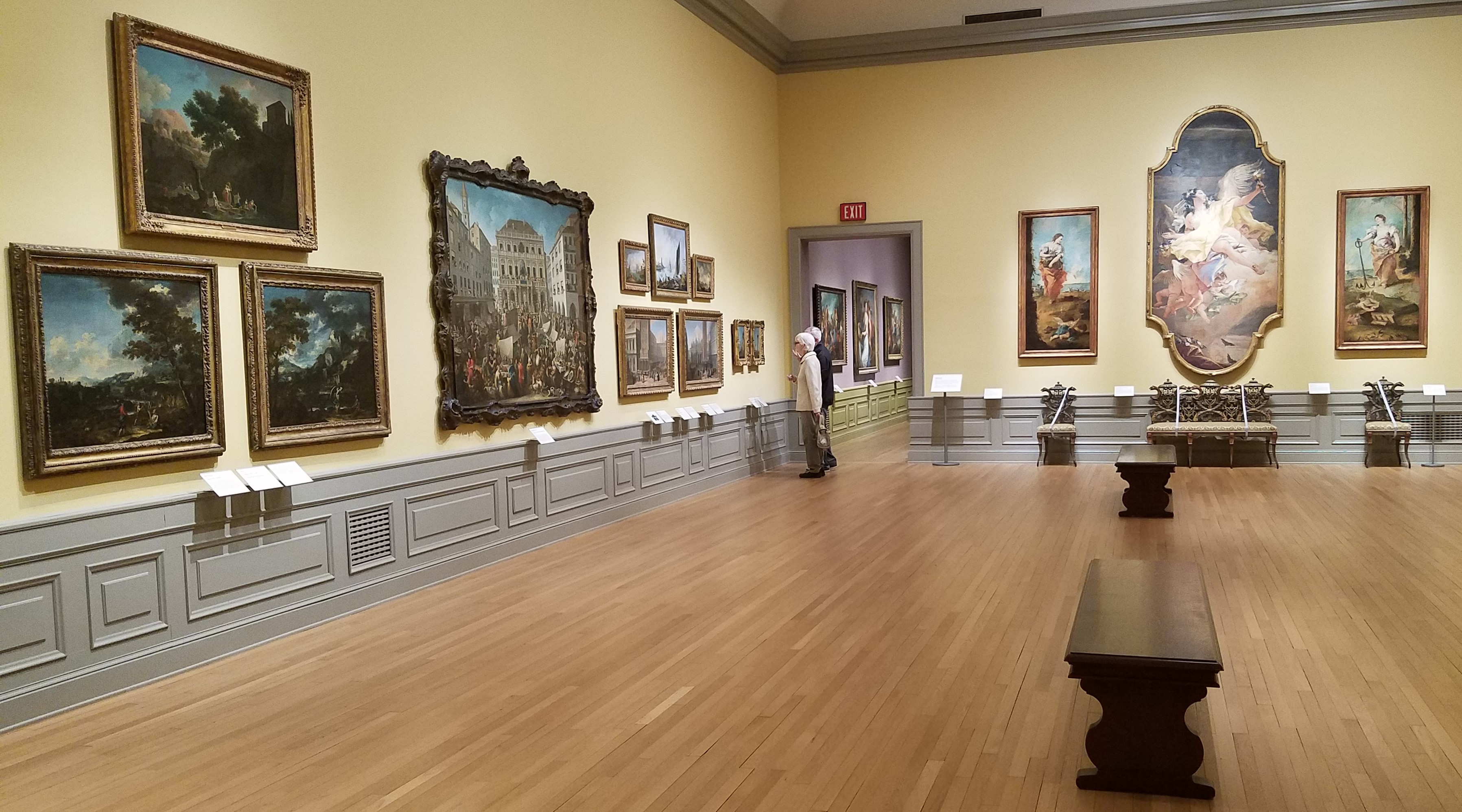 They then created a dedicated home for their ever-growing collection, building a museum — modeled on the Uffizi Gallery in Florence — on the grounds of their Sarasota estate. The resulting 21-gallery museum was filled with European art — from medieval works to Old Masters to early-20th century artists — and the courtyard dotted with replicas of Greek and Roman sculpture.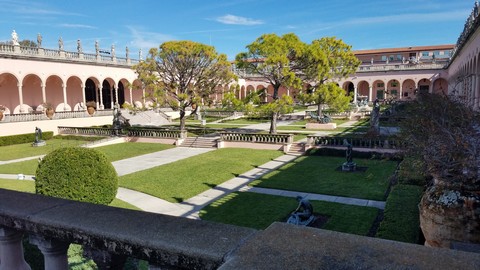 The Museum of Art opened to the public in 1931 — and Fortune magazine called John Ringling "the best millionaire alive."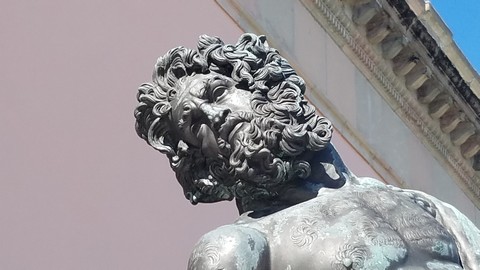 Our recent visit showed the Ringling Museum today to be all it was 80-odd years ago, and more. In the 21st century it has seen improvements and expansions to both infrastucture and the collections. Currently, the galleries are being updated one at a time — a process that is expected to take 3 to 4 years.
The original gallery installations are being reimagined to reflect today's design principles. The permanent collection will be displayed thematically rather than in strict chronological order. New lighting is being installed along with improved labelling and modern casework.
This long-term updating project means that at any given time certain works from the collection will not be on view. Not that most people will notice — there's still plenty to see!
Entering the Museum building at the bottom of the "u", we were greeted by an enthusiastic and well-informed docent. Under normal circumstances, a turn to the right — into the North wing — would have first put us in two galleries displaying monumental works by Rubens, and then at the chronological beginning of the European collection. We were disappointed to learn that the Rubens are currently under wraps, as a result of the re-installation project.
We were directed to start in the South wing — and we quickly forgot our disappoinment!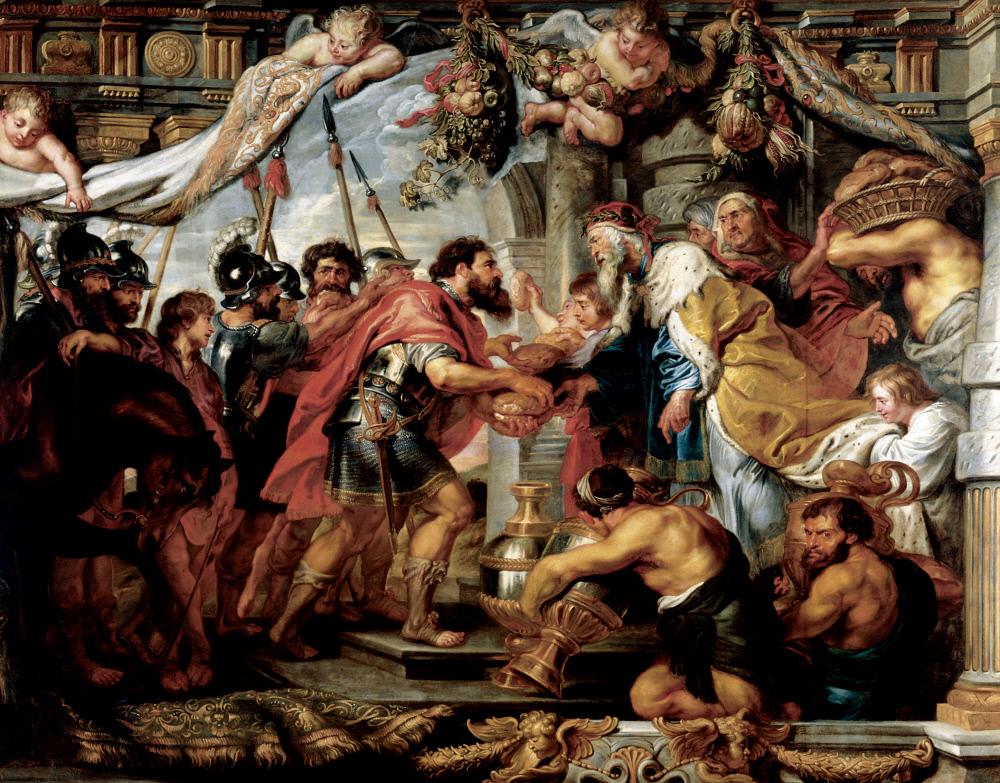 Starting in the early-20th and late-19th century, we began to work our way backwards through the painting and decorative art of art history.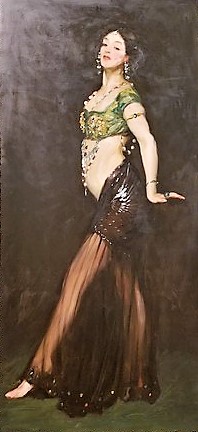 We knew immediately that we were launching into a memorable art experience. Gallery 21 was lined with paintings by Thomas Hart Benton, Saint-Gaudens, Rosa Bonheur, Edward Burne-Jones, Robert Henri, Boudin, Bierstadt … .
And — in one of those deliciously unexpected revelations — a group of works by Marcel Duchamp showed a side of him I'd never seen!
Read our post about those Marcel Duchamp works.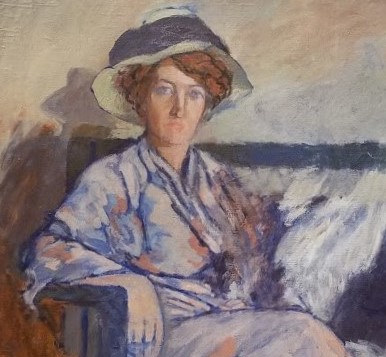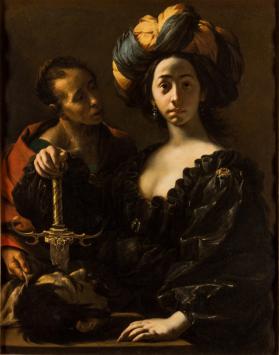 After absorbing ten galleries of paintings by the likes of Canaletto, Tiepolo, Frans Hals, Rubens, Panini, Ramsay and Raeburn we were flagging — and we were less than half way through!

Time for a break.
A light lunch at the Banyan Cafe, a stroll through the gardens and along the bay, plus a Cà d'Zan tour, did the trick.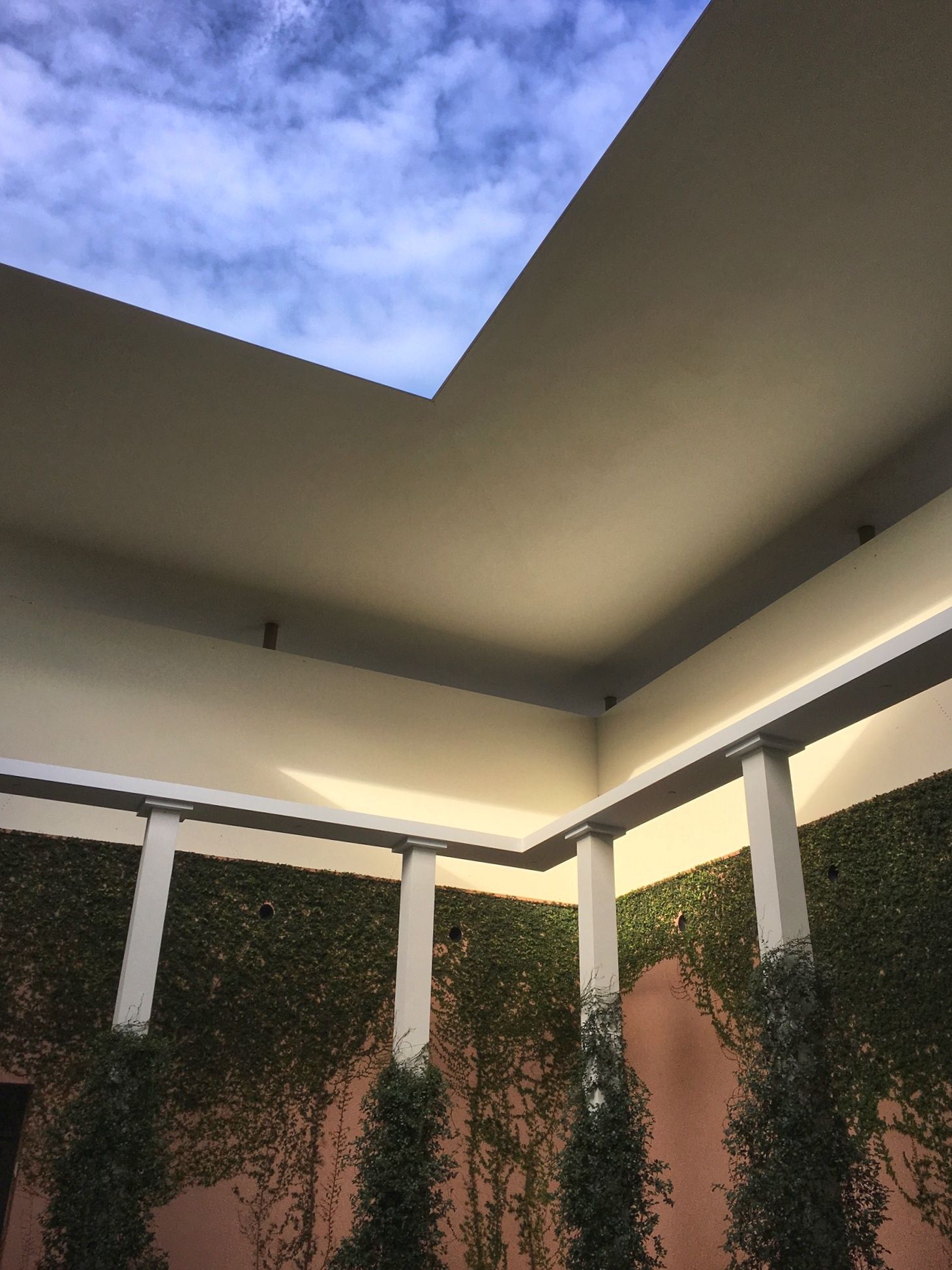 Returning to the Museum, we passed through the 2007 Searing Wing, which holds one of James Turrell's Skyspaces. Called Joseph's Coat, it's a meditation courtyard, open to the sky, greenery vining up the walls, washed by the changing effects of light and weather.
The break was well-advised: the north wing is as brim-full of engaging artwork as the south wing, including work by Simon Vouet, Veronese, Guercino, Cranach the Elder, Piero di Cosimo …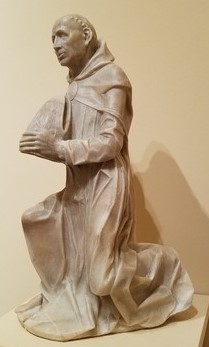 I was captivated by a small work of sculpture, Cleric with Mitre, carved in marble c.1480, by Giovanni Antonio Amadeo and his workshop.
It had such a delicate, refined finish, I initially thought it had been formed in wax. The adjacent wall text describes the drapery as "cartaceous," because of its resemblance to crumpled paper.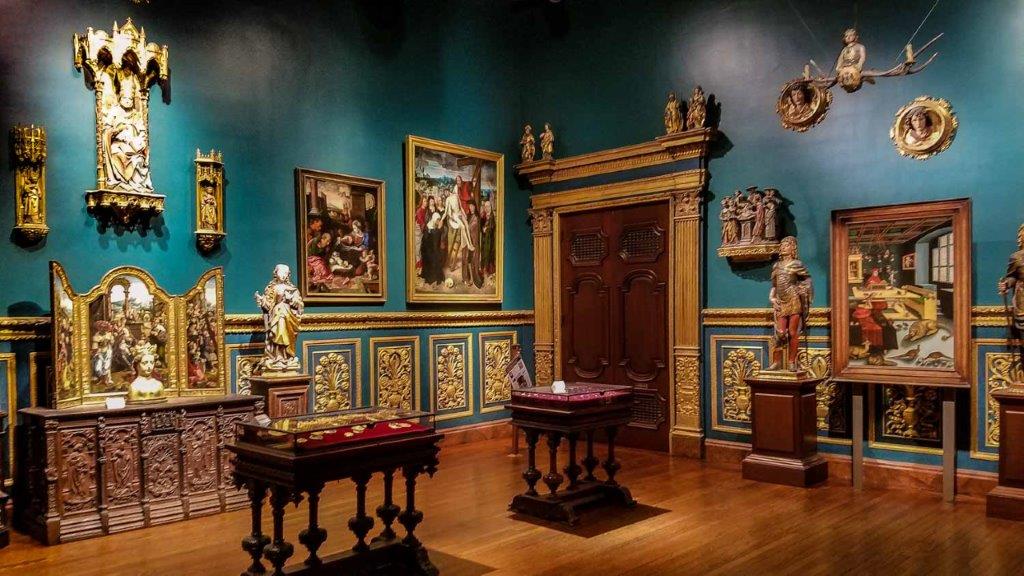 The Ringling has found its footing, taking its place as a leader among American art museums. Building on the legacy of John Ringling's collection, new acquisitions of 20th & 21st century works as well as historical and contemporary Asian art — plus modernization and expansion of the physical plant — ensures a robust future.
Hmmm … time to plan a little trip? Take a day in Sarasota to delight in the art, the history, and the setting of the John and Mabel Ringling Museum of Art. Exquisite inside and out. Highly recommended!
John and Mable Ringling Museum of Art
5401 Bay Shore Road, Sarasota, FL
941-359-5700
♦ Open daily 10:00am – 5:00pm, Thursdays until 8:00pm
♦ Closed on Thanksgiving, Christmas, and New Years Day.
Admission to the Museum of Art and Circus Museum:
Adult: $25 / Adult 65+: $23 / College Student: $5 / Child: $5 /
US Active Military: $15 / Florida Teacher: $10
Admission to Ca' d'Zan is additional, and entry is by docent-let tour only