Every three years, the National Portrait Gallery (NPG) highlights the creativity and skill of contemporary portrait artists in America with the Outwin Boochever Portrait Competition and exhibition. In an open-call for work that challenges traditional definitions of portraiture, artists living and working in the US vie for a $25,000 1st place award. This year, 42 finalists representing 14 states, Washington DC, and Puerto Rico — were selected from 2,700+ entries.
This year's finalists responded with works that reflect personal experience of contemporary society, many providing insight into the unprecedented reality experienced during the COVID-19 pandemic. Working in a wide range of media — painting, drawing, photography, sculpture, textiles, video and performance — these artists demonstrate the power of the genre and its capacity to make visual all manner of life experience.
---
The Outwin 2022: American Portraiture Today – on view through Feb 26, 2023
First Prize went to Alison Elizabeth Taylor for Anthony Cuts Under the Williamsburg Bridge, Morning. Walking around her Brooklyn neighborhood during the lockdown, Taylor encountered a local hair groomer, whose shop had been shuttered, plying his trade outdoors. She was inspired to recreate the scene using a process she calls "marquetry hybrid", which incorporates vivid paints, inkjet printing and the natural grains of more than 100 veneers. A close look reveals the justification for the win!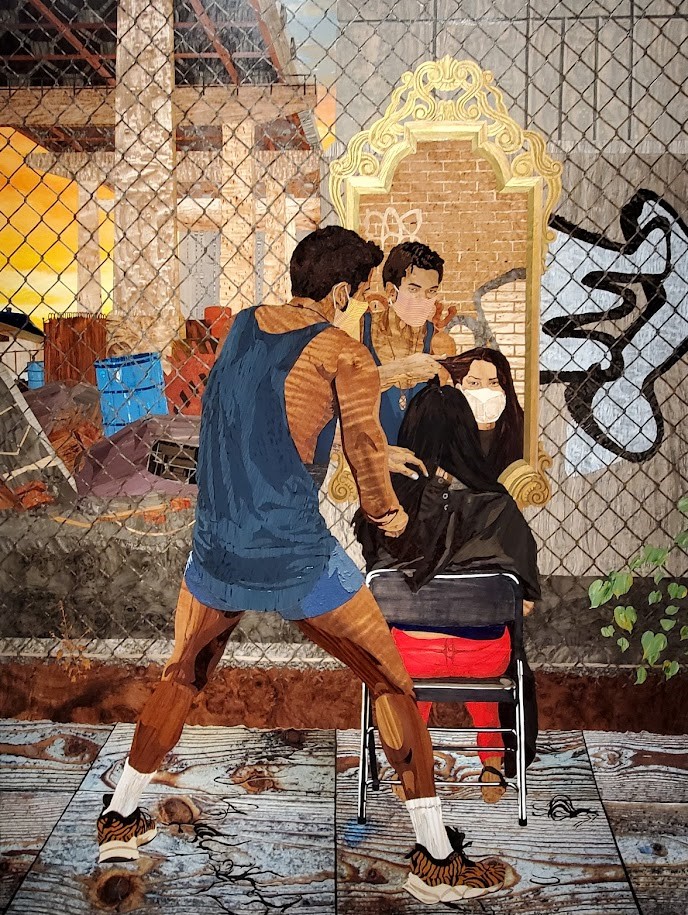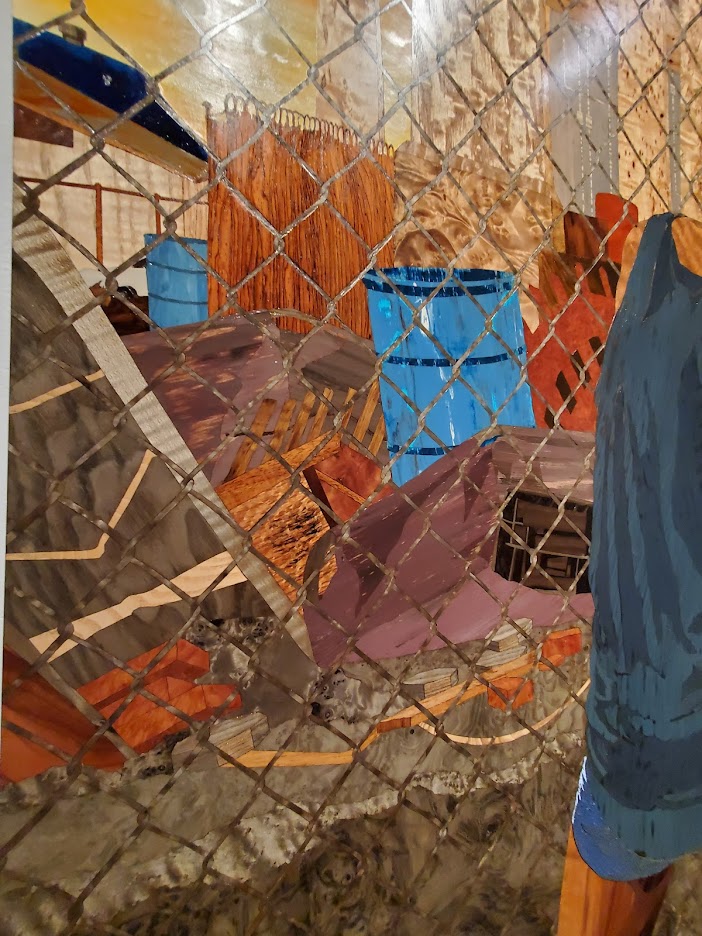 Another piece that rewarded close inspection was Bertha, I'd like to know where you got the notion, by Donna Castellanos. Working with found objects, this Elmhurst, IL artist created a portrait honoring her grandmother. When Bertha was young she worked at a sewing factory installing zippers, and her love of textiles and needlecraft has passed down through the generations, to the artist's mother and aunts, and on to Castellanos. The women collectively stitched this homage — made entirely of sewing notions.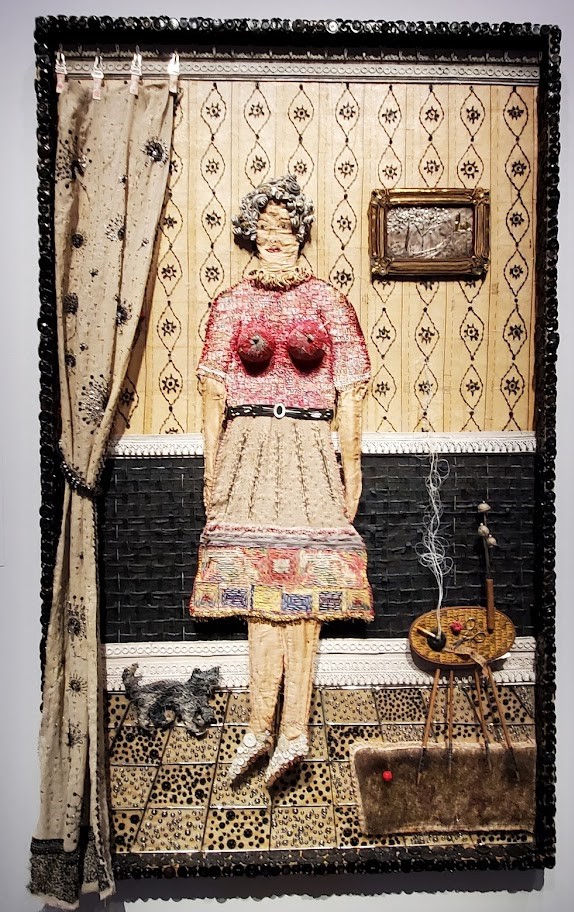 ---
Two photographs captured our attention.
The first, the work chosen to promote the exhibition, is Elizah Leonard, part of the Strong Unrelenting Spririts series. The artist, Tom Jones, grew up in the Ho-Chunk Nation of Wisconsin, and his work focuses on Native American present and future while acknowledging coexistence with the past. In this multilayered portrait, he introduces us to Elizah Leonard, a champion dancer and recipient of the All-American Scholarship for wrestling. This inkjet print is enhanced with beads, rhinestones and shells, stitched directly onto the print.
The second photographic image that grabbed our attention was Glimpse, from the City Space series, which explores the urban relationship between private and public spaces. The unidentified woman is watching being watched, in a chance encounter with the artist, Clarissa Bonet — and the viewer.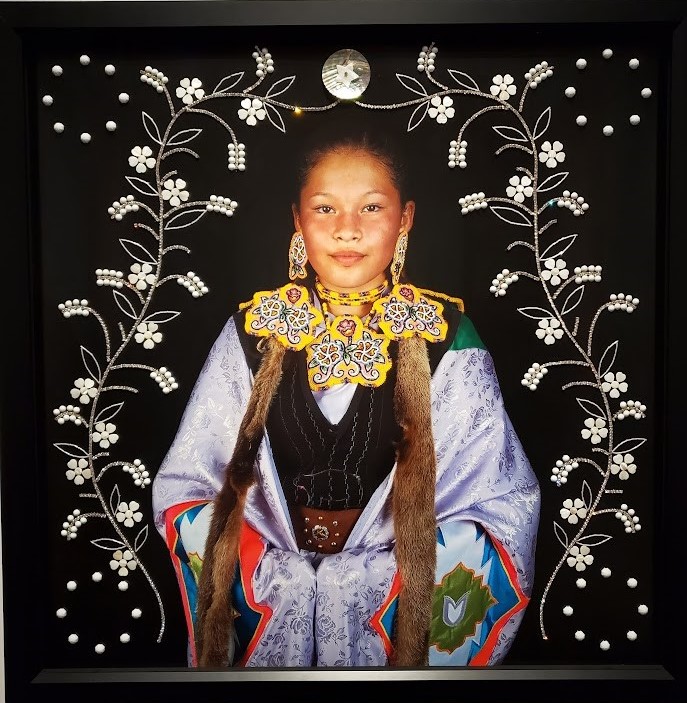 The Outwin Boochever Portrait Competition is the realization of a gift made by Virginia Outwin Boochever (1920-2005) to the Smithsonian. The competition and the exhibition demonstrate the power of one individual to make a transformative impact, and reveal the depth of creative skill that resides in America's arts community today.
---
Hmmm … maybe it's time to plan a little trip …
National Portrait Gallery
8th and F Sts., NW, Washington, DC
202-633-8300
The Outwin 2022: American Portraiture Today on through Feb 26, 2023
---
Art Things Considered is an art and travel blog for art geeks, brought to you by ArtGeek.art — the only search engine that makes it easy to discover more than 1600 art museums, historic houses & artist studios, and sculpture & botanical gardens across the US.

Just go to ArtGeek.art and enter the name of a city or state to see a complete catalog of museums in the area. All in one place: descriptions, locations and links.
Use ArtGeek to plan trips and to discover hidden gem museums wherever you are or wherever you go in the US. It's free, it's easy to use, and it's fun!
© Arts Advantage Publishing, 2022