Johannes Vermeer (1632-1675) was an innkeeper and an art dealer, and in 1653 he became a master in the Saint Luke's Guild in Delft. He would serve as head of that guild four times in the 1660s and 1670s. These demands on his time — plus the fact that his painting method was slow, meticulous and detail-oriented — limited his artistic output. It's thought that starting in 1654, at age 22, he probably produced only two or three works a year. Today scholars unanimously agree that Johannes Vermeer (1632-1675) produced fewer than 40 paintings during his 43-year lifetime.
In 1866, a French art-critic catalogued 70 works attributed to Vermeer, but ongoing art historical research, and with advanced technology, almost half of those attributions have been discredited.
That landscape, however, is ever-changing.
In 2004, Young Woman Seated at a Virginal (around 1670-72) was rediscovered at Sotheby's when new research fully authenticated it, adding it to the list of 35 long-established Vermeers. The painting had been denied authentication for most of the 20th century. (A virginal by the way, is a musical instrument of the harpsichord family.)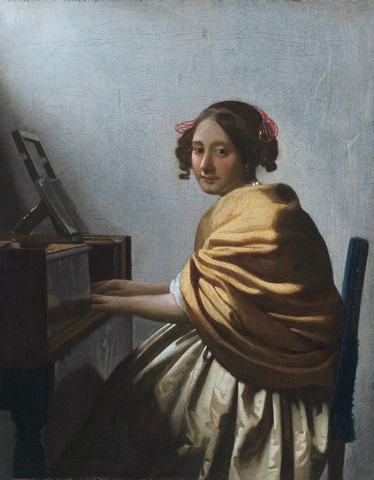 On the other hand, The National Gallery (NGA) in Washington DC has recently rescinded attribution to one of the four Vermeer works in its own collection. Given Vermeer's cachet, this downgrading was a pretty significant decision.
For years, the NGA has owned four works by or attributed to Vermeer: A Woman Holding a Balance, A Lady Writing A Letter, Girl with the Red Hat, and Girl with a Flute. It is this last work that has been taken down a peg.
On the NGA website, the attribution for Girl with a Flute now reads, "Studio of Johannes Vermeer."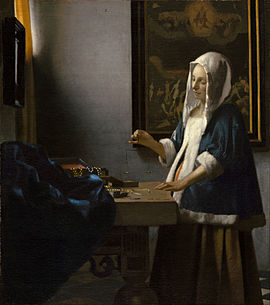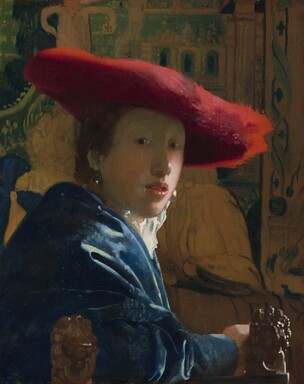 Vermeer has never been thought to have had a workshop with apprentices. This new assumption about Girl With A Flute being attributed to the "studio of Johannes Vermeer" opens a whole new realm of possibility … but it seems to us to be putting the cart before the horse!
---
Vermeer's Secrets (on through January 8th 2023)
For decades, conservators, scientists, and curators at the National Gallery have conducted research into this quartet of paintings as well as two enigmatic works that are now considered to be 20th-century forgeries. Vermeer's Secrets draws on 50 years of imaging technology and microscopic examination to illuminate our understanding of how Vermeer achieved the compelling effects of his paintings' light-filled moments of quiet solitude.
The exhibition offers a behind-the-scenes glimpse, revealing findings about these paintings and the artist who made them. Those findings led to the conclusion that Girl with a Flute is in fact, not by Vermeer's hand.
---
Although we are a tad uncomfortable questioning the NGA experts, we art geeks are not convinced.
And not all Vermeer experts are convinced, either.
Early next year (Feb 10-June 4, 2023) the Rijksmuseum in Amsterdam will host the largest Johannes Vermeer exhibition ever held. No fewer than 28 of his paintings will be brought together for the first time, including what are thought to be his earliest and final paintings. All four of the paintings from the NGA will be in the exhibition, including Girl with a Flute, which will be given a solid Vermeer attribution!
We feel vindicated.
Analysis techniques drawn from the fields of chemistry, materials science and optics — the likes of infrared imaging, stereo microscopes, chemical mapping — can expose miniscule detail and reveal what's beneath, but the conclusions from these findings are often based on assumptions — knowledge-based assumptions, but assumptions nonetheless.
The assumption here seems to be that Vermeer always used given materials in the exactly same way, that his brushwork was always the same, that a dab of a particular paint in a particular place isn't logical — implying that Vermeer never would have put that dab in that spot.
All four of the NGA Vermeer paintings are in the exhibition, but the focus is on a direct comparison of the two very small paintings, Girl with the Red Hat (c. 1669) and Girl with a Flute (c. 1669/1675). The paintings appear to be well-developed studies exploring the effects of light and facial expression.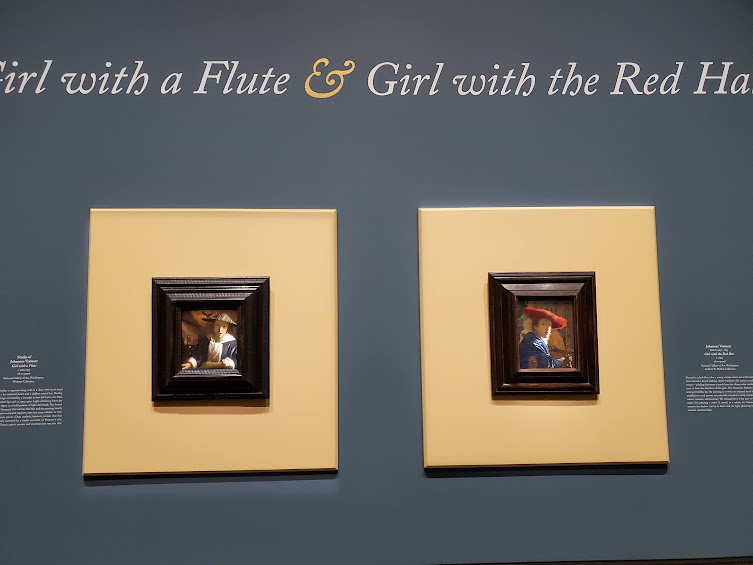 The sitter in each looks to be the same young woman — although perhaps a few years older when sitting for Girl with a Flute — each wearing a fanciful hat that shades half her face while light streams in from the right. They both gaze directly at the viewer, lips slightly parted. The paintings are nearly identical in size and are both painted on small wood panels. Painting on a wood support was unusual for Vermeer.
In fact, Girl With a Red Hat was painted over a portrait of a man in a black hat. Rather than scraping away the original paint or applying a covering layer of gesso over it, Vermeer painted directly over the portrait after rotating the panel 180 degrees.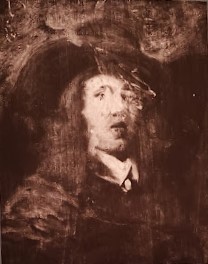 Might he have been experimenting?
Or might he have been painting quickly for some reason?
Girl With A Flute is dated perhaps as late as 1675, the year he died, heavily in debt. The collapse of the art market in 1672 had destroyed his business as both painter and art dealer. It's not inconceivable that he hoped he might be able to sell a quick small painting — using whatever materials he still had on hand — perhaps as a companion piece for whatever patron had purchased the Girl with the Red Hat.
Vermeer's wife attributed her husband's death to the stress of financial pressures. In a petition to her creditors, she wrote "… during the ruinous war with France he not only was unable to sell any of his art but also, to his great detriment, was left sitting with the paintings of other masters that he was dealing in. As a result and owing to the great burden of his [11] children having no means of his own, he lapsed into such decay and decadence, which he had so taken to heart that, as if he had fallen into a frenzy, in a day and a half he went from being healthy to being dead."
Vermeer's Secrets highlights how much we still don't know about this beloved 17th-century Dutch painter!
---
Hmmm … maybe it's time to plan a little trip …
National Gallery of Art
4th and Constitution Avenue NW, Washington, DC
202-737-4215
Vermeer's Secrets on through January 8, 2023
---
Rijksmuseum, Amsterdam
Vermeer (10 February – 4 June 2023)
---
Art Things Considered is an art and travel blog for art geeks, brought to you by ArtGeek.art — the only search engine that makes it easy to discover more than 1600 art museums, historic houses & artist studios, and sculpture & botanical gardens across the US.

Just go to ArtGeek.art and enter the name of a city or state to see a complete catalog of museums in the area. All in one place: descriptions, locations and links.
Use ArtGeek to plan trips and to discover hidden gem museums wherever you are or wherever you go in the US. It's free, it's easy to use, and it's fun!
© Arts Advantage Publishing, 2022