The peoples of the Pre-Columbian world created a long and varied history before Europeans arrived in the "New World." Much evidence of large-scale architecture, stunning works of art, and complex writing and record-keeping systems remains today, testament to the sophistication of those early civilizations.
Ensconced behind high brick walls in residential Georgetown (Washington, DC), Dumbarton Oaks Research Library and Collection is a Harvard University research institute — the legacy of Robert and Mildred Bliss, collectors of art and patrons of learning in the humanities. The museum houses world-class collections of Byzantine and Pre-Columbian art and an historic garden, which Mildred Bliss created in close collaboration with renowned landscape designer Beatrix Farrand.
Sharing a taste in the art of little-known cultures, the Blisses developed a unique collection with the help of knowledgeable friends and scholarly advisers. Their approach was to acquire artwork "in a new pattern, where quality and not number shall determine the choice." Although far-reaching in scope and wide-ranging in stylistic expression, the collections are unified by the objects' rare beauty and refined craftsmanship.
Dumbarton Oaks is a haven for researchers who come to study its books, objects, images, and documents. Happily, the museum galleries are also open to the public.
We recently visited to see the renowned collections of Byzantine and Pre-Columbian art, and to wander through the magnificent garden. In this article, we'll focus on the Pre-Columbian collection. We write about the Byzantine art collection here, and the gardens here.
---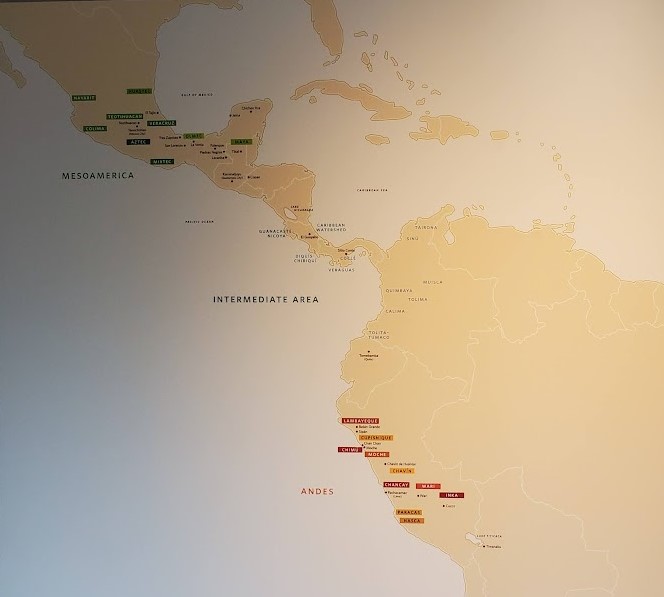 The Pre-Columbian Collection includes objects created over the course of three thousand years, from Mesoamerica to the Andes. Holdings of more than 700 objects include stone sculpture, ceramics, mosaic inlay, architectural panels, small metal objects, and textiles.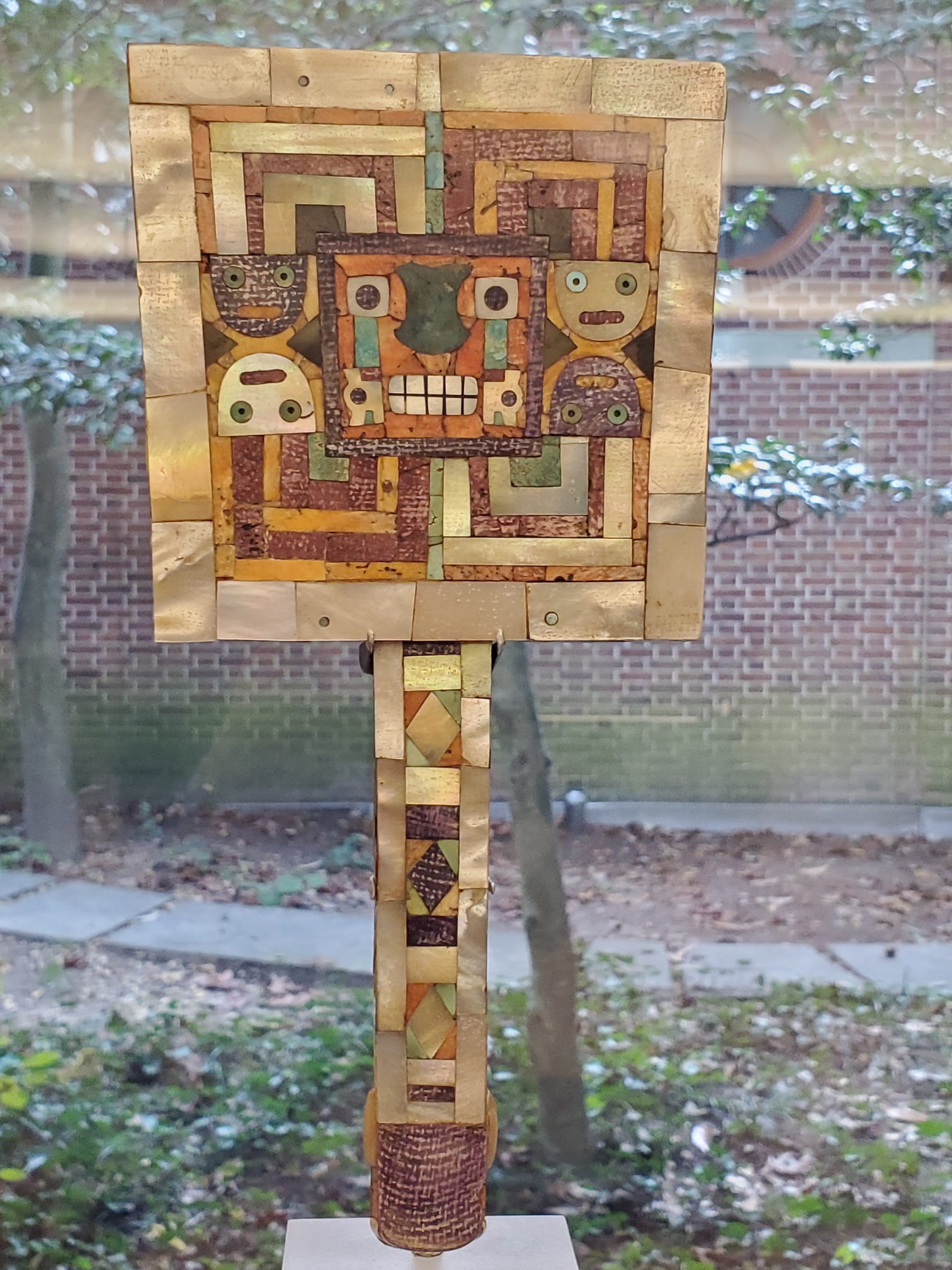 Selected objects from the collection are displayed in the purpose-built Pre-Columbian Gallery pavilion. Designed by Philip Johnson, the structure is a work of art in itself. Although it opened in 1963 to somewhat mixed reviews, it is now seen as a seminal building in Johnson's late-1950s shift from International Style modernism to postmodern classicism.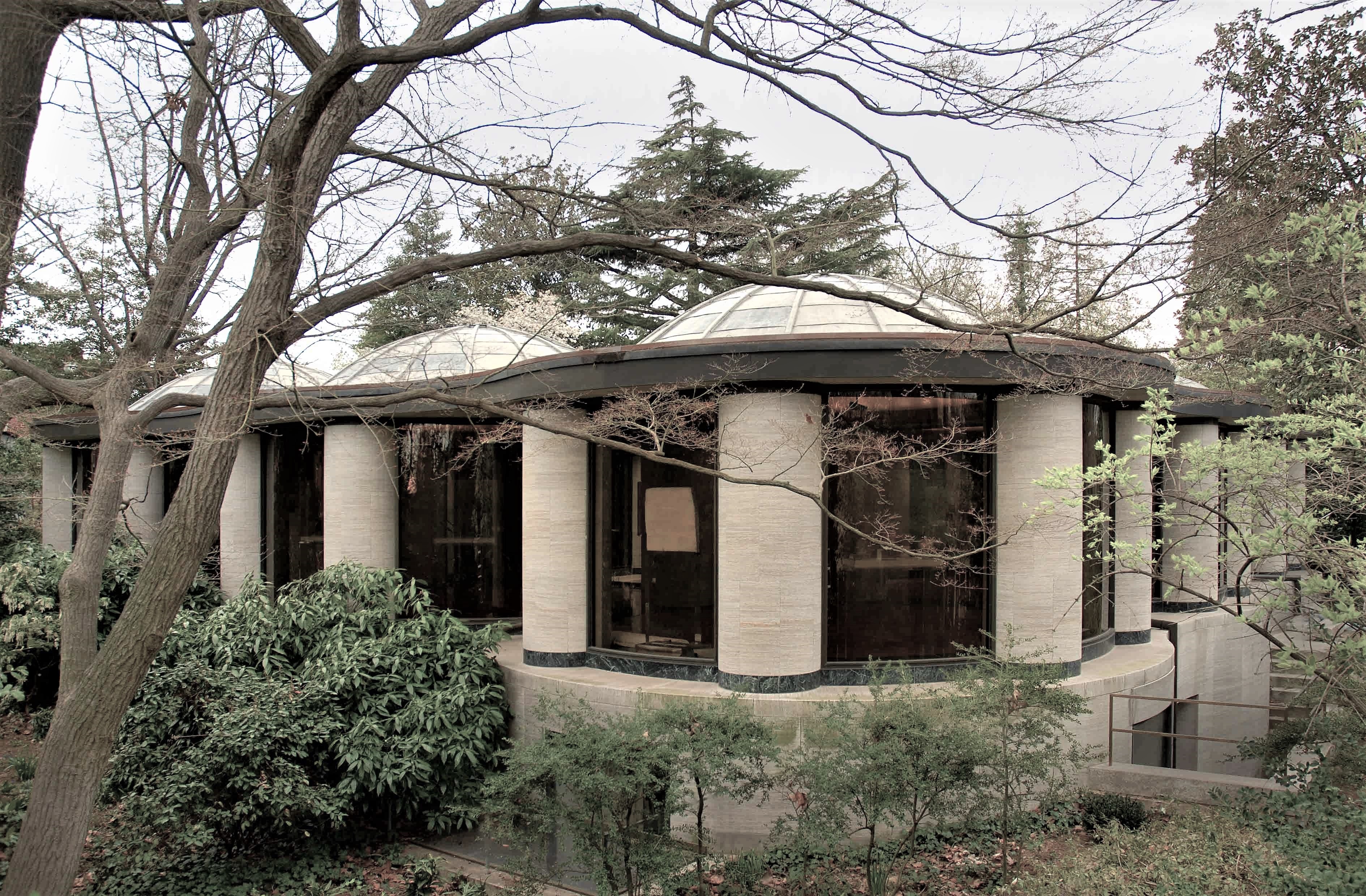 Set in a lightly wooded landscape, with walls of tinted, UV-filtering glass, the pavilion is filled with natural and indirect light. Despite this openness, the sense of interior space is intimate. The objects are displayed in clear acrylic cases, in a series of eight small circular glass-walled rooms arrayed around an open courtyard. The curving glass, Illinois Agatan marble columns, and radial teak floors rimmed with green Vermont marble provide an eloquent yet subdued enclosure for the Pre-Columbian displays.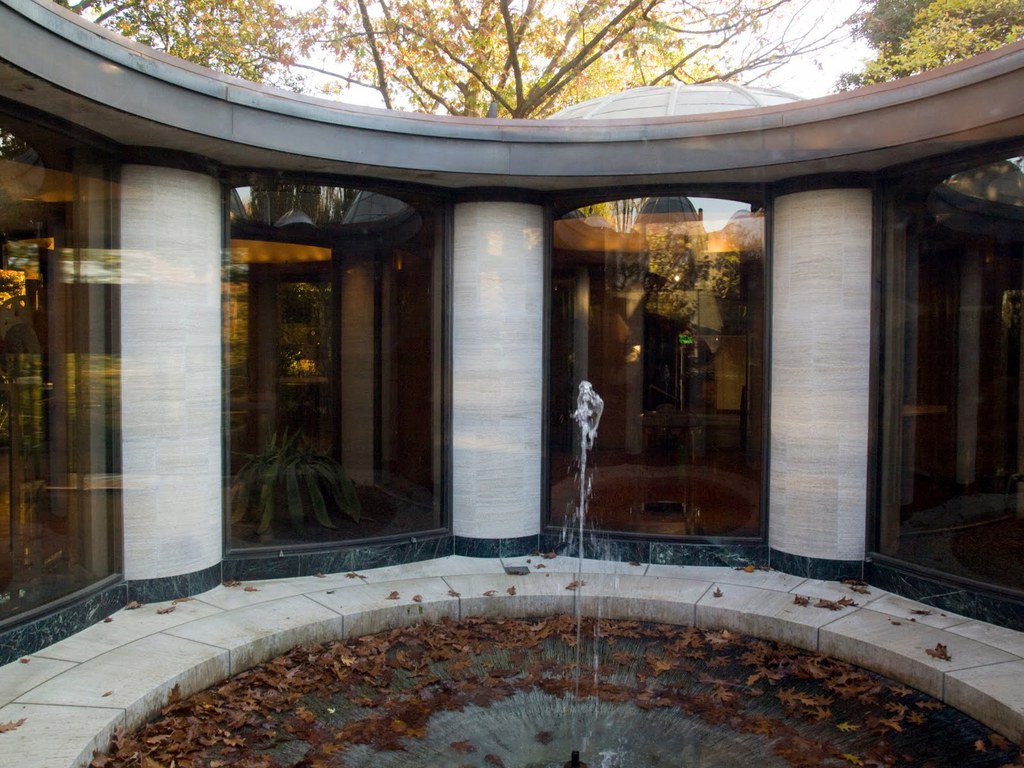 Each room presents a geographic or cultural grouping: Highland Mesoamerica, Lowland Mesoamerica, The Maya Court, Intermediate Area, Northern Andes, and A New World. This connected-but-separate presentation of the objects makes the long and varied history of these ancient civilizations accessible to those of us who have limited prior knowledge to draw on.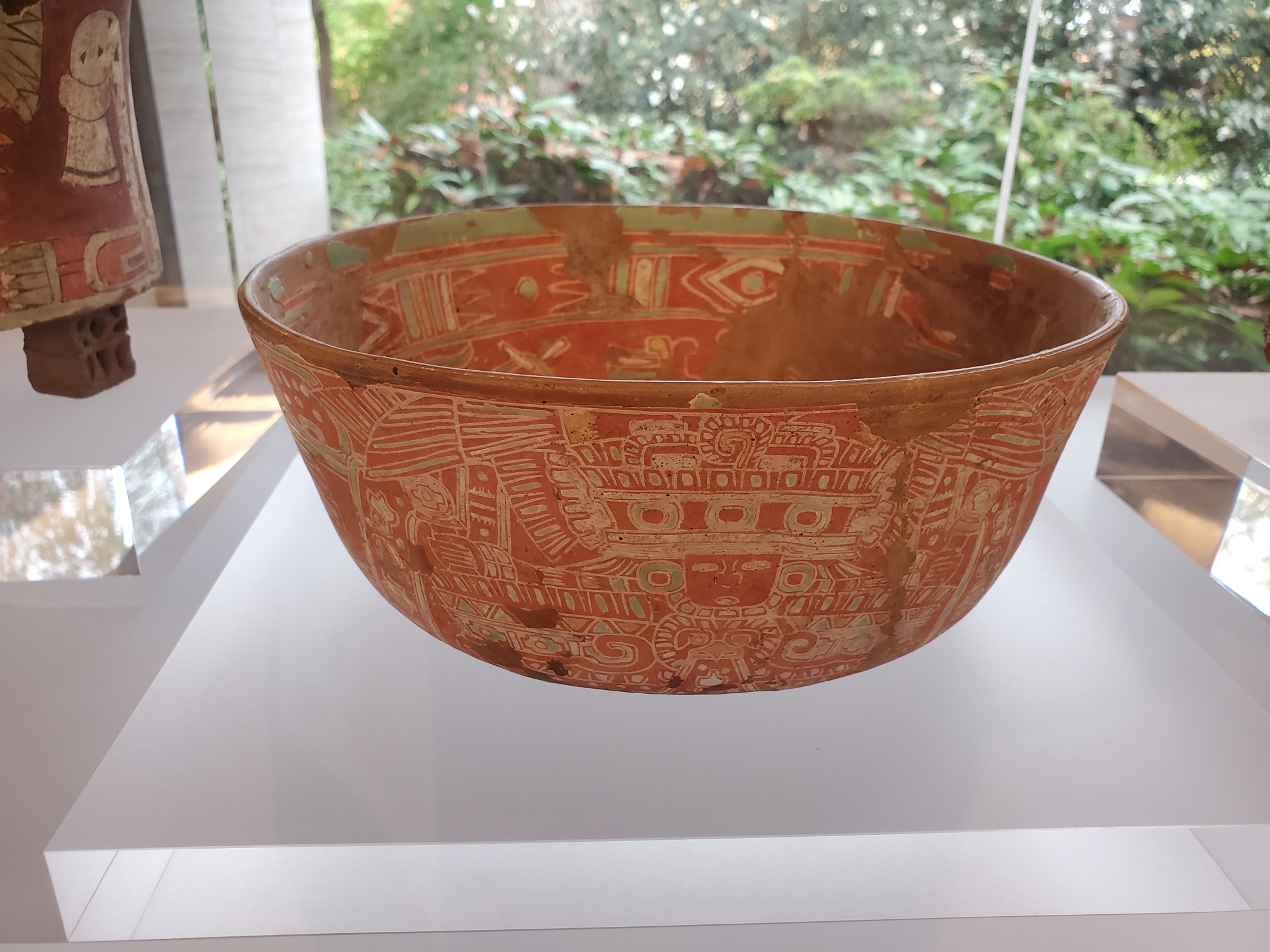 The Maya civilization was one of the most enduring of the Pre-Columbian cultures, flourishing for more than two millennia. The Dumbarton Collection includes many exemplary Mayan objects, including an intricately carved limestone relief panel showing Chitam, ruler of Palenque, impersonating the storm god Chahk. Wearing Chahk's costume and carrying the snakes and a water pot that symbolized lightening and thunderous rain, Chitam's dance was thought to facilitate contact with supernatural beings and ancestors. Here, as throughout the gallery, adjacent text explains the symbolic, historical and cultural context of the objects.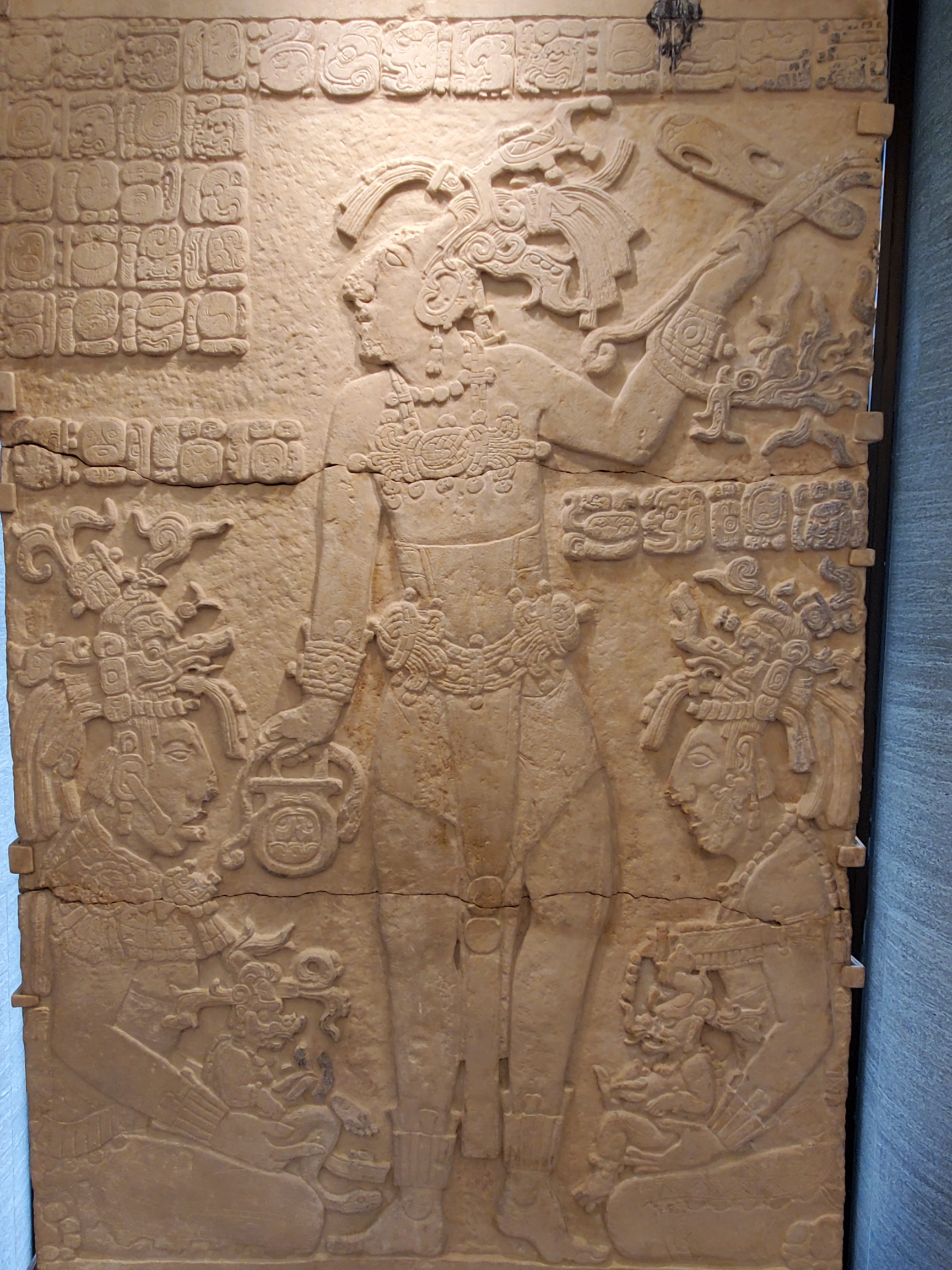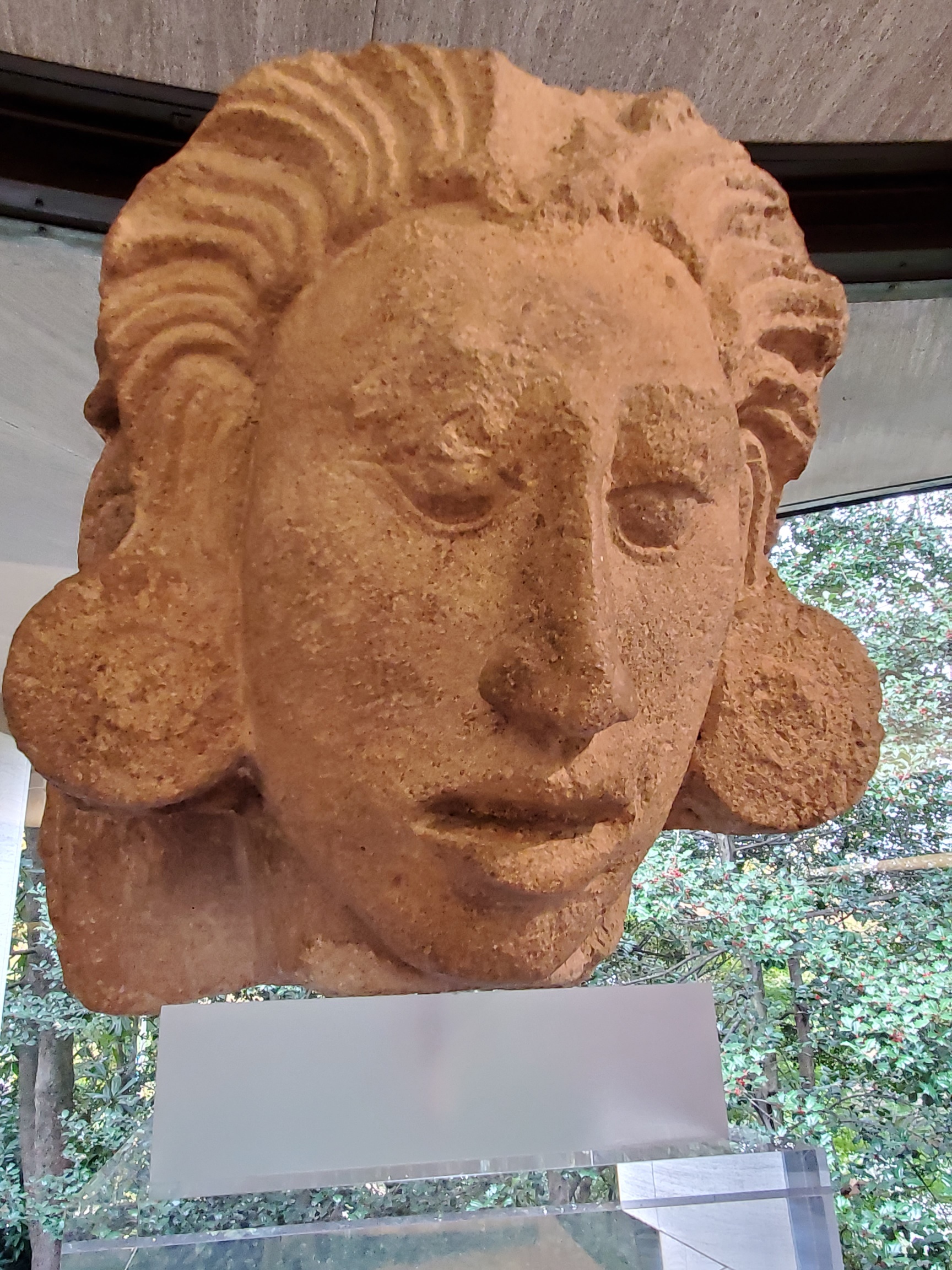 Here are a few other objects that captured our attention …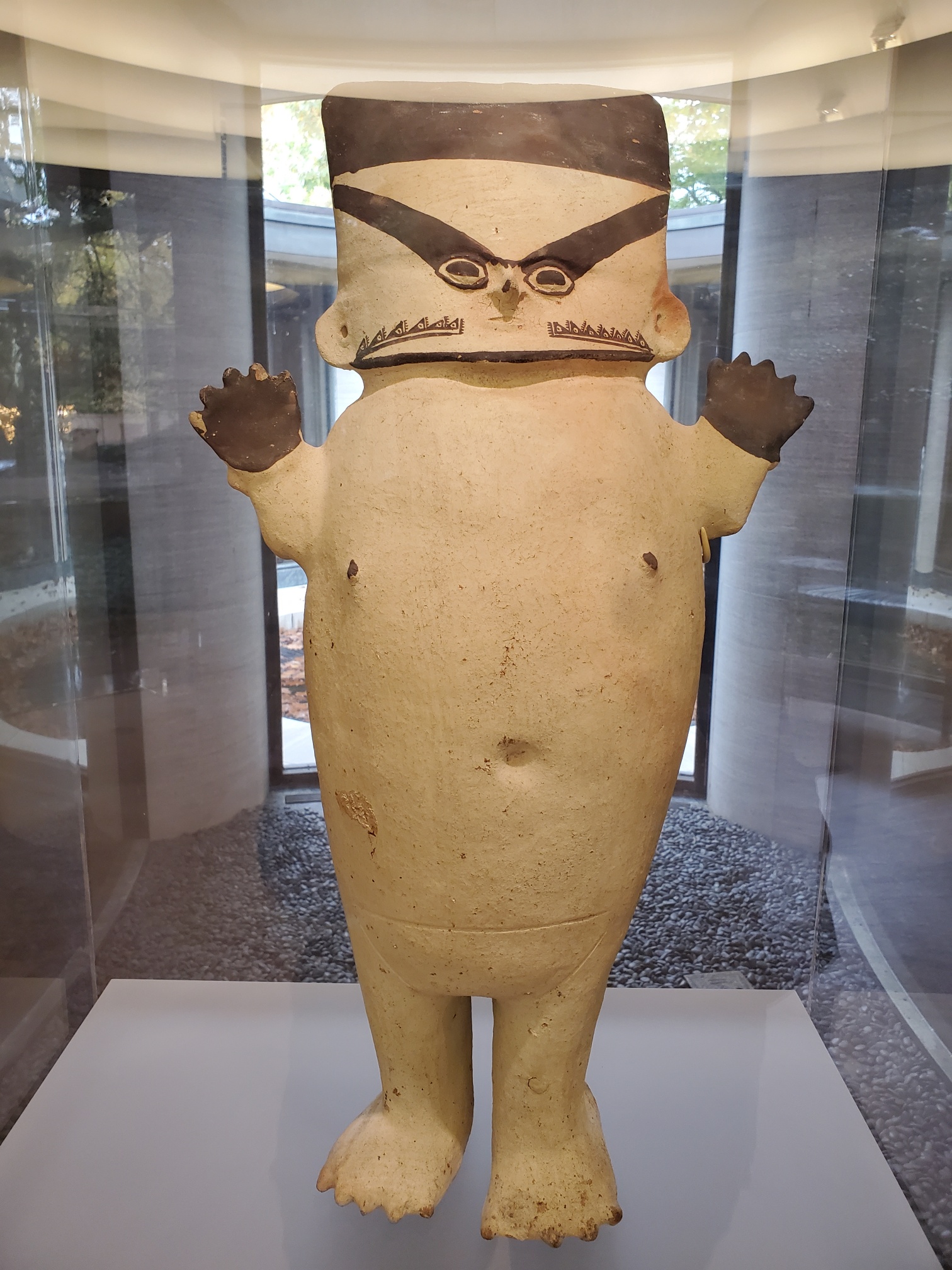 ---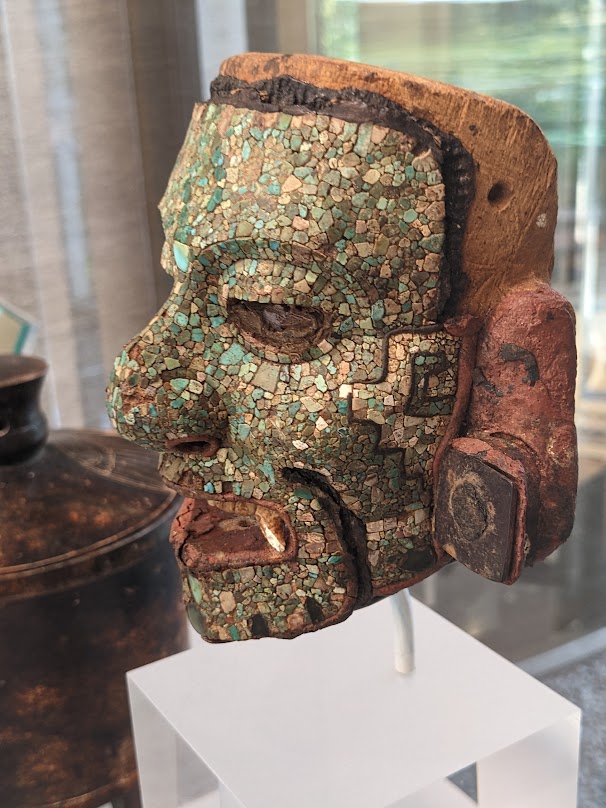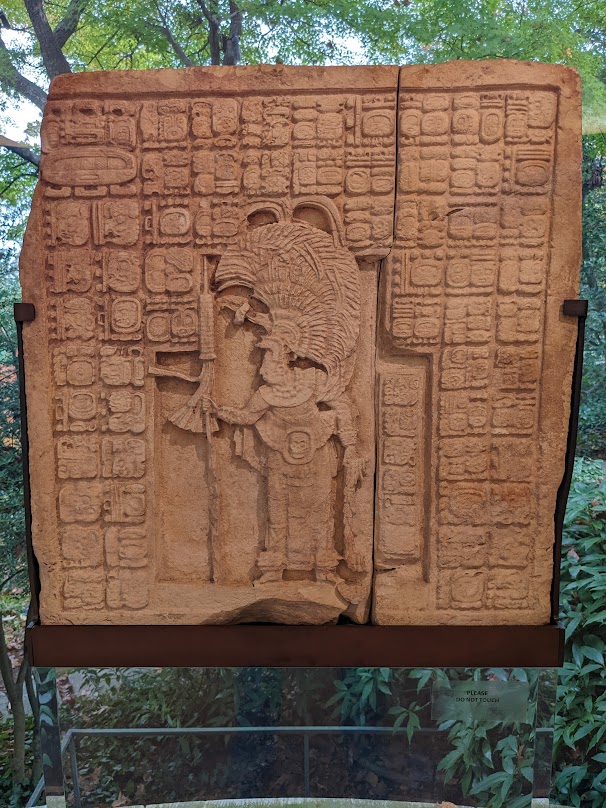 ---
In 1959, Robert Woods Bliss said, "I have practically no Peruvian ceramics, an expression of the work of pre-Columbian artists which I have avoided for fear I should have to build a separate house should I begin to amass examples of that particular expression of art."
That hole in the holdings is to be rectified with a promised gift to Dumbarton Oaks from a private collection that will belatedly fulfill Robert Bliss' desire to acquire the finest examples of ceramics from Peru. A selection of objects from that collection is currently on display, in a small exhibition titled, A Beautiful Dichotomy.
A Beautiful Dichotomy // Contrasting Pre-Columbian Peruvian Ceramics
(On through March 12, 2023)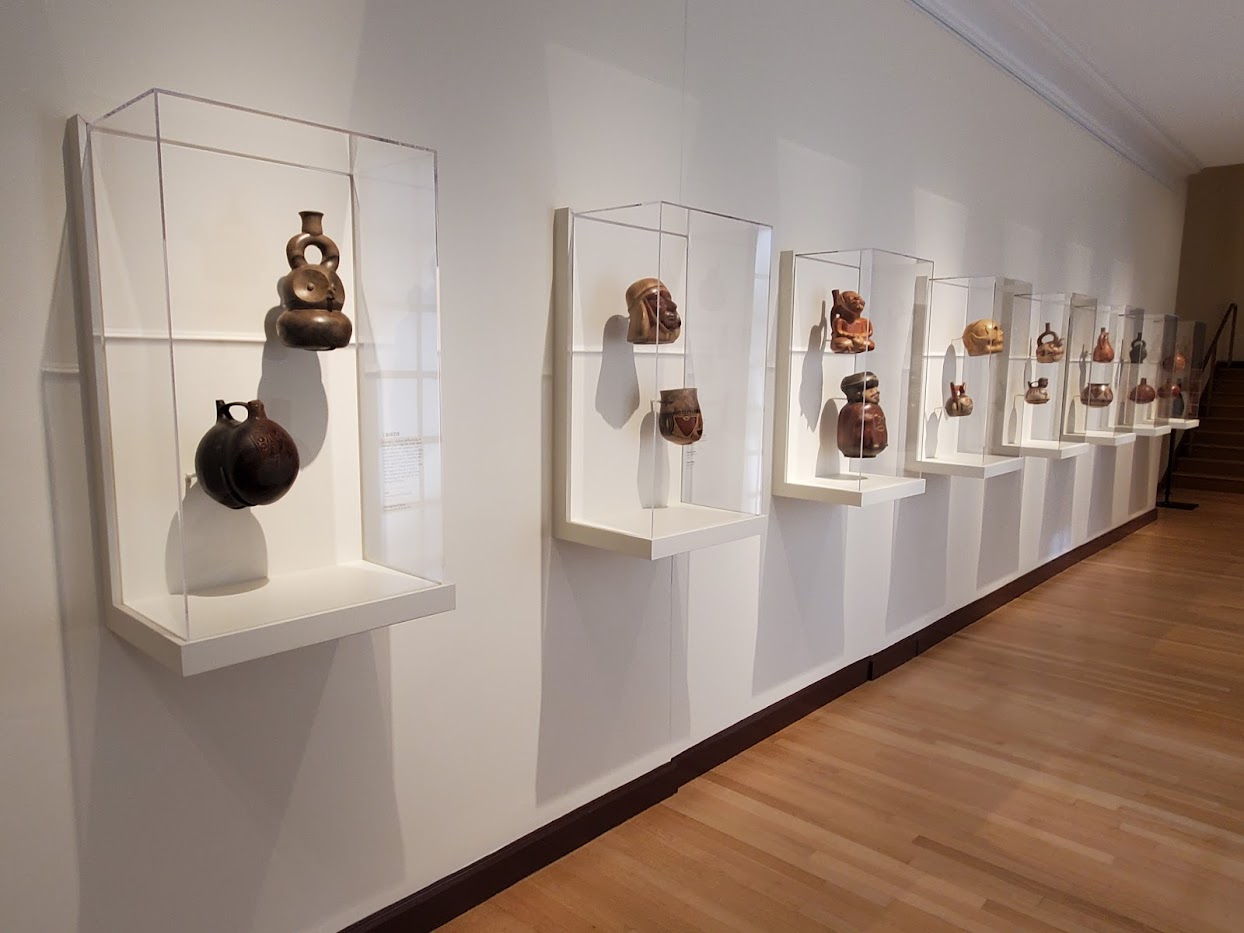 The exhibit reveals the stylistic contrasts between objects created by various ancient Peruvian cultures. Peru's diverse geographic and climactic environments — from the coastal desert, to the high-altitude Andes, to the eastern rainforest — led to the formation of distinct civilizations, including the Moche, Nasca, Wari and Inka.
The narrative compares vessels created in the Northern and Southern artistic traditions. In the North, sculptural ceramics were produced with monochrome and bichrome finishes on naturalistic human and animal forms. In the South, vibrant stylized images were painted on the surface of simplified forms, in a pallet of up to 15 different hues. Each display case contrasts two objects, one from each of the stylistic traditions.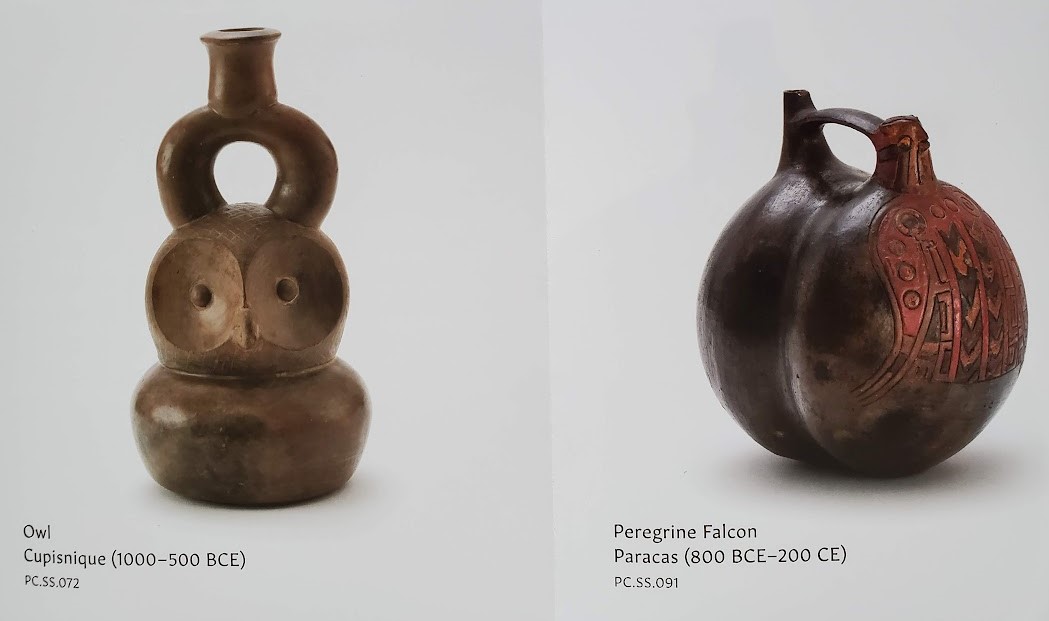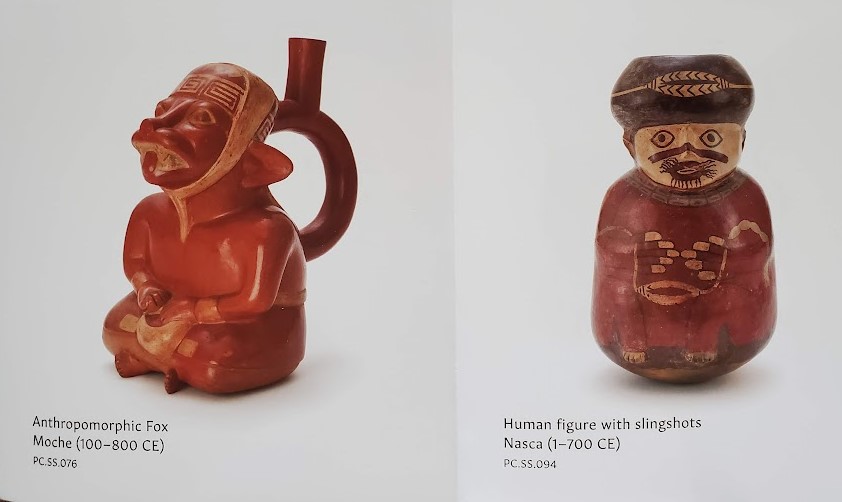 ---
While not one of DC's better-known museums, Dumbarton Oaks Research Library and Collection is definitely up there with the best of them, especially in the realm of Pre-Columbian art. The museum is in a beautiful, walkable part of town, and it provides an exceptional art history experience. While there is a fee to enter the garden, the museum itself is free — and it would be well worth it a twice the price! Highly recommended.
---
Hmmm … maybe it's time to plan a little trip …
Dumbarton Oaks Research Library and Collection
1703 32nd Street, NW, Georgetown, Washington DC
202-339-6400
---
Art Things Considered is an art and travel blog for art geeks, brought to you by ArtGeek.art — the only search engine that makes it easy to discover more than 1600 art museums, historic houses & artist studios, and sculpture & botanical gardens across the US.

Just go to ArtGeek.art and enter the name of a city or state to see a complete catalog of museums in the area. All in one place: descriptions, locations and links.
Use ArtGeek to plan trips and to discover hidden gem museums wherever you are or wherever you go in the US. It's free, it's easy to use, and it's fun!
© Arts Advantage Publishing, 2022