"Van Gogh in America" celebrates the Detroit Institute of Arts' status as the first public museum in the United States to purchase a painting by Vincent van Gogh, his "Self-Portrait" (1887). On the 100th anniversary of that milestone acquisition, 74 van Gogh works from collections around the world reveal the fascinating story of America's introduction to this iconic artist. (Detroit Institute of Arts, Detroit MI, through January 22, 2023)
Vincent van Gogh is one of the most famous and beloved figures in the history of Western art. He created a very large body of work: more than 850 paintings and almost 1,300 works on paper. He began painting at the age of 27, and was prolific for the next 10 years until his death in 1890. Most of his work was produced during the last two years of his life.
Van Gogh's art is characterized by vibrant contrasts of color, expressive brushwork, and linear planes inspired by the Japanese prints he collected and admired. His innovations contributed to the foundations of modern art, but were perhaps too radical to be appreciated at the time.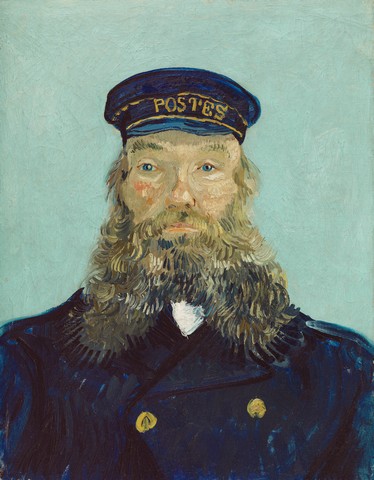 During his truncated life van Gogh was widely considered to be a madman, and he did not achieve commercial success. Fame came only after his death, as he evolved in the public imagination into a misunderstood genius. Today he is one of the most influential artists in the Western canon.
In 1929, one critic comment that although "American collectors came late to van Gogh their power is so embracing that, their minds once made up, they get what they want." It's intriguing to note that the first American museums to add van Gogh paintings to their collections were located in the Mid-West.
The Detroit Institute of Arts (DIA) acquisition of Self-Portrait (1887) was the first, in 1922, with the Nelson-Atkins Museum of Art in Kansas City, MO; the Saint Louis Art Museum; and the Toledo Museum of Art soon following suit. Midwestern audiences were galvanized by van Gogh's rugged aesthetic, featuring subjects from modern, everyday life.
---
On the centenary of its status as the first public museum in the United States to purchase a painting by van Gogh, the DIA presents a landmark exhibition that tells the story of the artist's rise to prominence among American audiences. Van Gogh in America features 74 original paintings, drawings, and prints by the Dutch Post-Impressionist artist.
All five of those first American museum acquisitions – the DIA's own Self-Portrait (1887); Kansas City's Olive Trees (1889); Saint Louis' Stairway at Auvers (1890); and Toledo's Houses at Auvers (1890) and Wheat Fields with Reaper, Auvers (1890) – are featured in the show.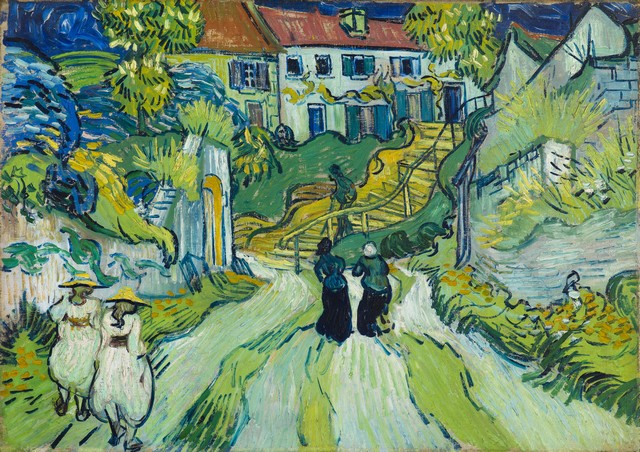 "This unique exhibition includes numerous works that are rarely on public view in the United States, and tells the story – for the first time – of how Van Gogh took shape in the hearts and minds of Americans during the last century," said DIA Director Salvador Salort-Pons.
Individual van Gogh works appeared in more than 50 group shows before he finally received a solo exhibition in an American museum in 1935, at the Museum of Modern Art (MoMA) in New York City. Reflecting and fanning the excitement among American audiences for van Gogh was Irving Stone's novel Lust for Life (1934), and Vincente Minnelli's film adaptation starring Kirk Douglas (1956), which helped shape Americans' popular understanding of the artist.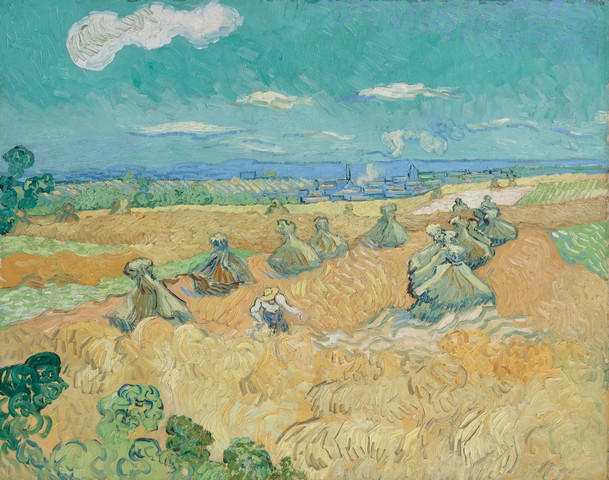 "How van Gogh became a household name in the United States is a fascinating, largely untold story," said Jill Shaw, Head of the Department of Modern and Contemporary Art and Curator of European Art, 1850 –1970, at the DIA. "Van Gogh in America examines the landmark moments and trajectory of the artist becoming fully integrated within the American collective imagination, even though he never set foot in the United States." Visitors will experience the defining moments, people, and circumstances that catapulted van Gogh's work to widespread acclaim in this country.
---
Van Gogh in America is arranged in a narrative fashion spanning nine galleries, starting with van Gogh's Chair (1888; The National Gallery, London).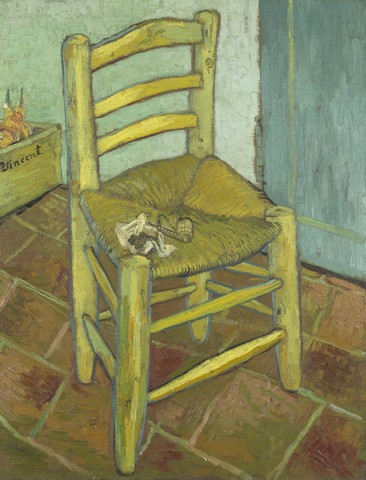 In the first gallery, the exhibition is introduced and illustrations of early black and white U.S. newspaper clippings pertaining to van Gogh are presented. Then follows a selection of works by van Gogh that were included in the 1913 International Exhibition of Modern Art (Armory Show).
Next, works from the first U.S. retrospective of Van Gogh's work in a commercial gallery context in 1920 are displayed, documenting the role of van Gogh's family in fostering the artist's reputation in the United States. Then comes a presentation of the DIA's Self-Portrait purchased in 1922. Works by other artists from the DIA's permanent collection, as well as some lent by other American museums, are included in this gallery to reveal how the DIA displayed Self-Portrait soon after its acquisition.
In the following room, the Midwest museums that followed the DIA in accessioning van Gogh works of their own are highlighted. Next, galleries are dedicated to the marquee traveling exhibition organized by MoMA in 1935, and in the final room, Hollywood's representation of van Gogh and the making of his art is brought to life, as well as a discussion of the legacy and enduring appeal of Vincent van Gogh.
In addition to the works named above, other highlight paintings include: Starry Night (Starry Night over the Rhône) (1888), Musée d'Orsay, Paris; L'Arlésienne: Madame Joseph-Michel Ginoux (1888–89), Metropolitan Museum of Art, New York; The Bedroom (1889), The Art Institute of Chicago; The Olive Trees (1889), Museum of Modern Art, New York. Also displayed to provide context are select works by van Gogh's contemporaries Paul Cézanne and Paul Gauguin, in addition to 20th century European and American artists Raoul Dufy, Henri Matisse, Georges Ribemont-Dessaignes, and Joseph Stella.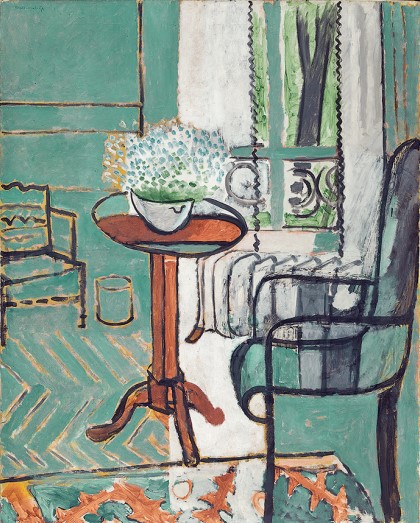 Running concurrently at DIA is an exhibition titled, Van Gogh's Artistic Roots: The Hague School and French Realism, which presents a selection of paintings and works on paper by 19th-century Dutch and French realist artists who were contemporaries of Vincent van Gogh (1853–1890). The exhibition highlights the work of several artists that impacted Van Gogh's early artistic development.
Feature image: Self Portrait, 1887. Vincent van Gogh (Dutch, 1843-1890) Oil on artist board mounted to panel; 13 3/4 x 10 1/2 in. (34.9 x 26.7 cm). Detroit Institute of Arts, City of Detroit.
---
Hmmm … maybe it's time to plan a little trip …
Detroit Institute of Arts,
5200 Woodward Avenue, Detroit, MI
313-833-7900
Van Gogh in America on through January 22, 2023
A full-length, illustrated catalogue accompanies the exhibition.
---
Art Things Considered is an art and travel blog for art geeks, brought to you by ArtGeek.art — the only search engine that makes it easy to discover more than 1600 art museums, historic houses & artist studios, and sculpture & botanical gardens across the US.

Just go to ArtGeek.art and enter the name of a city or state to see a complete catalog of museums in the area. All in one place: descriptions, locations and links.
Use ArtGeek to plan trips and to discover hidden gem museums wherever you are or wherever you go in the US. It's free, it's easy to use, and it's fun!
© Arts Advantage Publishing, 2022