I've been wanting to visit Reynolda House and its American art collection since I first learned about it 25 years ago. Finally made it! Set at the center of 180 acres in Winston-Salem NC, the Reynolda House Museum of American Art presents an acclaimed art collection in an historic and incomparable setting: the original 1917 interiors of the country manor of R. J. Reynolds.
The art lived up to expectations, and everything else was a terrific surprise.
Although I was eager to get to the art collection, our visit started with some background about the home, the family, the model farm and the working community that grew up around the estate in the first half of the 20th century. It's a fascinating story about vision, social and civic responsibility, progressive experimentation … and the enabling wealth.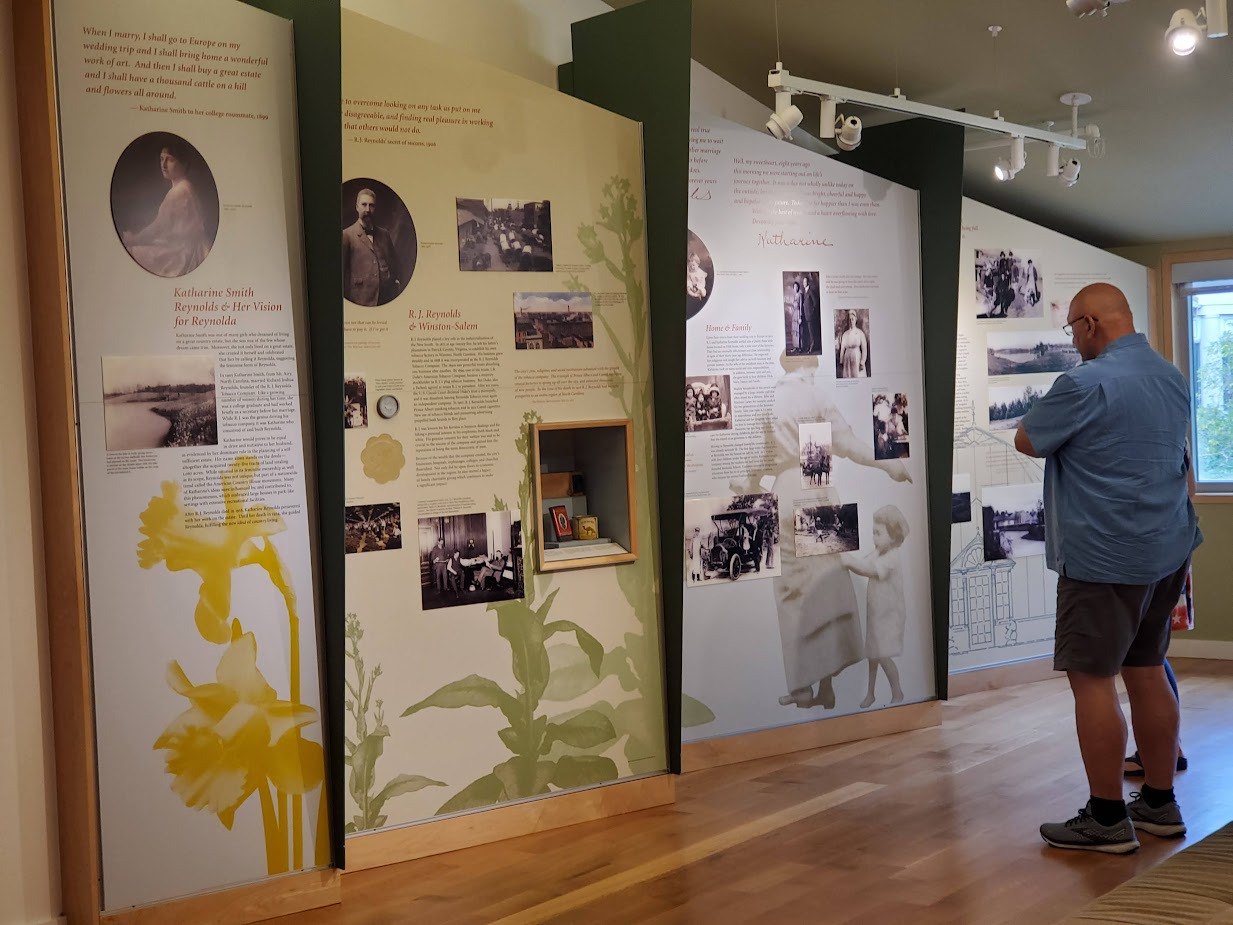 It was tobacco magnate R. J. Reynolds' young wife, Katherine, who conceived of and built Reynolda, acquiring 25 tracts of land in Winston-Salem totaling 1067 acres, and overseeing the development of the estate. While unusual in scope and in being owned by a woman, Reynolda was not unique; it was part of a nationwide trend called the American Country House Movement, which embraced large houses in park-like settings with extensive recreation facilities. Now on the National Register of Historic Places, the 64-room historic house stands as one of the few well-preserved, surviving examples of the American Country House movement.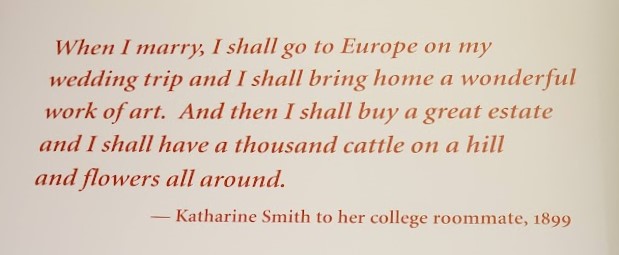 R.J. and Katherine Smith Reynolds were not art collectors, and neither were their daughter, Mary Reynolds Babcock, and her husband, Charlie Babcock, who succeeded them in ownership of the estate. It was their grand-daughter, Barbara Babcock Millhouse, who — in the early 1960s, at age 26 — undertook to preserve the family home and assemble an art collection to fill it.
Millhouse sought the advice of art scholars and curators, and was advised to acquire American art since it was plentiful and less popular at the time. That proved to be a winning strategy, as she was able to acquire more pieces of the highest quality than if she had chased after what everyone else was after. Her first $300,000 expenditure netted nine exceptional paintings for the new museum.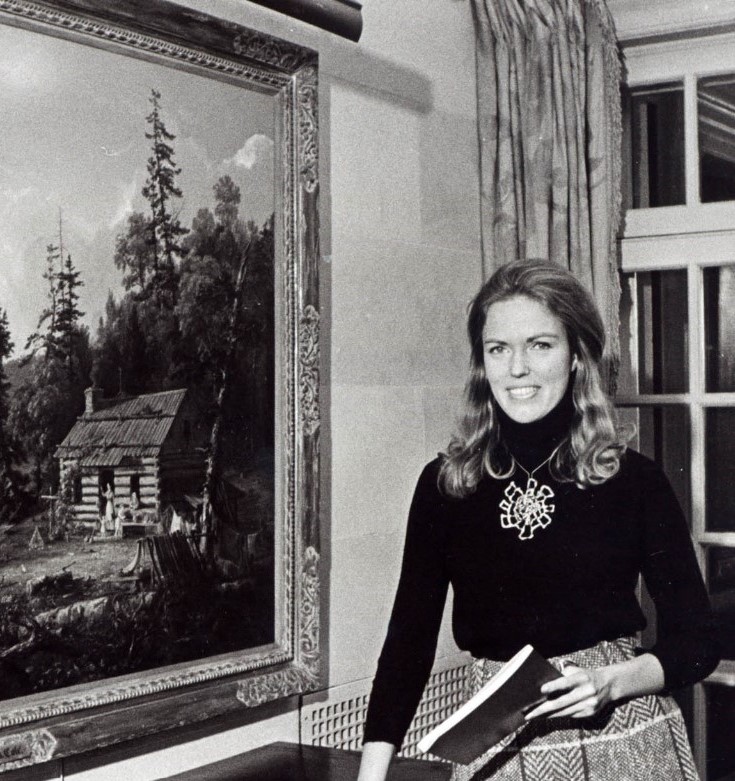 Since its founding in 1967, Millhouse has stewarded many of the museum's most significant milestones, including the restoration of the historic house, addition of an education and exhibition wing, and the affiliation of the museum with Wake Forest University. Millhouse's savvy acquisitions, based on quality rather than price, established Reynolda House's reputation as the museum with one of the finest collections of American art in the Southeast.
On the museum's opening day in September 1967, Thomas Hoving — then director of the Metropolitan Museum of Art — said, "People touring the house are going to be struck repeatedly by certain paintings. The names of artists, in some cases, are not going to mean much to them. The quality of the work is."
The collection is presented in small galleries and throughout the historic rooms of the home. The criterion for acquiring work remains the same today: each artist is represented by one work of the greatest merit. Four exceptions predate this acquisition strategy: two portraits by Eugene Pirou of Mr. and Mrs. R. J. Reynolds — which they commissioned on their European honeymoon — and two paintings passed down by Mary and Charlie Babcock, both by the German-American Expressionist painter, Lyonel Feininger (1871-1956).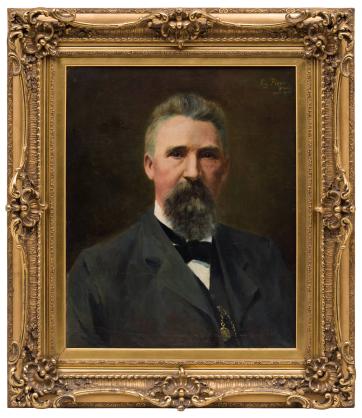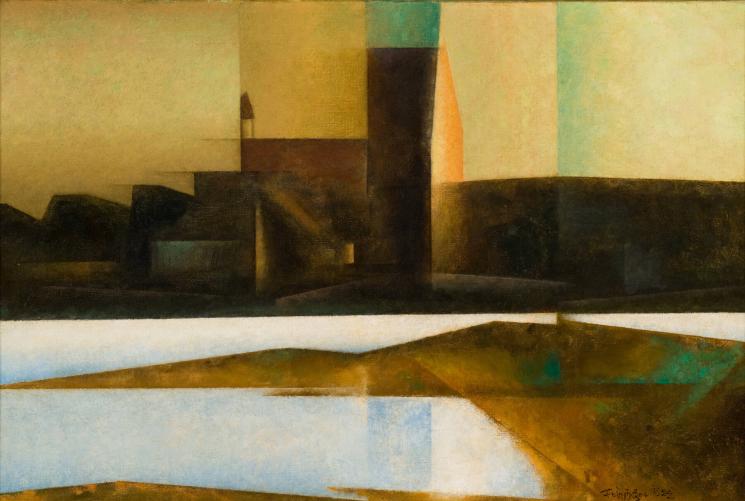 The collection today spans 250 years of paintings, prints, sculpture, photography and video art, including canonical works by Albert Bierstadt, William Merritt Chase, Frederic Edwin Church, Chuck Close, Stuart Davis, Martin Johnson Heade, Lee Krasner, Georgia O'Keeffe, Nam June Paik, Gilbert Stuart and Grant Wood. In addition to its collection of fine art, Reynolda House displays collections of decorative arts and archival photographs and documents from the era when it was the centerpiece of a large estate.
---
Some favorites follow: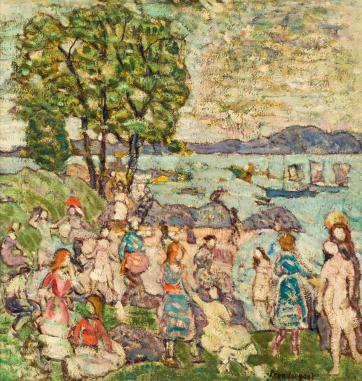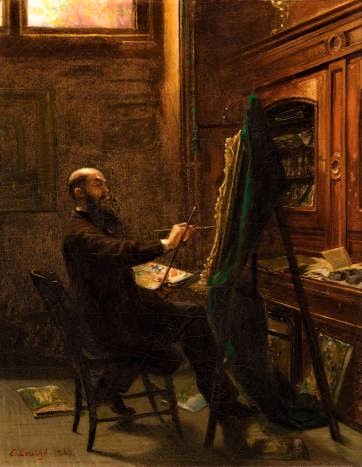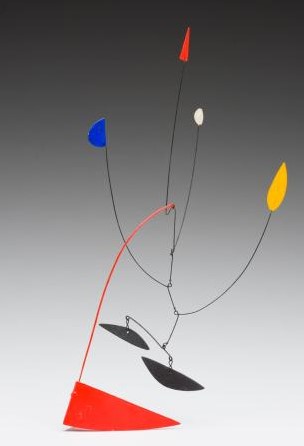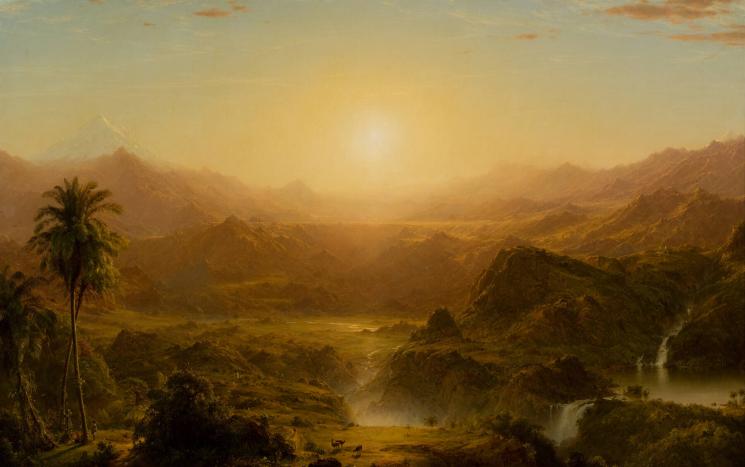 Then there's art glass and pottery …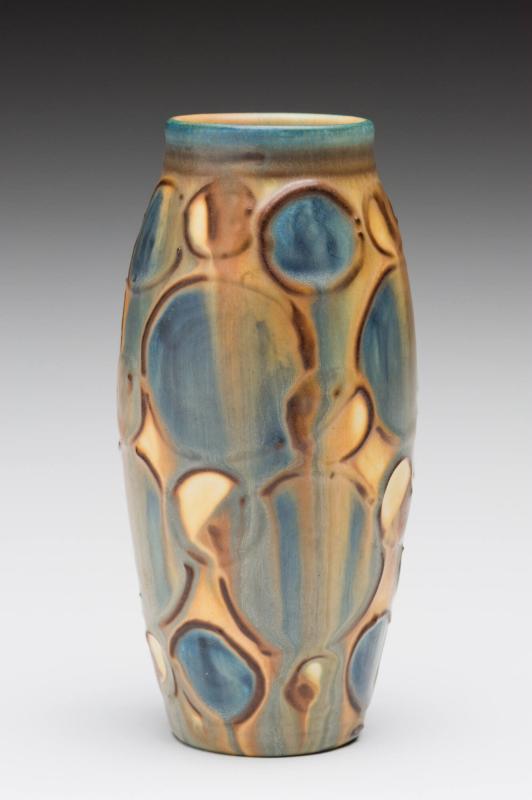 … and, of course, the house itself: elegant, yet so comfortably appealing. Unlike many of the over-the-top historic houses of America's great industrialists, this is one home that reflects a warm and welcoming family life. Both the Library and the Lake Breakfast Porch set me to dreaming!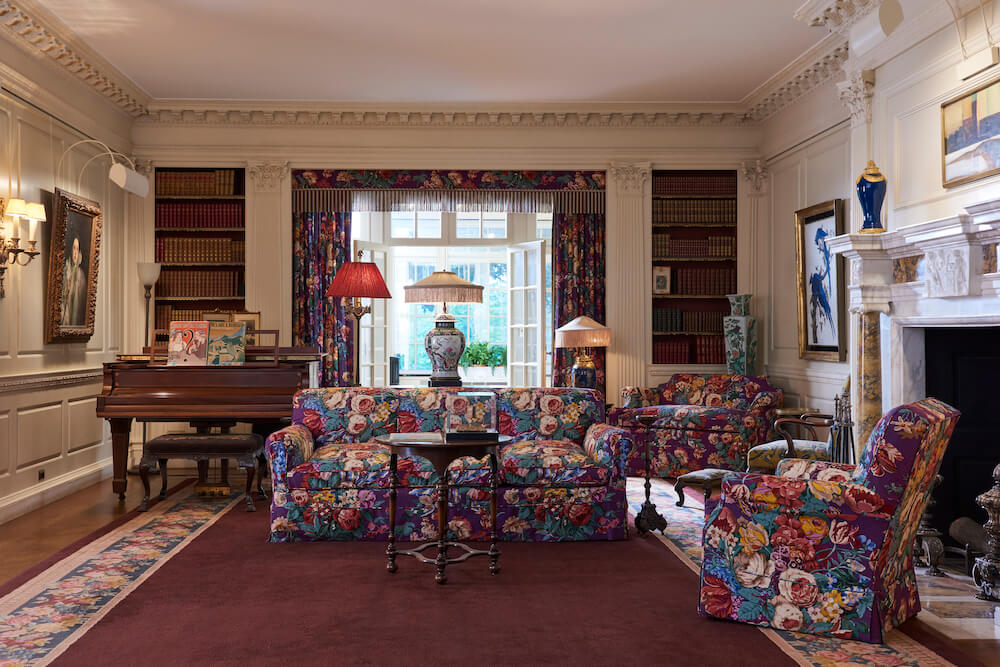 To round out one's sense of the Reynolds' and Babcock's lifestyle, in the attic are displays of period clothing (lots of ladies' hats and shoes!) and toys; and in the basement: a bowling lane, a squash court, billiard room ++ …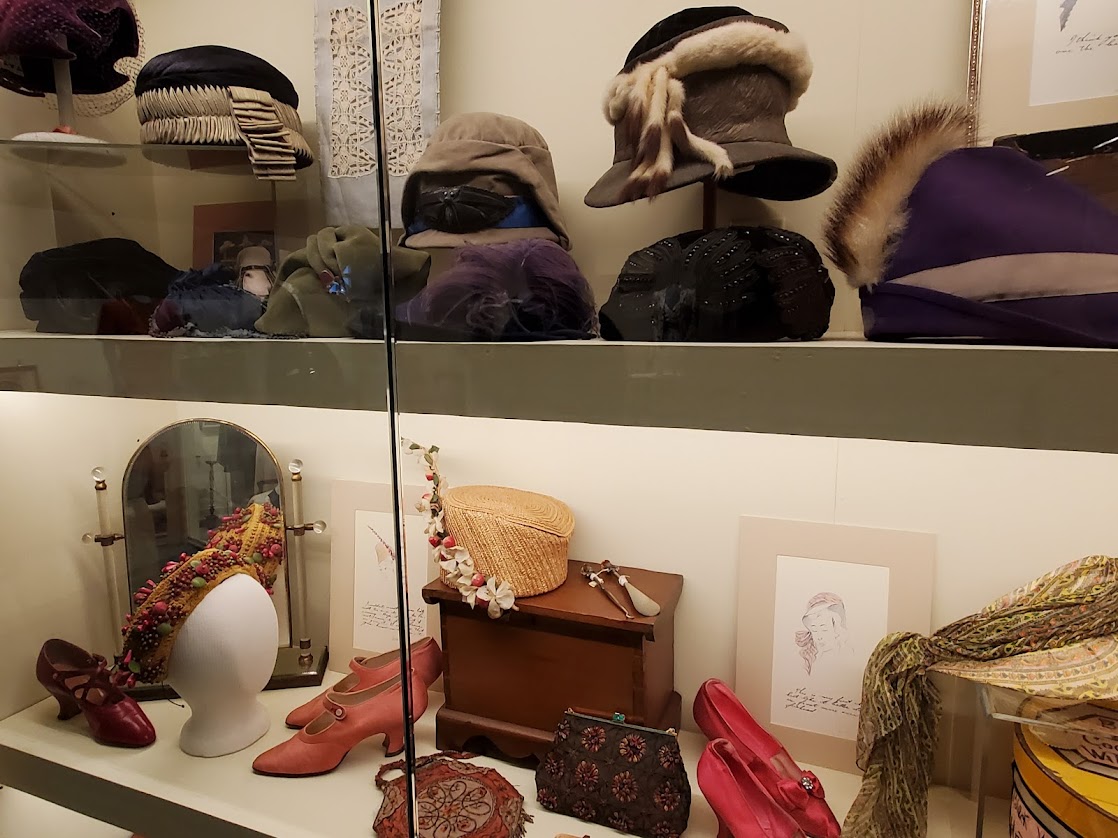 Explanatory text throughout is excellent. Here's a tidbit of cultural history: "While Katherine Reynolds might have taken a glass of wine at a dinner party, her daughter Mary came of age in the late 1920s and enjoyed a social life that revolved around cocktail parties where martinis, whiskey sours and other mixed drinks were served. Mary's generation pioneered a new type of space in their houses called a recreation room, which invariably contained a bar." The bar at Reynolda is a classic example of sophisticated "Streamlined Modern" design, with curved lines, reflective materials and bright contrasting colors.

Lining a basement corridor is an interesting display about the architecture of the house, framed in context of the social and technological realities of the time. Reynolda House is referred to as "bungalow" style — inspired by residential structures seen in India (the name derived from the word "bangla," meaning "of or from Bengal") — as well as the Arts and Crafts movement that flourished in the US from about 1890-1920. Low-slung bungalows were a real departure from the traditional multi-story houses that had predominated in American residential design. Colonial Revival influences are seen in the green and white exterior color scheme and shuttered, multi-lite sash windows.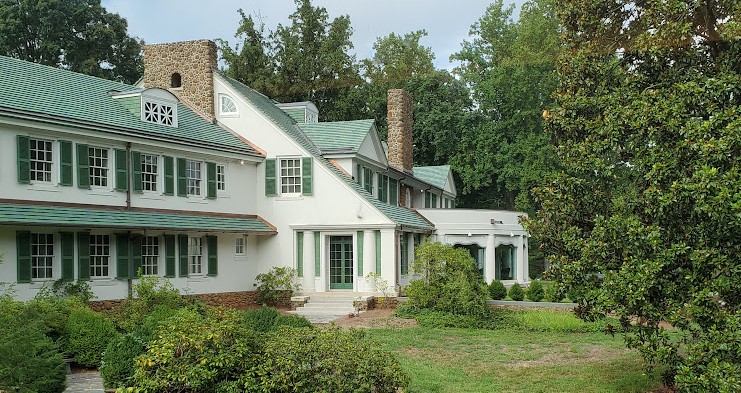 ---
Through the basement party rooms is one way to approach the addition which houses the bright modern Babcock Gallery space.
When we visited, an exhibition called Chrome Dreams and Infinite Reflections: American Photorealism was on view (through December 31, 2022). Forty-one artworks — including glittering cityscapes, shiny storefront windows, and the sleek automobiles that are icons of the period — highlight the nostalgia associated with America's post-war boom.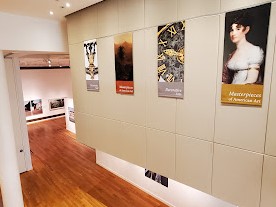 Beginning in the 1960s, a handful of artists began examining their world through photographs and then creating paintings and prints that mimic those photographs with extraordinary precision. The work of twelve artists are included in the show, some of whom were familiar to me, some not: Robert Cottingham, Robert Bechtle, Richard Estes, Jack Mendenhall, Richard McLean, Ralph Goings, Ron Kleeman, Audrey Flack, Don Eddy, Janet Fish, Chuck Close, Ben Schonzeit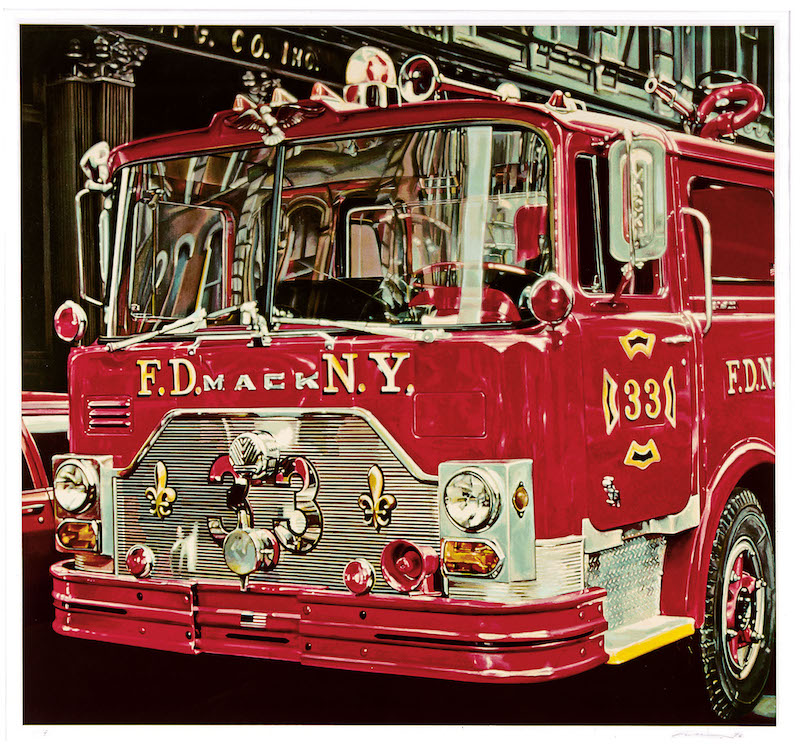 ---
Having waited so long to get to Reynolda House, my expectations were high. Happily, it was everything I'd hoped for and more. All that remained to make it a perfect day was a stroll through Reynolda Gardens and lunch in the village.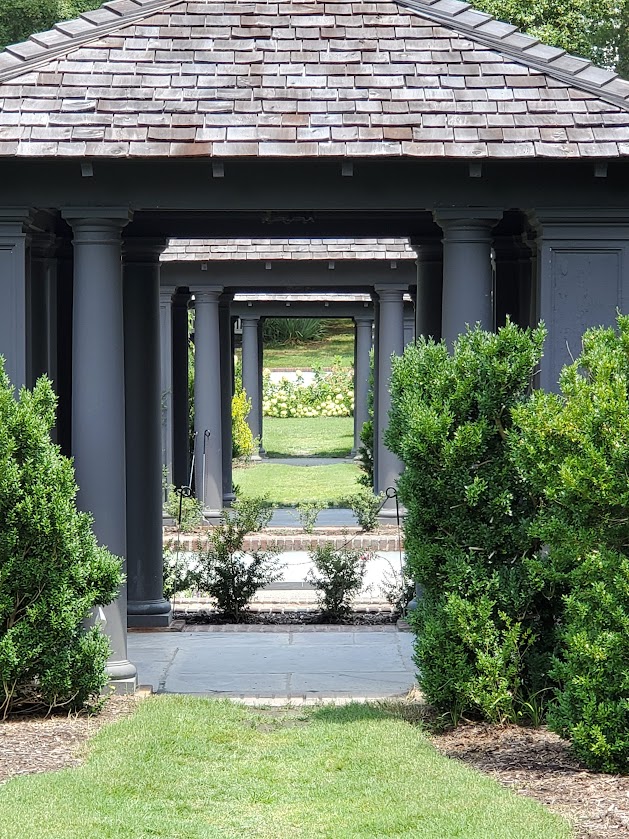 Hmmm … maybe it's time to plan a little trip …
---
Reynolda House Museum of American Art
2250 Reynolda Road, Winston-Salem, NC
336-758-5150
---
Art Things Considered is an art and travel blog for art geeks, brought to you by ArtGeek.art — the only search engine that makes it easy to discover more than 1600 art museums, historic houses & artist studios, and sculpture & botanical gardens across the US.

Just go to ArtGeek.art and enter the name of a city or state to see a complete catalog of museums in the area. All in one place: descriptions, locations and links.
Use ArtGeek to plan trips and to discover hidden gem museums wherever you are or wherever you go in the US. It's free, it's easy to use, and it's fun!
© Arts Advantage Publishing, 2022