Carol Stigger, a fellow art geek, was taking a trip to Chicago and planning to visit the Driehaus Museum to see their current exhibiton, ETERNAL LIGHT: The Sacred Stained Glass Windows of Louis Comfort Tiffany.
Carol offered to write up her thoughts about the show, which focuses on the design and production of Tiffany's ecclesiastical window commissions, and explores these works in the context of both the art and social history of the period.
A "guest blogger," we thought — what a good idea! Thank you, Carol!
---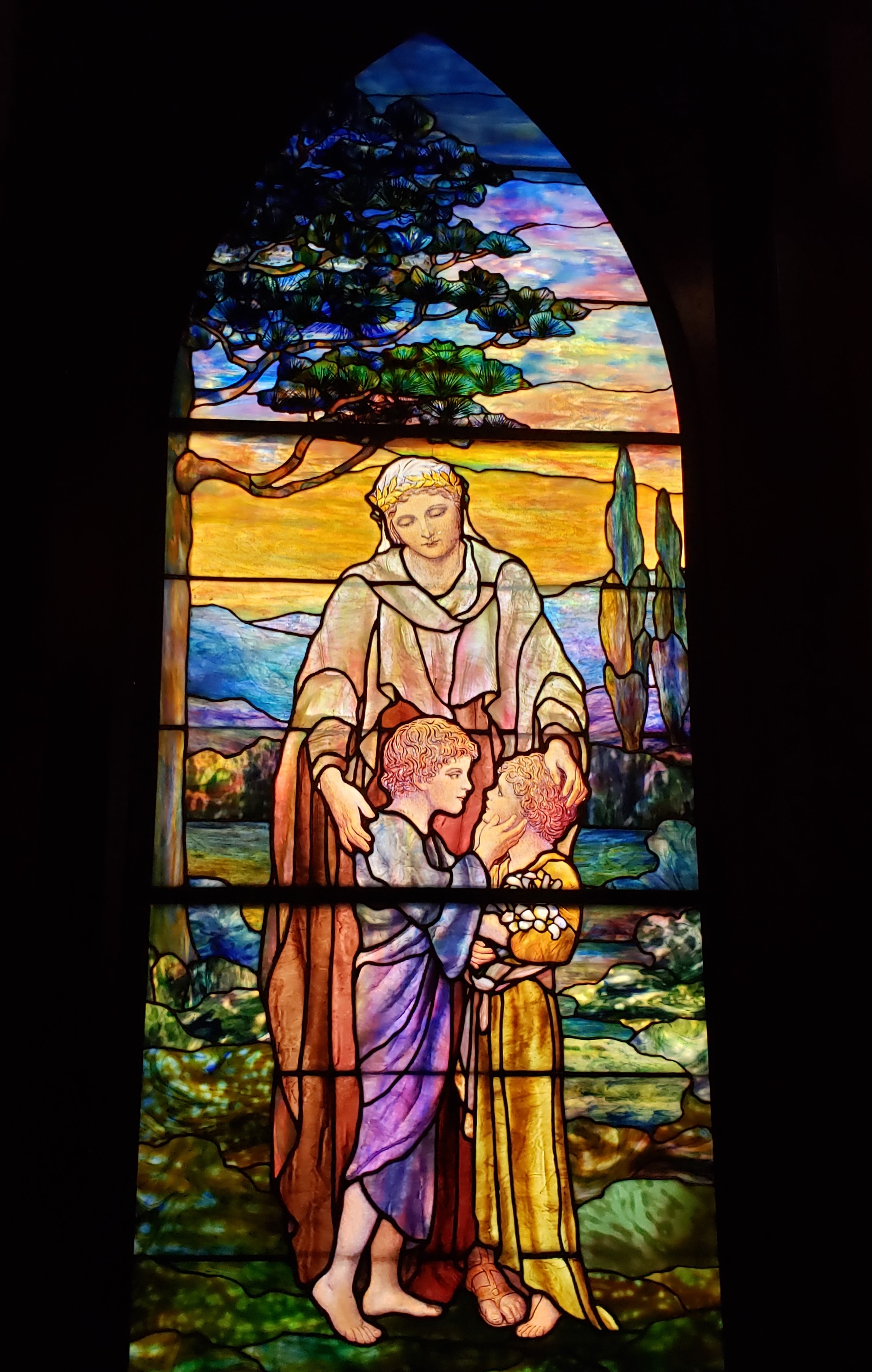 Chicago has a wealth of Louis Comfort Tiffany's stained glass works, so it just made sense for the Driehaus Museum to host a spectacular exhibition of his work. The museum's founder has an extensive Tiffany collection, and some pieces remain on permanent display in the museum.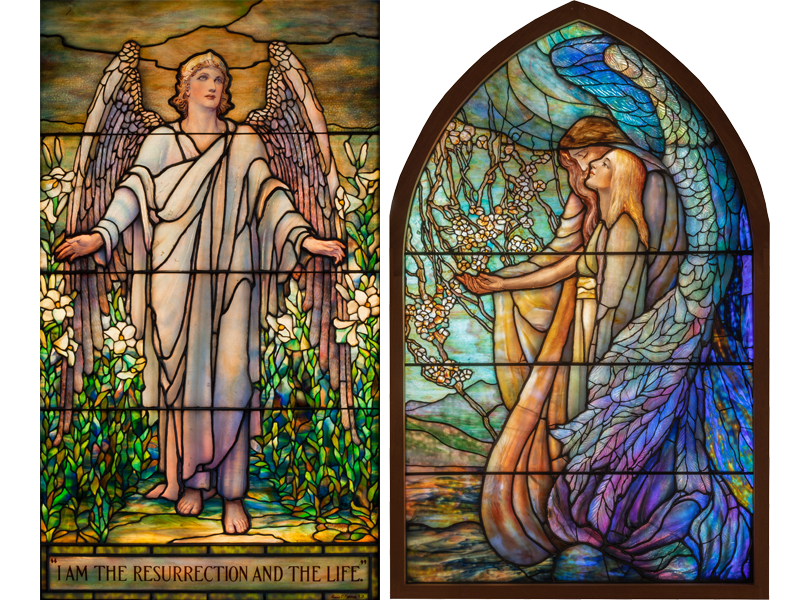 At the heart of the exhibition are 11 outstanding religiously themed windows made between 1880 and 1925 that demonstrate the signature designs, working methods, techniques, and working styles of Tiffany and his workshops.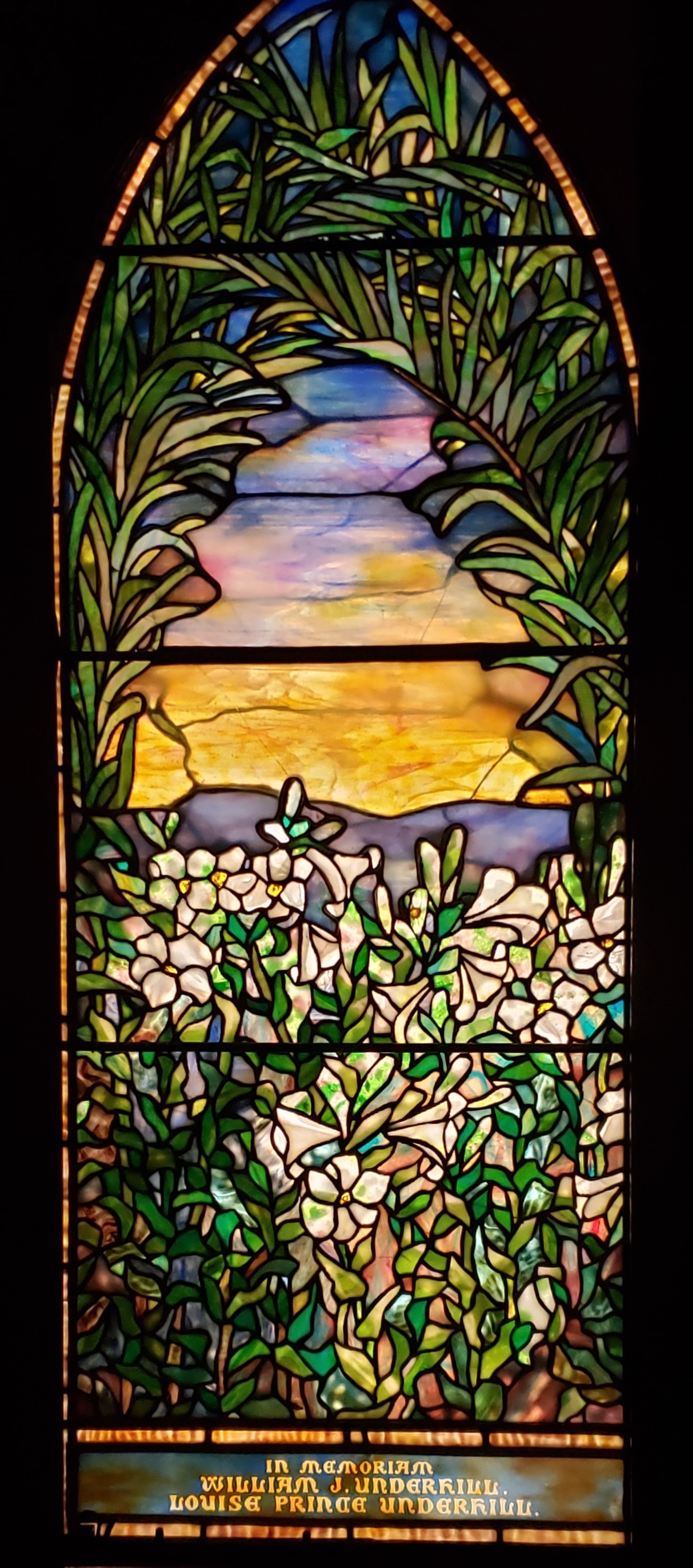 As the museum is a Gilded Age mansion, the windows are beautifully displayed, many just one to a room.
Large, padded ottomans offer the visitor comfortable seating to contemplate the beauty of the windows.
The museum has never been crowded in all my many visits.
Be sure to pick up a brochure titled "Chicago's Tiffany Trail" that gives the location of more Tiffany masterpieces in Chicago.
Unlike the museum's Downton Abby exhibit several years ago, high tea is not an option. Fortunately, the museum is just three blocks from Eataly, 43 East Ohio Street, with its two stories of authentic Italian foods, a café, and several restaurants. The section of Chicago where the museum and Eataly are located is called River North. For unique restaurants and upscale shopping on the Magnificent Mile, this area is a great place to stay.
Contributed by Carol Stigger.
Banner Image: Tiffany Studios, American (1902-1932), designed by Frederick Wilson (American, born Ireland, 1858-1932). Ecclesiastical Angels (Angels of Peace and Mercy), 1905. Leaded and enameled glass. The Collection of Richard H. Driehaus, Chicago, 40016. Photograph by Michael Tropea, 2018.
ETERNAL LIGHT: The Sacred Stained Glass Windows of Louis Comfort Tiffany is on through March 22, 2020.
Driehaus Museum
49 East Erie Street, Chicago
312-482-8933
Open Tuesday through Sunday, 10 a.m. to 6 p.m.
Admission: Adults $20, Seniors $15, Educators and Students $10, Active Military and Children free
Hmmm … maybe it's time to plan a little trip?
Art Things Considered is an art and travel blog for art geeks, brought to you by ArtGeek.art — the search engine that makes it easy to discover more than 1300 art museums, historic houses & artist studios, and sculpture & botanical gardens across the US.