The "inside story" about works of art always get my attention, especially if it's a lost-work-now-found, or a flea-market discovery that turns out to be worth millions!  This story is both.
Albert B. Roberts is an octogenarian art collector in Hudson, NY, who has spent much of his spare time for 30 years searching for promising pieces of art at auctions and estate sales. Over the years he has amassed an impressive collection of paintings and sculptures and has even written a new (not yet published) book about his method for finding and authenticating what he calls "orphaned art."
Roberts says he wasn't particularly surprised that a cracked, time-worn oil painting he picked up for a song back in 2002, at an auction in Kinderhook, NY, turned out to have been painted by the Old Master, Anthony van Dyck.
How a painting by Van Dyck found its way to a small town in Columbia County, NY, may never be known, beyond surmising a Dutch connection. (The name Kinderhook is rooted in the 1609 landing of Henry Hudson whose voyage was funded by the Dutch East India Company. He and his crew were greeted by indigenous people, including many children. The original Dutch settlers named the town "bend in the river where the children are"; kind is Dutch for "child" and hoek means "bend".)
Roberts reflects, "I suppose it's not every day that a painting picked up for $600 with bird droppings on the back turns out to be a masterpiece of European art."  But after years of investigation, scholars have confirmed it to be a Van Dyck, and have identified the painting for which this oil sketch was a preparatory step.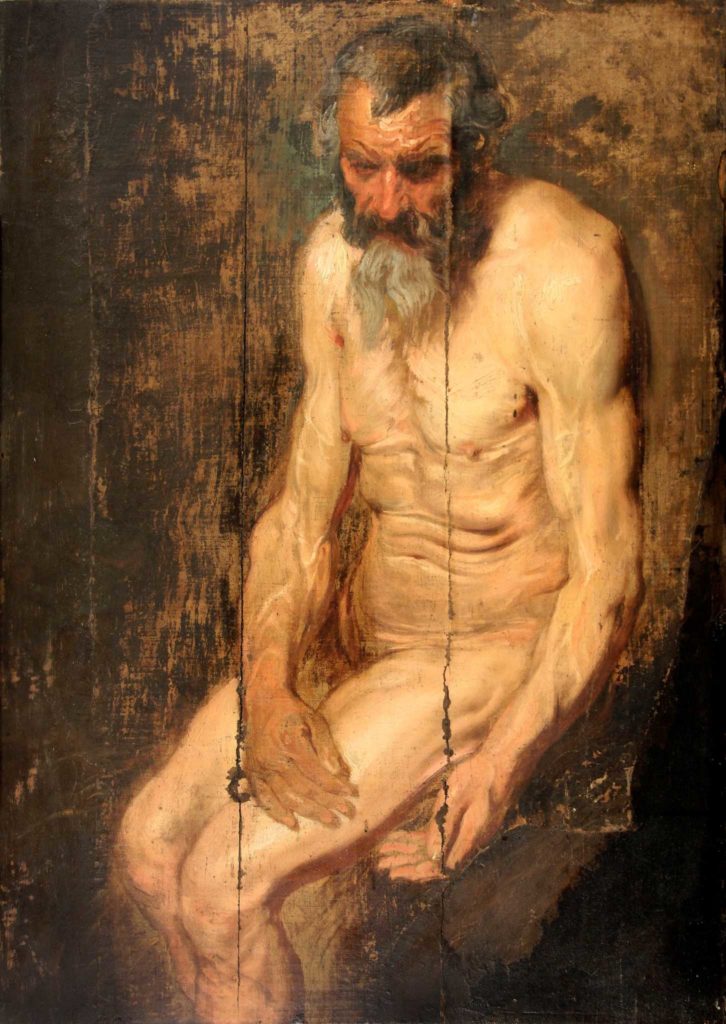 After acquiring the oil sketch, Roberts quickly determined that the artist was likely Dutch or Flemish from the 17th century. When he started researching Van Dyck and focused on Van Dyck's early Italian period, he recognized a model that resembled — muscle for muscle — the figure in Van Dyck's painting of Saint Jerome. "But," Roberts says, "I did nothing about it then. I essentially had the answer, and it's typical. What's exciting for me is the chase. And once I'm satisfied who it's by, I turn to other work."
Then Roberts read an international art blog by Bendor Grosvenor, who was particularly interested in Van Dyck's early models, and he contacted him. Although the photographs were poor quality, Grosvenor was interested and asked to see higher-quality images.
"I'm embarrassed to tell you that seven years later I followed up and had that painting and several others professionally photographed. And I sent him the photographs. He wrote back immediately, asking if I wished to have the painting looked at by an academic."  Through that connection, Roberts began working with Rev. Dr. Susan J. Barnes to authenticate the sketch. Dr. Barnes is a Van Dyck scholar and co-author of Van Dyck: A Complete Catalogue of the Paintings.
This is a singular oil sketch dating from Van Dyck's first Antwerp period. "It is rare, indeed, for a work by a major master to come to light. The oil sketch that Mr. Roberts discovered by Anthony Van Dyck is an impressive and important find that helps us understand more about the artist's method as a young man," says Barnes.
"Though the artist was about 18 years old when he painted it (400 years ago), he was a precocious talent and already a master. The Roberts full-color and large-scale oil on canvas depicts an elderly man. It is a study for Van Dyck's finished painting of St. Jerome in the Boimans Museum in Rotterdam."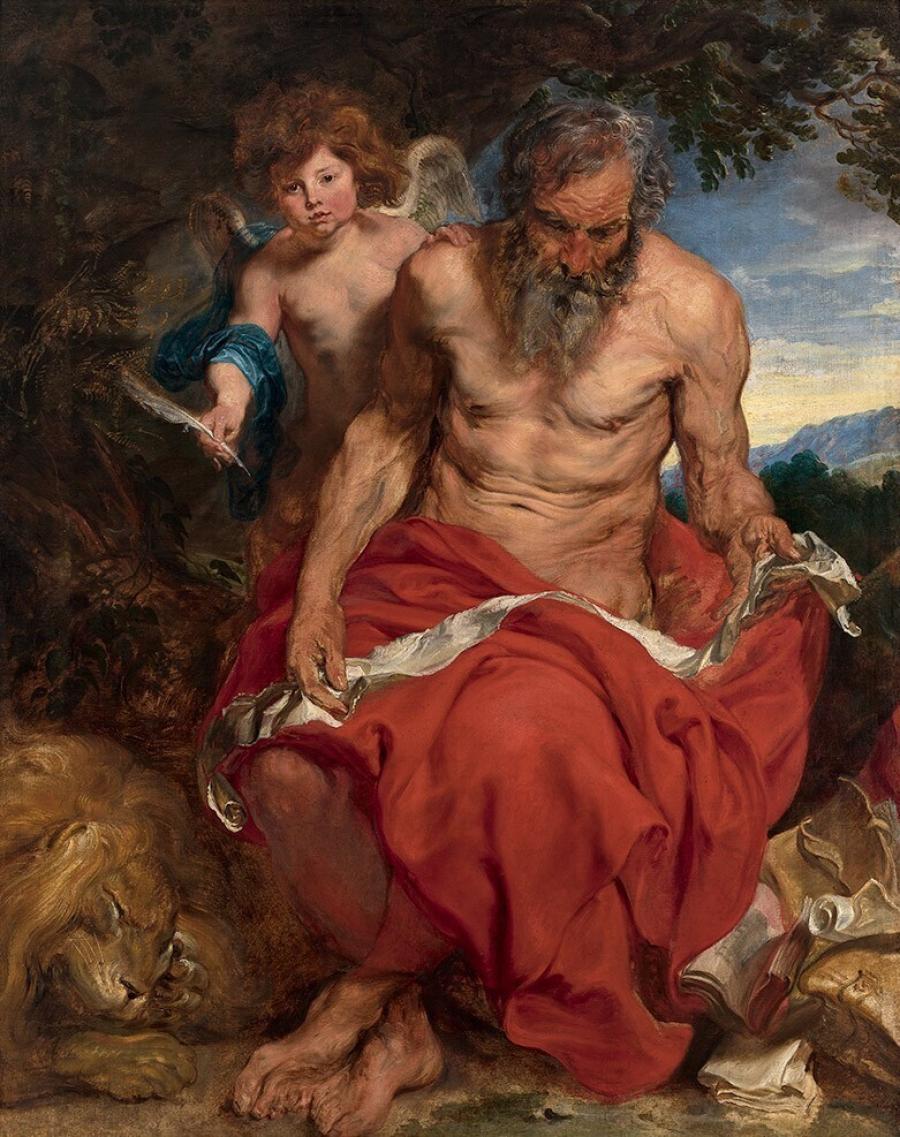 "Van Dyck painted his sketch from a living model, carefully rendering his furrowed, sun-weathered brow and timeworn body. His goal was to convey the sense of the saint as a real person— one with whom faithful viewers could identify and whom they could aspire to emulate," she tells us.
Executive Director Tammis K. Groft at the Albany Institute of History & Art welcomes the opportunity to showcase this discovery in this special short-term viewing. Groft first met Roberts in the late 1970s when she was a young curator at the Albany Institute and he was a member of the museum's Collections Committee. Over the years, they have fondly discussed art.
"Al has a keen eye, photographic memory, and a passion for research," says Groft. "He is also a very patient man. In some cases, he conducts his research on what he describes as his 'orphaned art' for decades." "Here at the museum, we are fortunate that Al has donated almost fifty paintings, sculptures, prints, textiles, furniture, ceramics, architectural details, and photographs, all with strong ties to the history of the upper Hudson Valley and with great stories to engage museum visitors of all ages," Groft continues. "This story is pretty exciting and we are thrilled to host the opportunity to display this remarkable find."
Anthony van Dyck (1599-1641) was one of the most important and influential painters of the 17th century. Together with his teacher, Peter Paul Rubens (1577-1640), he helped develop the great Flemish Baroque style of the southern Netherlands (modern-day Belgium and Luxembourg). The Flemish Baroque embraced Counter-Reformation ideology and was part of the very influential Baroque cultural movement.
Van Dyck was an artistic prodigy, and his early work under the tutelage of Rubens exhibits the qualities of movement, color and sensuality embraced by his master. Like his master, Van Dyck also spent time studying the art of the Renaissance in Italy. In 1632, after success in the southern Netherlands and Italy, van Dyck became the leading court painter in England, under Charles I (1600-1649). The style of portraiture van Dyck developed while in London was graceful yet imposing and was influential well beyond England. In his religious and portrait paintings, Van Dyck pioneered means of personal piety and intimacy as we see in St. Jerome.
This is an extraordinary find that is sure to make waves in the international art world.
Van Dyck 's Study for Saint Jerome with an Angel can be viewed through October 6, 2019, at the Albany Institute of History & Art. Located just one block from the New York State Capitol, the Albany Institute of History & Art is the oldest museum in the State.
Hmmmm … maybe it's time to plan a little trip?
Albany Institute of History and Art
125 Washington Ave, Albany NY
518-463-4478