---
The Yale University Art Gallery — associated with one of the top art history programs in the world — is the oldest university art museum in the western hemisphere.
We are delighted to announce that this most venerable institution has become an ArtGeek Champion Museum!
The Yale University Art Gallery (YUAG) was founded in 1832 when the noted American artist John Trumbull gave more than 100 paintings to Yale College. Trumbull also designed the original Picture Gallery to house them. This largesse came with a single stipulation: that he and his wife should be buried in the floor of the gallery, beneath his paintings. When in 1867 the Trumbull collection was moved to the newly-built Street Hall, so too were Mr. and Mrs. Trumbull's remains, where they rest to this day.
---
Today the Art Gallery is housed in three historic structures — not including the original Trumbull Gallery, which was razed in 1901.
The neo-gothic Street Hall is the oldest, opened in 1866 as the Yale School of the Fine Arts . It was the first art school on an American college campus. The building was named after Augustus Russell Street, an enlightened local businessman who donated the funds for the building on condition that any resident of New Haven could enroll in the school —even women!
Some 50 years later, in 1928, the Old Yale Art Gallery was built to accommodate Yale's growing art collections. Designed by well-known architect and Yale alum Egerton Swartwout, the new building was connected to Street Hall by an enclosed bridge over High Street. Symbolic architectural details were included throughout the building, such as the winged female reliefs on the High Street Bridge that represent The Arts: Architecture, Drama, Painting, and Sculpture.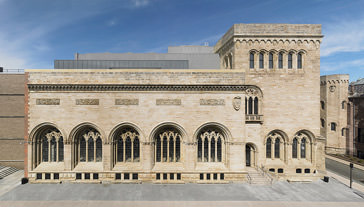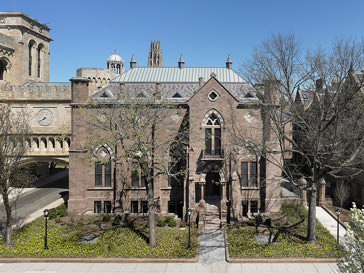 In 1950 the university's art, architecture, and art history departments were consolidated, and another new building was needed. This third structure, the Yale University Art Gallery and Design Center, is a widely-admired modernist building designed by Louis Kahn. When Kahn joined the Yale faculty in 1947, skyscraper architect George Howe was dean and fellow-modernists Philip Johnson and Josef Albers were lecturers. Given the avant-garde leanings of the architecture faculty, a modernist structure was inevitable.
It was Kahn's first significant commission and is widely considered his first masterpiece. Kahn's design has been celebrated not only for its aesthetic, geometry, and light, but also for its structural and engineering innovations, particularly the tetrahedral ceiling and cylindrical main staircase.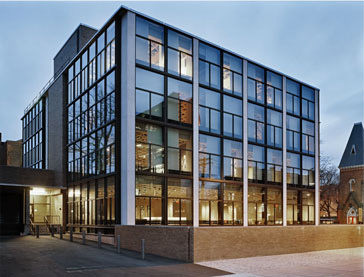 In 2012, Jock Reynolds, the director of YUAG, told the New York Times that when he took over in 1998, "the collection had grown so large that its landmark Louis Kahn building resembled an 'old sock drawer.' The museum could show only a small fraction of its holdings, and some works had been in storage so long that even the curators had never seen them. Beyond campus few people knew that there was a world-class encyclopedic art museum in New Haven, of all places, just an hour and a half from New York."
Just shy of a half-century old, the Kahn building was looking shabby and systems were badly outdated, and the two adjacent buildings — the Old Yale Art Gallery and Street Hall — were worse off yet. Reynolds considered that the three buildings together represented "280 years of deferred maintenance."
Under Reynolds' direction, the older buildings — which had long been used for storage and other inglorious things — were returned to their original purpose as gallery space, and the three buildings were joined together to create a purposefully-redesigned interior space of almost 70,000-square-feet.

Completed in 2012, the $135 million makeover had banged on for the better part of a decade. In addition to the creation of a rooftop sculpture terrace, the refurbishment improved access to the collection by adding exhibition space as well as classrooms dedicated to object study.
---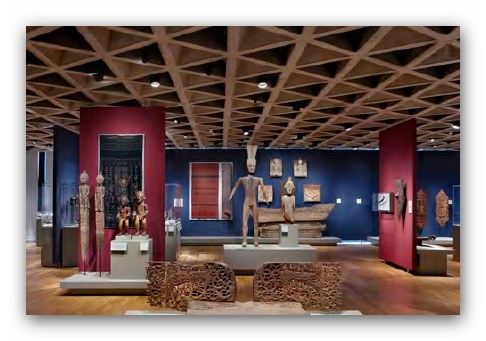 While the physical plant was being ushered into the 21st century, so too were the YUAG collections. A new acquisition strategy attends to the a broader range of global cultures than were included in Yale's initial holdings. This effort has resulted in a new collection of Indo-Pacific art, as well as important additions to the arts of Africa and the ancient Americas.
With the increased gallery space, much more of the core collection can be shown, including paintings by Corot, Degas and Rothko that could never be hung before. A delightful addition in the American decorative arts display is a restored parlor from an 18th-century CT house, which for years was just a pile of numbered boards in a storage barn.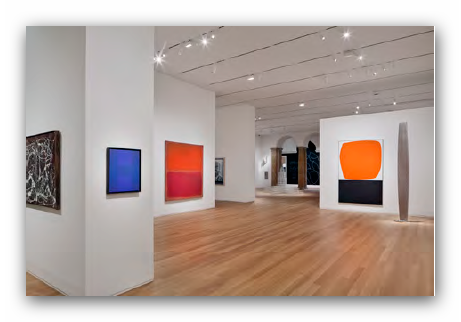 An exciting and utterly unexpected by-product of the renovations came about when the basement was being cleaned out in preparation for the arrival of the construction crew. Some dusty old canvases that had long since been relegated to deep storage were found to have been wrongly attributed.
Scholarly suspicion, current art-historical knowledge, and modern investigative technologies showed them to actually be valuable old-master paintings — including works by Titian, Fra Angelico, van Dyck and Uccello!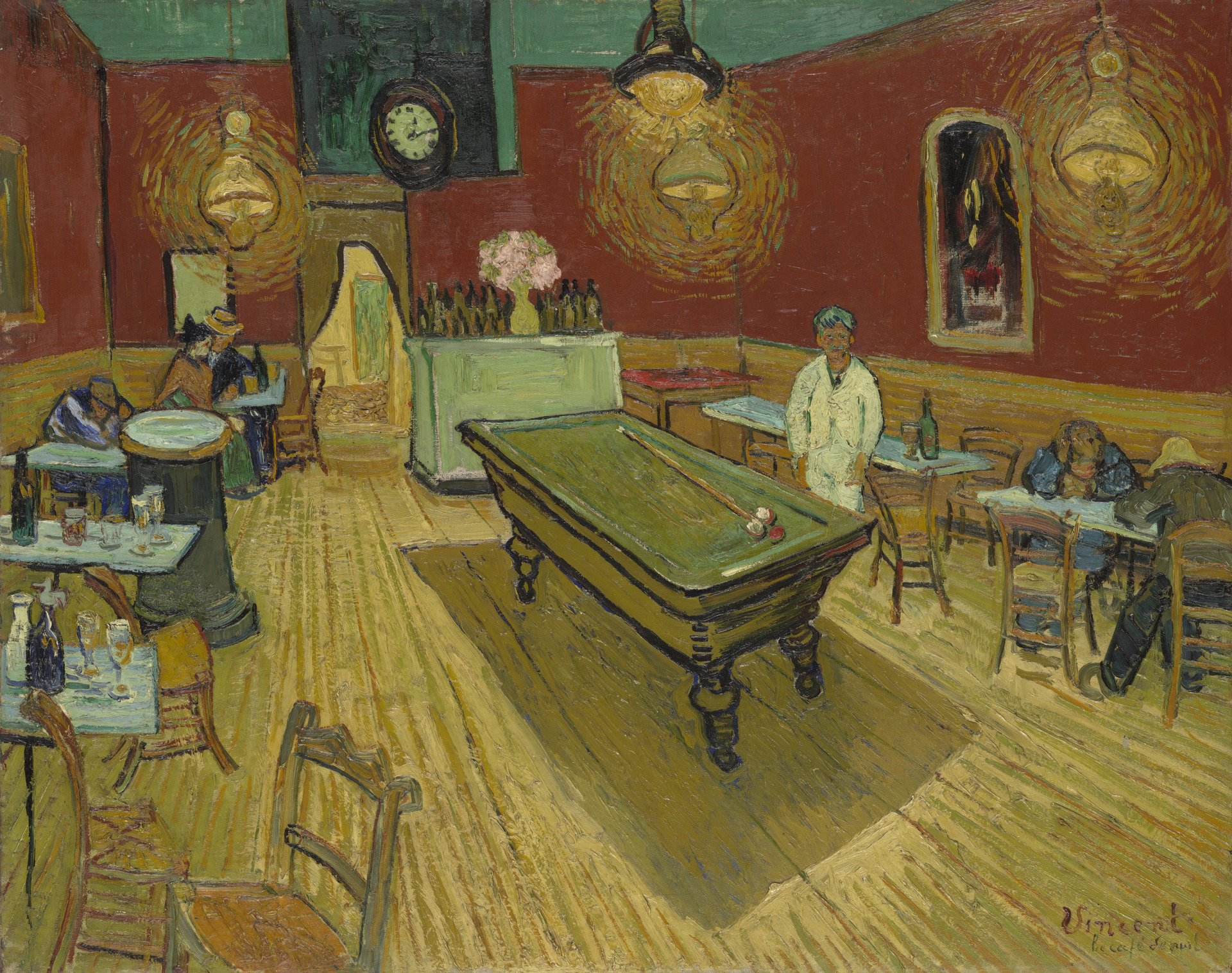 ---
An encyclopedic collection of a quarter-million objects has been built on YUAG's foundation of Trumbull's original gift, now representing the breadth of global cultures and ranging from ancient times to the present day.
Whatever your art interests, you will be more than fulfilled by the holdings of the Yale University Art Gallery. The museum includes 15 European galleries; room after room of American paintings, sculpture, and decorative arts; Modern and Contemporary art; more than 1000 African art objects; 13,000 objects dating from the Neolithic to early Byzantine from the Near East, Egypt, Greece, Etruria, and Rome; Asian art; Prints, Drawings, and Photographs; and more.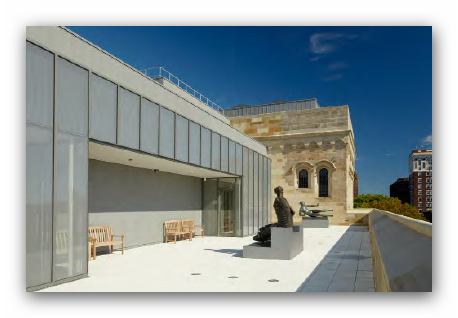 Here's the good news: the Yale University Art Gallery, located in New Haven Ct, is less than 2 hours by train from New York City; 2½ hours from Boston. With such an extraordinary, world-class museum so easily accessible, maybe it's time to plan a little trip?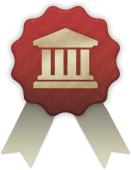 The Yale University Art Gallery is an ArtGeek Champion, helping to provide free access for all to the ArtGeek.art exhibition search engine.
The Yale University Art Gallery
1111 Chapel St, New Haven CT
203-432-0600

Hours
Tuesday–Friday: 10:00 am–5:00 pm
Thursday (Sept.–June): open 'til 8:00 pm
Saturday–Sunday 11:00 am–5:00 pm
Closed Mondays and major holidays
It's always a good idea to call ahead for confirmation
By ArtGeek.art on June 8, 2018.
Exported from Medium on January 12, 2019.