With a wink to Gene Autry and Tex Ritter who lauded the Lone Star state with the song, Deep in the Heart of Texas, I'm singing the praises of the Menil Collection, deep in the heart of Houston. In an idyllic tree-shaded art neighborhood covering 30 urban acres, the Menil campus includes five museum buildings, an art bookstore, a bistro, and a green space dotted with sculpture. Nearby are the Rothko Chapel and the Houston Center for Photography.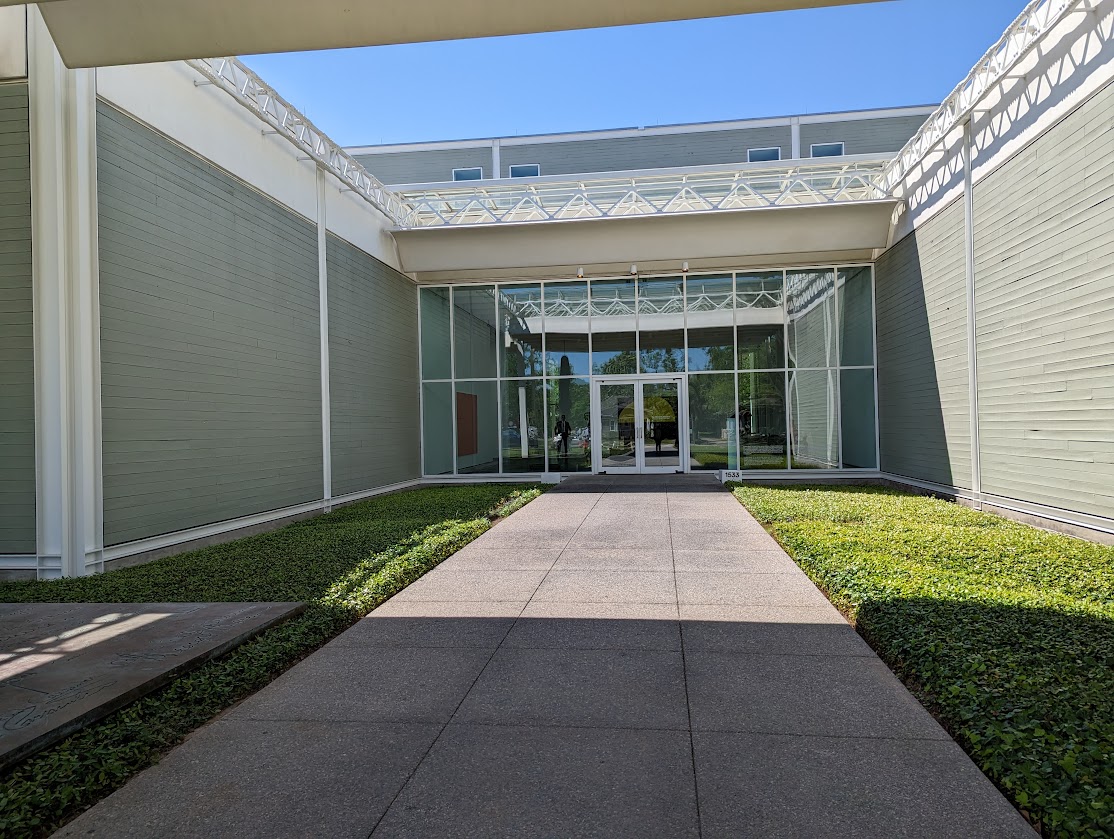 The main Renzo Piano-designed building anchors the campus and is surrounded by four additional gallery buildings: the Menil Drawing Institute; the Cy Twombly Gallery, which holds more than 30 of his paintings, sculptures, and works on paper; Richmond Hall, which features an installation by artist Dan Flavin; and the Byzantine Fresco Chapel.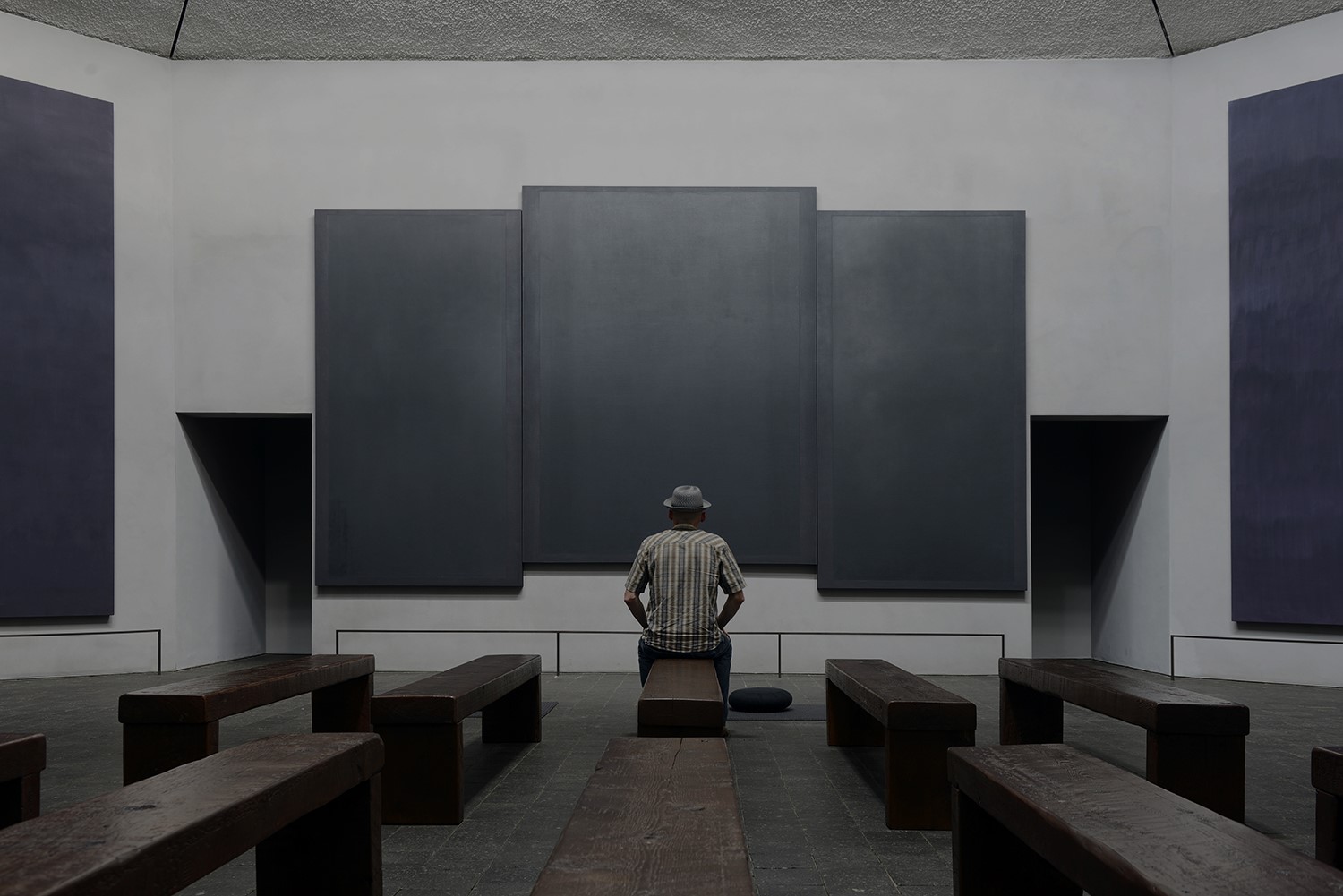 We didn't make it to the Flavin installation, the Byzantine Fresco Chapel is closed indefinitely, and we were turned away from the Drawing Institute because our visit coincided with the interim closure between exhibitions.
However, after a preliminary visit to the Rothko Chapel — for a short meditation amidst its fourteen large-scale black paintings — the main Menil Collection building kept us happily and satisfyingly engaged. Of course it did: The Menil is one of the largest private art collections in the country, holding nearly 19,000 paintings, sculptures, prints, drawings, photographs, and rare books. And to think it all started with a $300 Cezanne watercolor!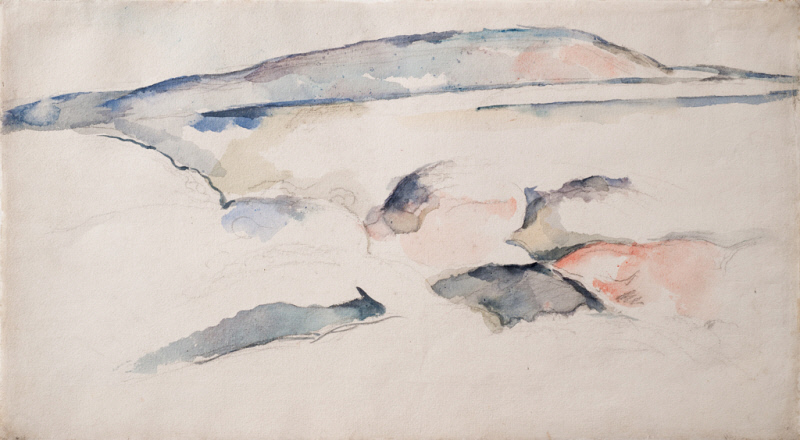 ---
Dominique and John de Ménil
In 1930, Jean de Ménil and Dominique Schlumberger met at a ball at Versailles. She was an heiress with degrees in physics and mathematics from the Sorbonne — her father was Conrad Schlumberger who, with his brother, had patented a device that forever changed petroleum exploration. Jean — he anglicized his name when he became a US citizen — was a young noble of modest means and less formal education. While she was from a prominent Protestant family, he was a Catholic and hailed from a military family with a title bestowed by Napoleon in 1813.
Married in Paris in 1931, Jean and Dominique were influenced by Father Marie-Alain Couturier, a visionary Dominican priest who was a strong advocate of modern art, seeing a place for abstract canvases in the most sacred of settings. As for museums, he said, they are places "where you should lose your head."
They saw the writing on the wall when the Nazis occupied France during WWII, and they decided to move Schlumberger Ltd. headquarters to Houston. At the American consulate in Marseille — which was packed with Jewish refugees trying to reach the United States — Dominique discovered that she had lost her application for a visa and all its supporting documentation.
Despite her wealth, Dominique was a modest woman. But, pleading her case to a harried consular bureaucrat, she did something quite uncharacteristic. When he asked if, in fact, she would be able to support herself in the United States, she quietly rotated her ring — a three-carat diamond she was prudently wearing turned toward her palm — and placed her hand on the table.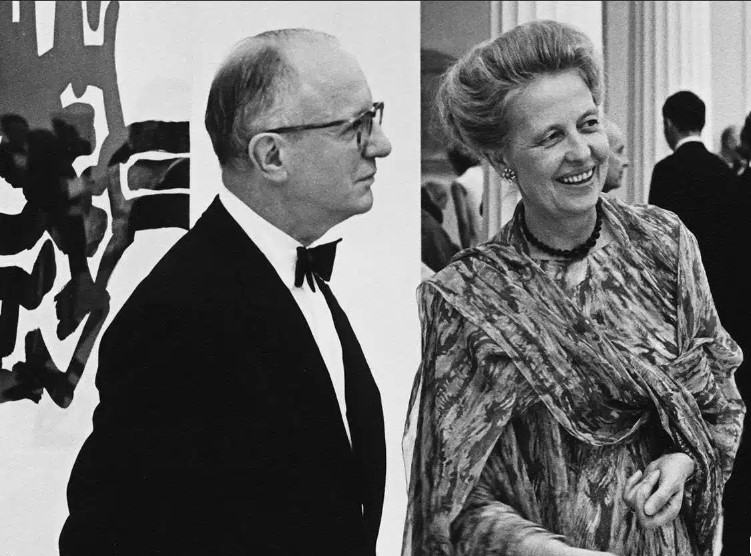 By 1941, the family had relocated to Houston. In 1945, John returned from a business trip to New York with a small Cézanne watercolor, for which he had paid $300. That purchase led to more acquisitions of modern European art and American contemporary works, including, eventually, Pop Art. They enjoyed personal friendships with many of the artists whose work they collected, including Max Ernst, Jasper Johns, Yves Klein, Magritte, Rauschenberg, Dorothea Tanning, and Andy Warhol.
Their eclectic tastes became a hallmark of their collecting practices. Importantly, the de Ménils recognized the profound formal and spiritual connections between Modernism and the arts of ancient and indigenous cultures, and they broadened their collection to include classical Mediterranean and Byzantine cultures, as well as objects from Africa, Oceania, and the Pacific Northwest.
Exhibitions at the museum are often curated to juxtapose eras and cultures, movements and beliefs, to underscore the de Ménil's deep belief in the continuum of humanity across time and place. Renzo Piano described the museum during a visit to Houston as nothing less than a "portrait of Dominique: discreet, intelligent, welcoming, elegant."
---
Only about 5% of the collection is on display at any one time, but rotation of artwork is regular. The only installation that is permanent — it's been up since 1999 — is Witnesses to a Surrealist Vision. It offers insight into the sensibilities that inspired Surrealist artists. (Read our separate article about Houston's cabinets of curiosities which highlights the Witnesses exhibit). The Menil's Surrealist holdings are considered to be one of the world's foremost collections of the genre.
The exhibitions that were on view at the time of our visit demonstrated the breadth of the collection. Two favorites were: The Curatorial Imagination of Walter Hopps and Art of the Cameroon Grassfields.
The Curatorial Imagination of Walter Hopps (on through August 13, 2023)
Walter Hopps (1932–2005) — once dubbed "the marvelous mad maven of modern art in America" — was the Founding Director of the Menil Collection. He estimated that he had curated some 250 exhibitions in his 50+ year career, and this show explores his influential curatorial vision and his appreciation of a variety of 20th-century art movements. It features more than 130 drawings, paintings, photographs, and sculpture, ranging from the 1930s to the early 2000s, by 70 artists.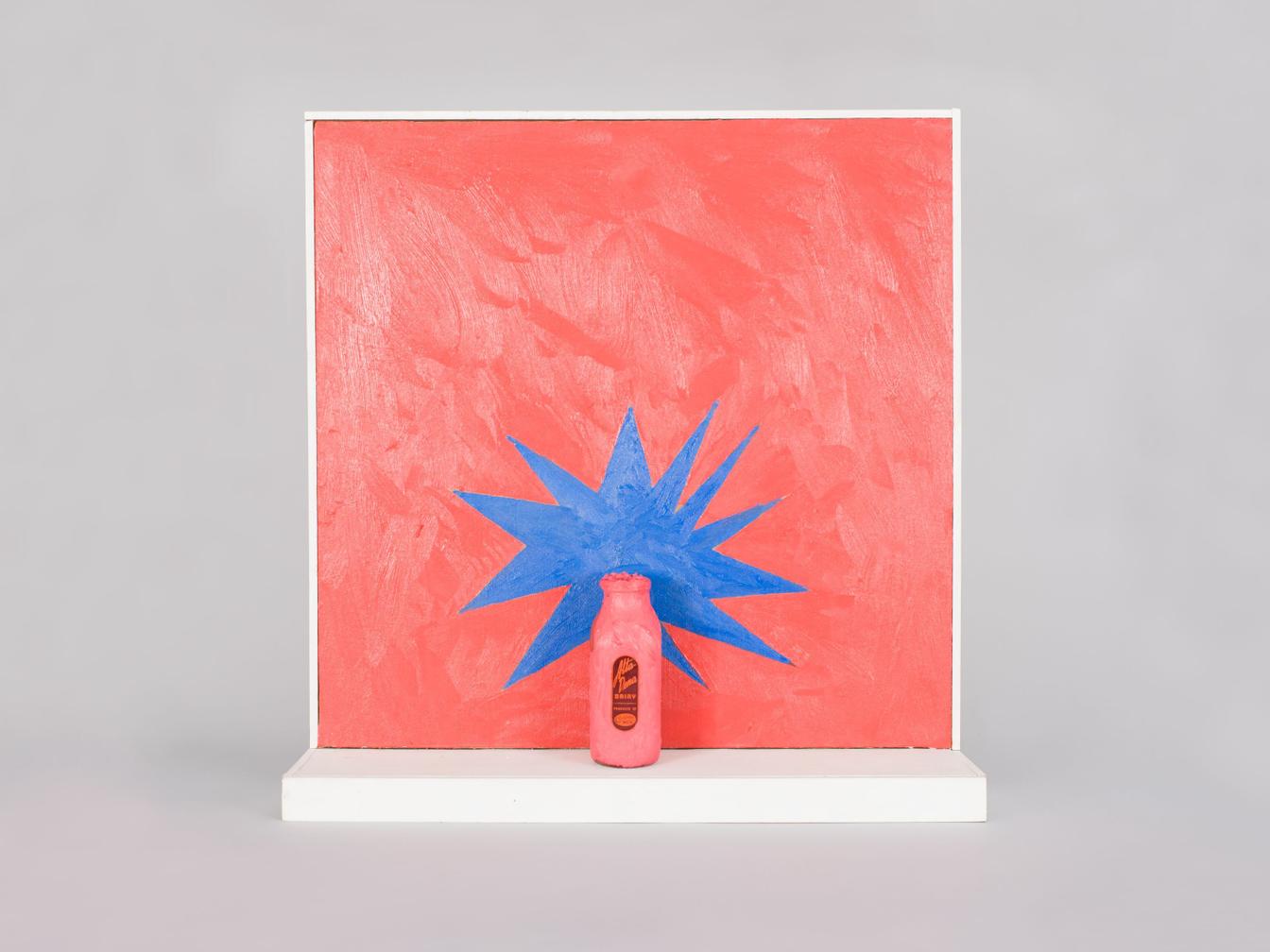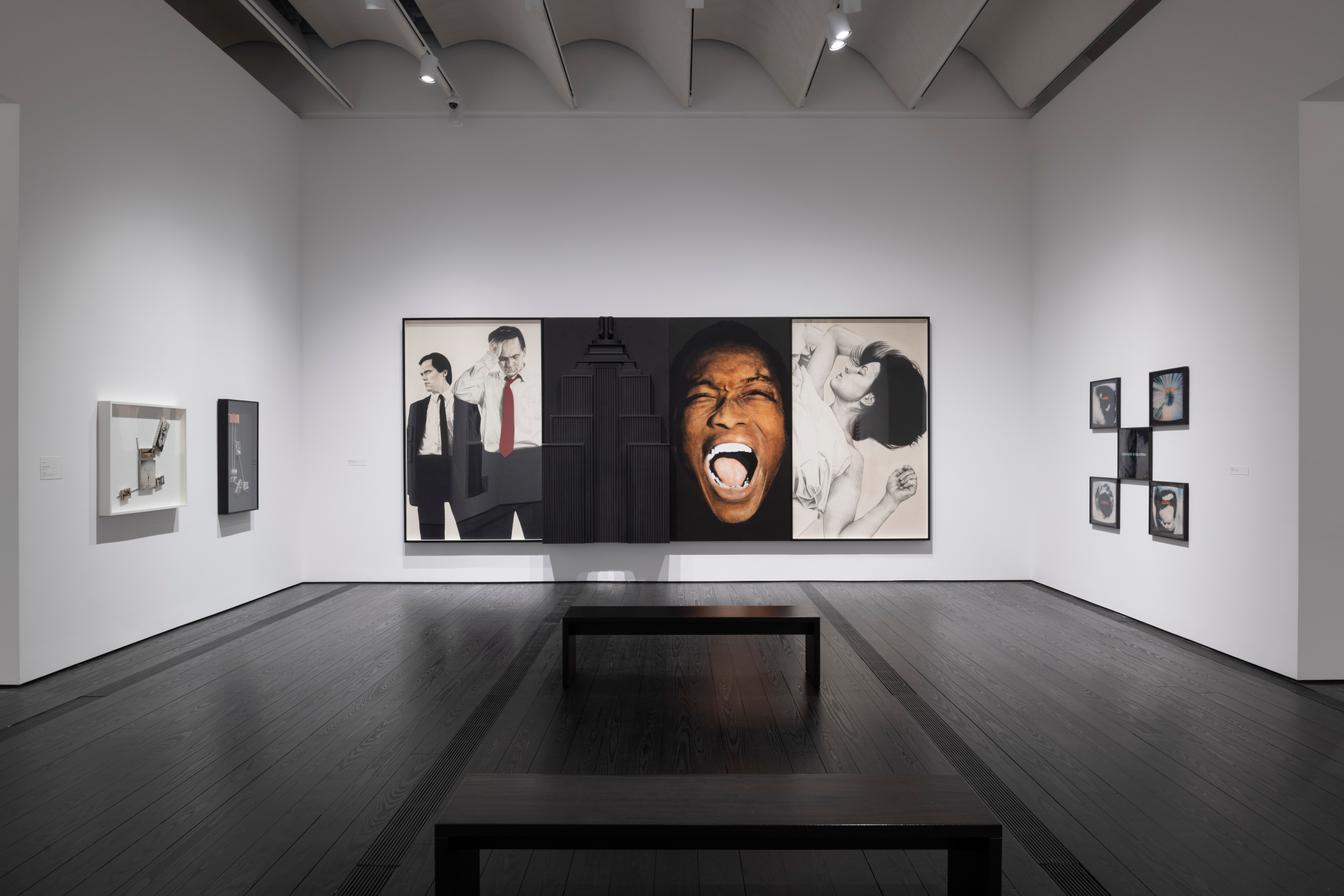 Art of the Cameroon Grassfields (on through Jul 9, 2023)
This exhibition celebrates the enduring artistic traditions of Cameroon and its global diaspora. The Grassfields of Cameroon is a verdant landscape of mountains and highland plateaus abutting the southeastern border of Nigeria. It is home to some 200 independent monarchies (chefferies) distinguished by their origin stories, languages, and cultural practices. Today, artistic patronage for royal courts and international markets continues to shape the identities of Grassfields kingdoms.
Presented in two separate galleries, one space features more than twenty historical works from the holdings of the Menil Collection, the Museum of Fine Arts, Houston, and local private collections. Highlights include headdresses, masks, prestige hats, royal stools and figural sculptures, and palace architectural elements from several of the Grassfields kingdoms. The second space features two recent artworks by Douala-based artist Hervé Youmbi (b. 1973), whose work engages with the region's rich artistic heritage, the legacies of colonialism, and the international circulation of historical African art. Contemporary counterpoints to the display of historical works, Youmbi's projects underscore the vibrant living cultural heritage of the Grassfields and its ongoing transformation at the hands of contemporary artists.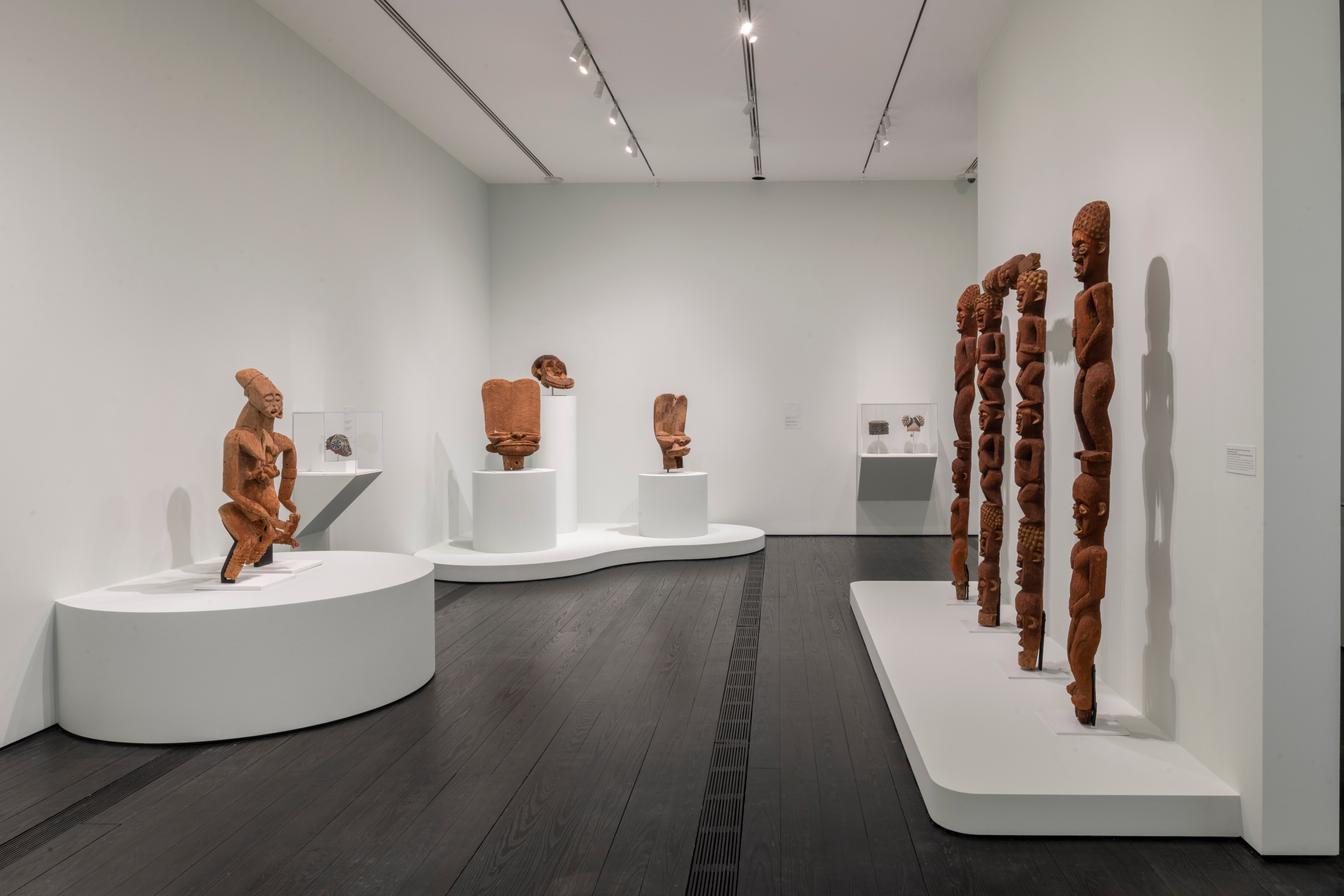 ---
Houston did not remotely resemble Paris in the early 1940's, when Jean and Dominique de Ménil arrived. Responding to a friend's observation that the city was a cultural desert, John is said to have quipped, "It's in the desert that miracles happen."
Hmmm … maybe it's time to plan a little trip …
---
The Menil Collection
1533 Sul Ross St., Houston, TX
713-525-9400
---
Art Things Considered is an art and travel blog for art geeks, brought to you by ArtGeek.art — the only search engine that makes it easy to discover almost 1700 art museums, historic houses & artist studios, and sculpture & botanical gardens across the US.

Just go to ArtGeek.art and enter the name of a city or state to see a complete interactive catalog of museums in the area. All in one place: descriptions, locations and links.
Use ArtGeek to plan trips and to discover hidden gem museums wherever you are or wherever you go in the US. It's free, it's easy to use, and it's fun!
© Arts Advantage Publishing, 2023