Western North Carolina is all about stunning layered mountain views, Blue Ridge hiking, the Biltmore estate … and art. Turns out that Asheville is an art town, boasting two separate studio & gallery districts, numerous art and craft-related museums and historic houses … and the recently expanded Asheville Art Museum.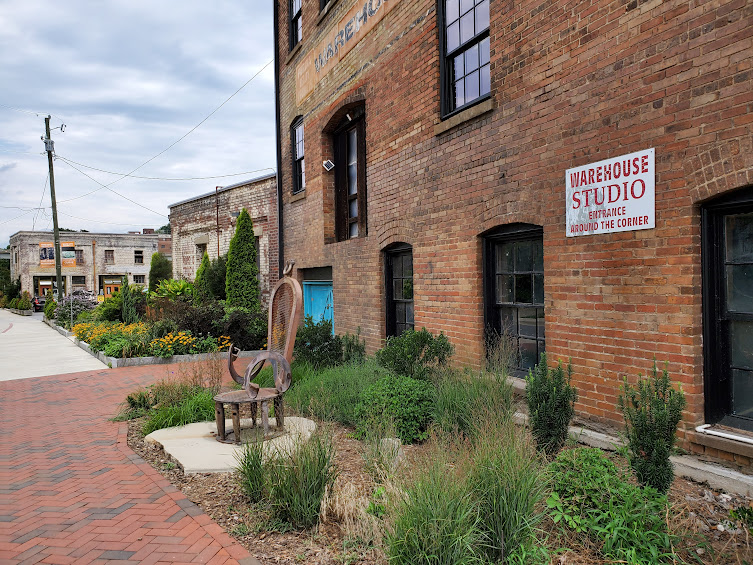 The River Arts District is made up of 26 industrial buildings, repurposed to accommodate studios and galleries for more than 270 working artists. The Gallery and Museum Guide of the Downtown Arts District maps 22 locations.
At the center of the downtown business and cultural district is the Asheville Art Museum. Established by artists in 1948, the museum has had a series of homes as it has grown and outgrown. In 1992, the Museum took up residence at its current location, moving to a 1926 Renaissance-style former-library building. Various expansions and restorations took place in the years that followed, until, in 2016, a major construction project began.
The historic preservation of the Museum's North Wing (the 1926 Pack Library building) and new construction came together as a cohesive, state-of-the-art museum facility, encompassing 54,000 square feet and adding 70 percent more gallery space. In 2019, on its 70th anniversary, the Asheville Art Museum opened the cultural and architectural landmark that we see today.
At the corner of Broadway and Patton Ave., the North wing and the contemporary entrance façade of the West wing join together to embrace Pack Sq., in the center of which stands a resplendent glass orb, Reflections on Unity.
The spacious lobby, a gift shop, and the galleries are located in the new wing, with a small café and sculpture terrace on the 4th level.
---
The very welcoming desk staff were eager to explain the layout of the galleries and the location of each exhibition. There were five temporary exhibitions on view when we visited, plus the ongoing presentation of the Museum's collection of American art of the 20th and 21st centuries.
Here I'll focus on the exhibition of the Museum's collection. I've reviewed the temporary exhibitions in a second article which you can read here.
---
Intersections in American Art, ongoing installation
This is a major reinstallation and reinterpretation of the Museum's collection in a much-enlarged gallery space. The exhibition is organized to consider themes including Experiments in Material & Form, and Collaboration & Interdisciplinary Dialogue. The works relate the historical and contemporary stories of art and culture in western North Carolina and Southern Appalachia, within the broader context of American aesthetic development.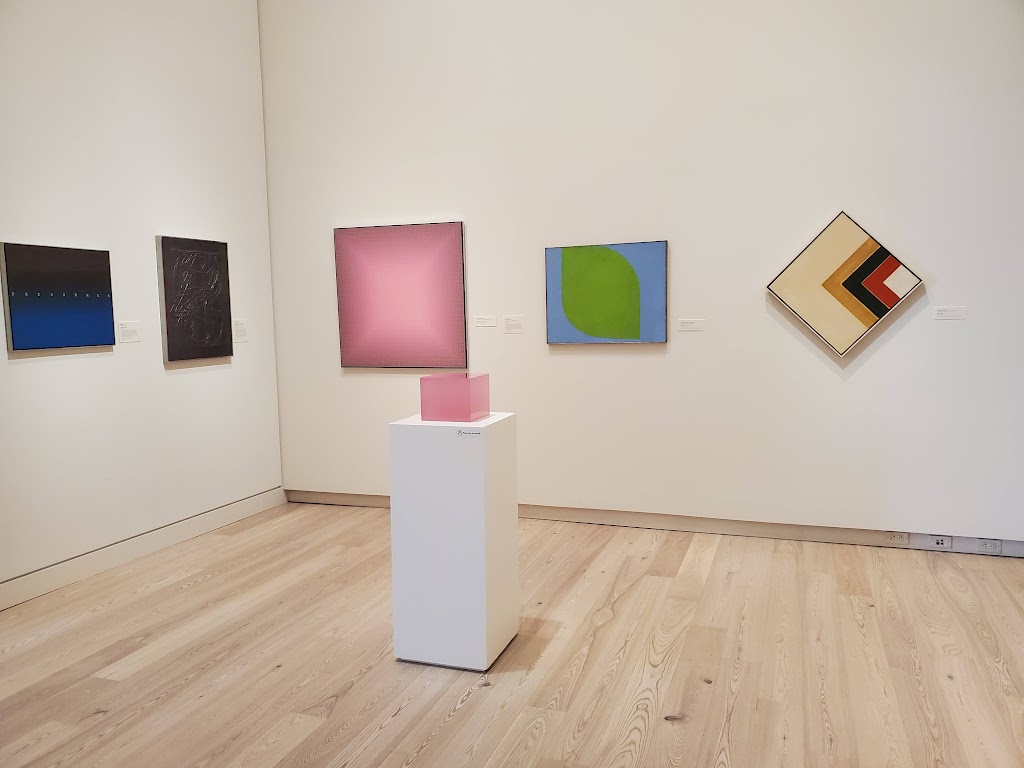 The theme of Time & Place — capturing a particular moment, a national mood, or geographic location — was exemplified by two vases of similar shape and size displayed side-by-side. One was made in 1919 by the Fulper Pottery Co. in Flemington NJ, the other at the Pisgah Forest Pottery in Asheville, in 1934.
In another example, two sculpted heads are displayed side-by-side. One was created in 1959 in granite by Spanish-born José de Creeft, who taught at Black Mountain College in 1944. The other was carved in wood in 1953 by Chaim Gross, an Austrian émigré who lived and worked in New York for 70 years.
I would have like to have seen more of Anni and Joseph Albers' work while in the Asheville area, but was happy to at least see in this exhibition examples by each of these acclaimed Black Mountain College figures. Placed across from each other in a small room, these screen prints on paper express geometric form and color in quite different ways.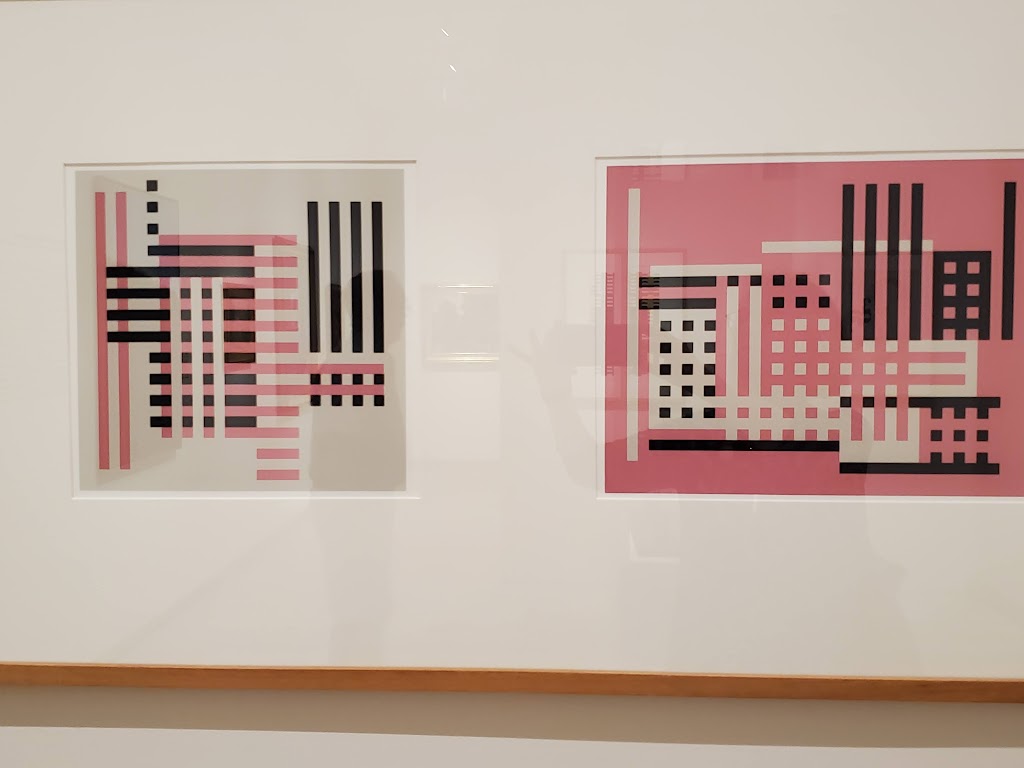 Experiments in material and form often result in "how do they do that?" moments for the viewer. For me, Karen Lamonte's work always elicits that reaction, and her 2006 Semi-Reclining Dress Impression did it again. This life-sized cast glass "empty suit" dress silhouette conflates Classical and contemporary form and suggests fluidity in a rigid medium.
Likewise, Marilyn Pappas' 2012 Nike Torso in Greens, Yellows and Gold defies two-dimensionality, despite having been created using age-old embroidery techniques, stitching with thread on linen.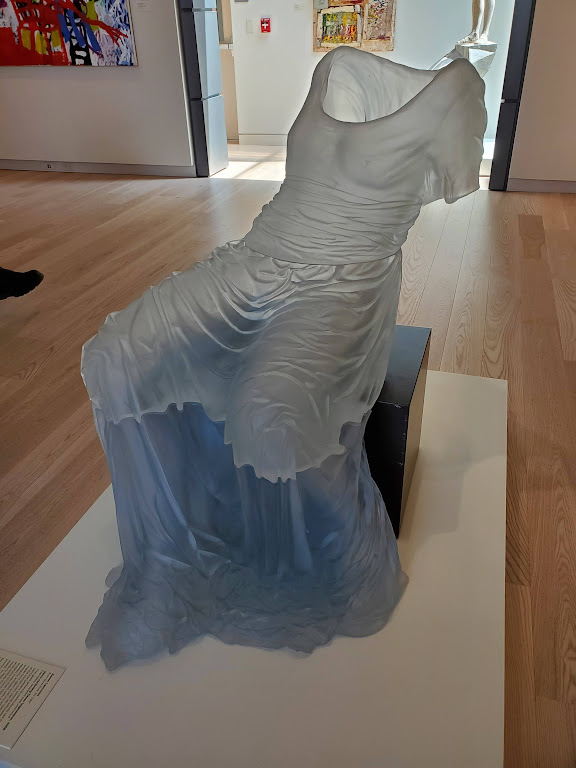 Two other figures made an interesting comparison. Posed in similar stances, notable for their clothing, their strength, and equally evocative, they couldn't be more different. Christina Cordova's Isla was completed in 2011, made of ceramic, resin, concrete and steel. The adjacent signage reads: "This androgynous figure, who wears a costume from a time not our own, appears to be captured mid-gesture and appears to be looking out beyond the rock they stand on, or contemplating an inward meditation." Otherworldly, independent, unto herself — conceptually, then, the title "Isla" makes sense, given that "isla" means "island" in Spanish.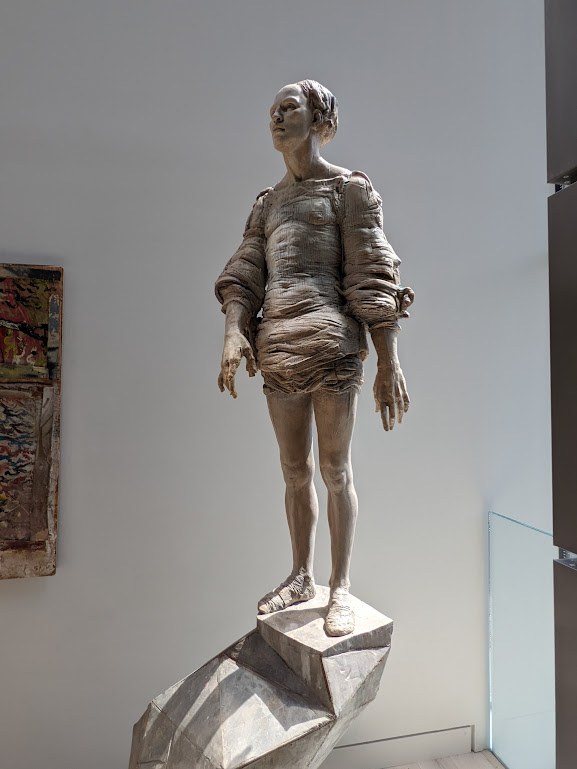 By contrast, John Henry (Series 3), created by Kelly Phelps and Kyle Phelps in 2014, tells quite a different story. Raised in an Indiana factory town, the identical-twin artists collaborate on making sculptures that embody the experience of the working class. This ceramic and mixed media figure represents the African-American folk hero, John Henry, who wielded a hammer driving steel on the railroad. With extraordinary physical strength and an iron will he accomplished what a mechanical drill could not. Isla is ethereal; John Henry is utterly down-to-earth.
A favorite in this installation of the Museum's collection was Stone Roberts' Lemons, Lilies and Gourds. While it emulates the realism of a 17th-century Dutch still life, on close inspection the painting surprises with some unexpected elements. The traditionalism is disrupted by a kitchen timer and a thoroughly modern salt grinder.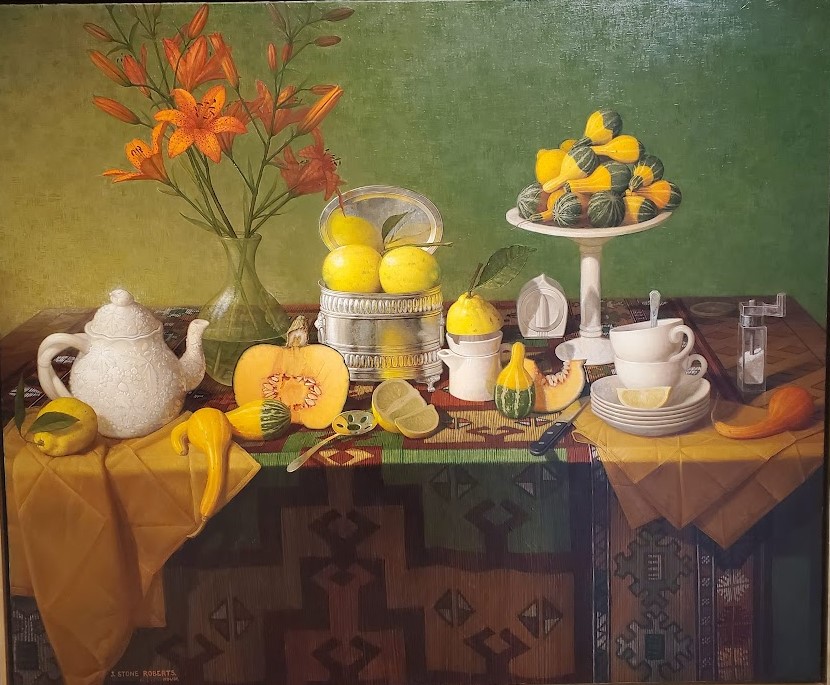 Another favorite: James Ormsby Chapin's Nine Workmen. The acclaimed Regionalist painter, Grant Wood, called Chapin's paintings, "among the best things in American art, strong and solid as boulders. They were full of the pain and bleakness of a frugal existence of the land, yet possessed of a subtle melancholy beauty of their own." No truer words …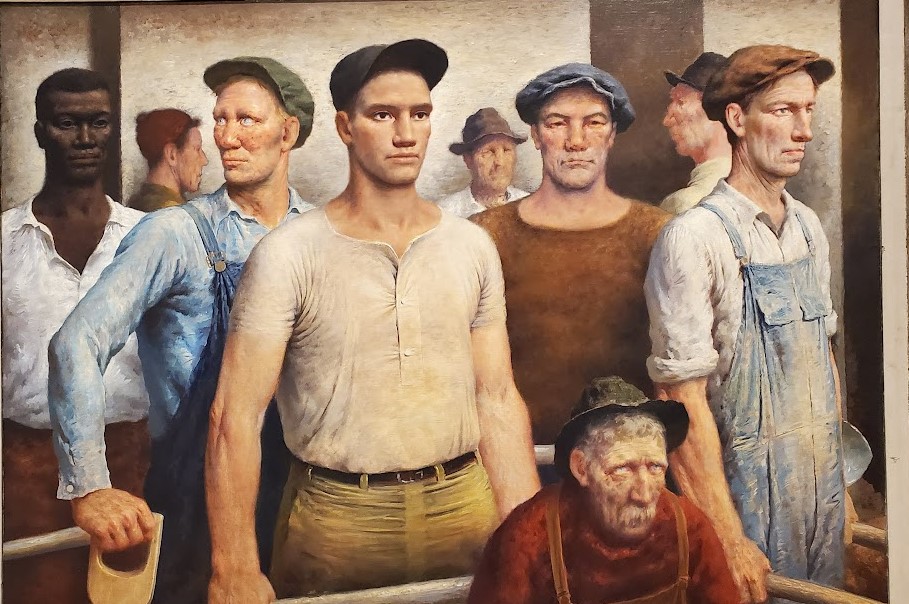 One final juxtaposition of distinct painting styles intrigued me since they were created the same year. Both painted in 1916, Childe Hassan's Old Elm and Dwight William Tryon's Evening Autumn landscapes convey very different moods. Both set in the Fall, Hassan's is light and crisp — perhaps there's a slight chill in the air — expressing the glory of the season, whereas Tryon's is dark and cold, foretelling the long winter ahead.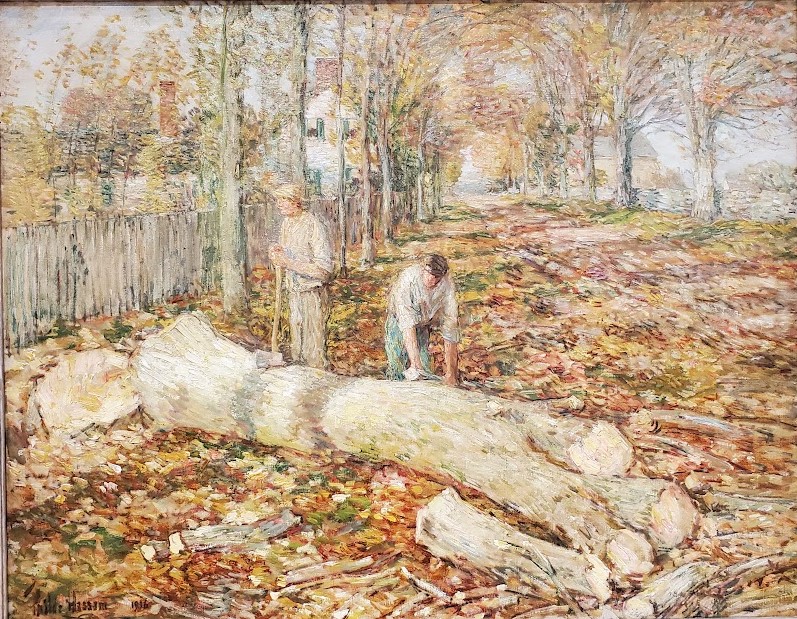 ---
The Ashville Art Museum collection centers on 20th and 21st century American artists, and offers a broad view of the visual arts of the past 100+ years. The museum is welcoming, easy to navigate and provides a varied and informative art experience. Highly recommended!
---
Hmmm … maybe it's time to plan a little trip …
Asheville Art Museum
2 South Pack Square, Asheville, NC
828-253-3227
---
Art Things Considered is an art and travel blog for art geeks, brought to you by ArtGeek.art — the only search engine that makes it easy to discover more than 1600 art museums, historic houses & artist studios, and sculpture & botanical gardens across the US.

Just go to ArtGeek.art and enter the name of a city or state to see a complete catalog of museums in the area. All in one place: descriptions, locations and links.
Use ArtGeek to plan trips and to discover hidden gem museums wherever you are or wherever you go in the US. It's free, it's easy to use, and it's fun!
© Arts Advantage Publishing, 2022