For 30 years Patrick Dougherty's enchanting Stickwork sculptures have been sprouting up at museums, botanical gardens, and public spaces around the world. Amazing what you can do with 30,000 pounds of willow!
Until recently I'd never seen one, but whenever I've read about a Dougherty Stickwork I've been tantalized. So it was a delight to unexpectedly come upon Cutting Corners on a visit this past winter to the Mounts Botanical Garden in West Palm Beach.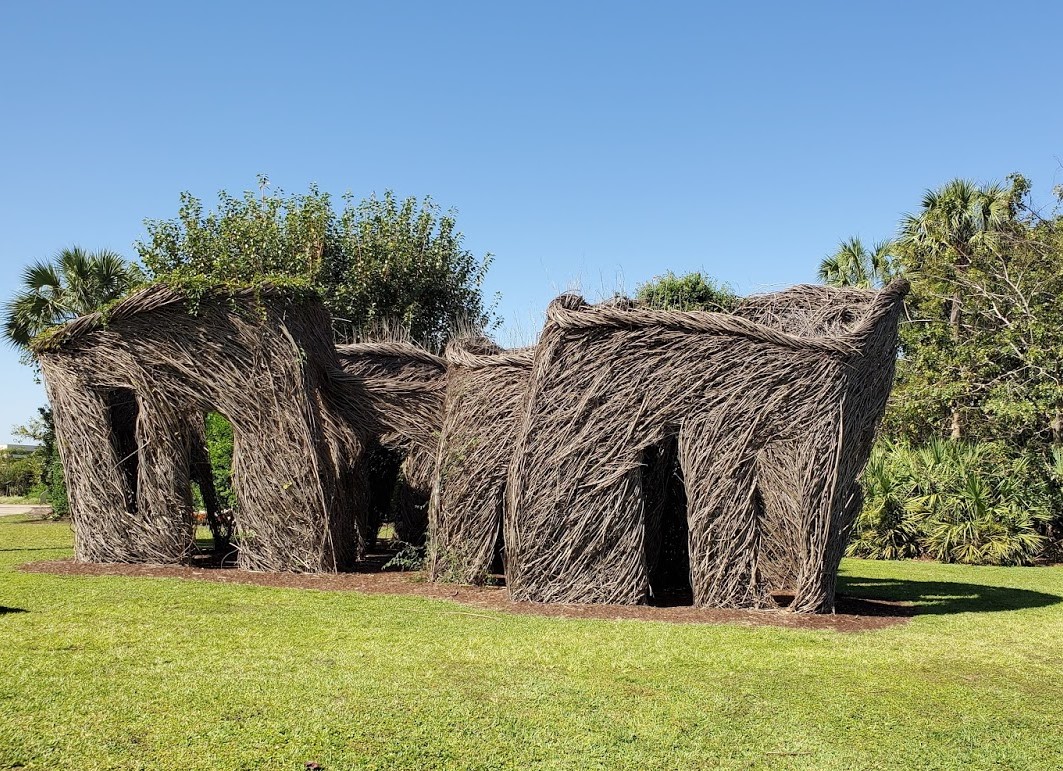 Other than the occasional commercial jet passing overhead, the garden was quiet that day, and I was moved by a feeling of peace as I wandered in and out of the structure, birdsong drifting into the willowed halls on a gentle breeze. Light filtered in in places, the sun shone bright in places, yet there were deeply shady places too. Humble, joyful, spiritual — Cutting Corners is a many splendored thing!
---
For 30 years Patrick has taken on about 10 projects a year. Since his constructions are organic they don't last, so only the more recent of the 300-plus structures he's erected – from Australia, Japan and Korea, to Scotland, France and Sweden, and across the US and Canada – still stand. Usually after about two years a Stickwork installation begins to succumb to weathering and then gradually disintegrates.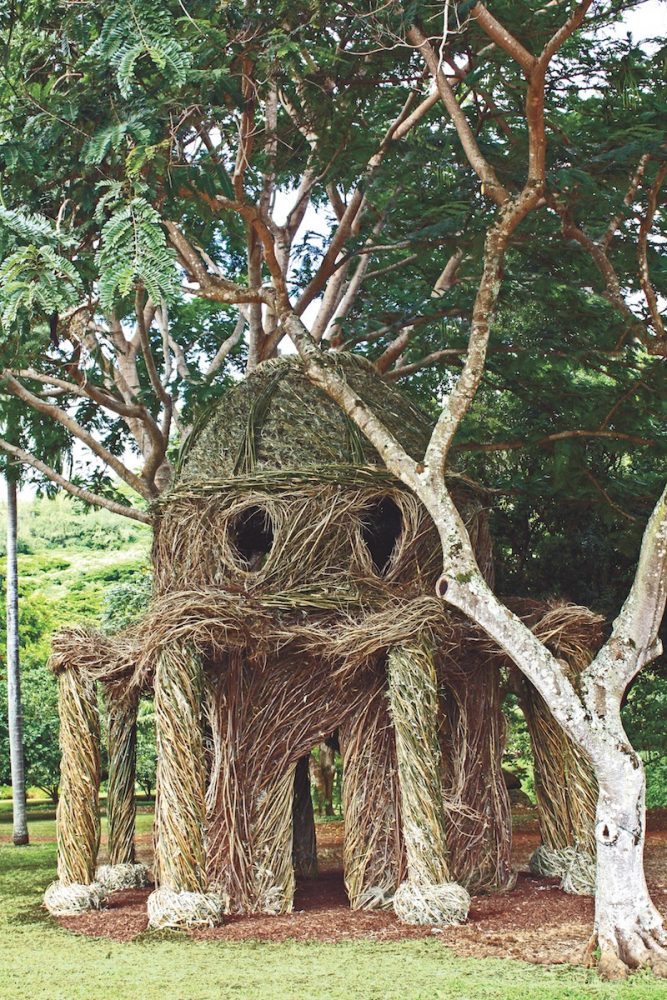 That ephemeral quality of his work, he believes, adds a certain enchantment to them. "It causes a longing in the viewer," he says. … "It's really about the immediacy of the impact something has on you when you first see it. It stirs you up, carries you beyond politics, beyond finances. For just a second, you accept the illusion. You're transported."
As an artist, he believes that art is less about the object than it is about the experience it creates.
In addition to the transitory nature of his Stickworks, interactivity is key to their magical nature. Most of Dougherty's works have passageways and nooks and crannies that allow visitors to wander and play. And community collaboration is an essential part of the creation process: upon arrival at the site of a new project, the client institution typically introduces him to a band of enthusiastic volunteers.
"I never really know exactly how many volunteers I will have or what our materials will be—or, for example, what sort of scaffolding will be at our disposal. But being able to adapt and collaborate is part of the process," said Dougherty in a recent interview (Flower Magazine, 2021).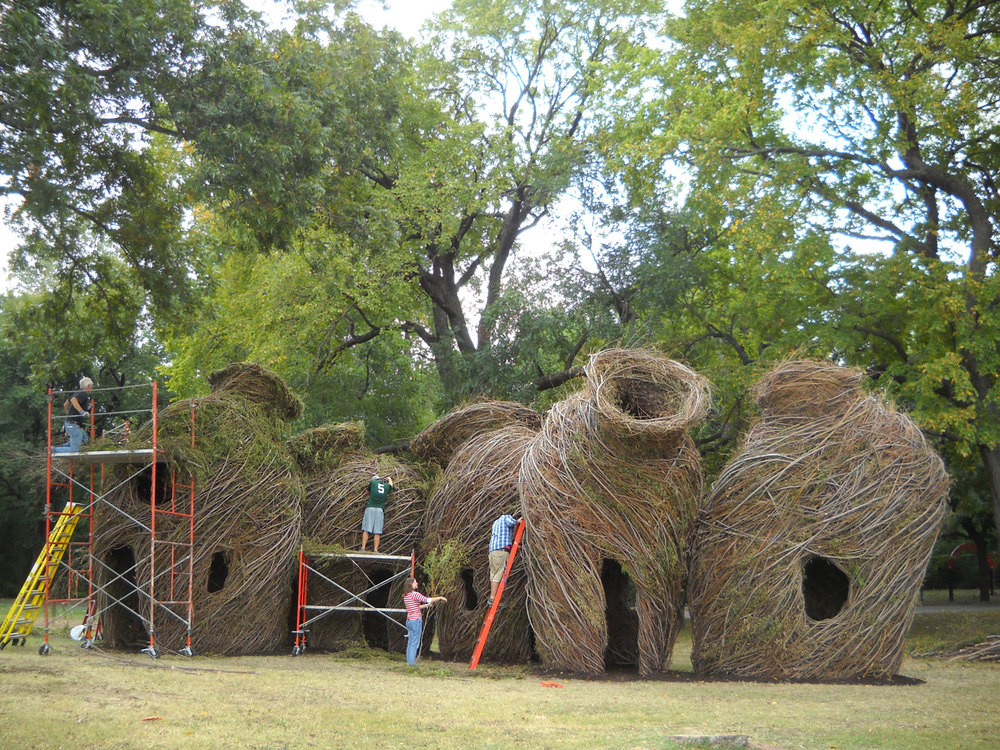 Although his clients see preliminary drawings, they typically allow him to be flexible. Strict adherence to a drawing would inhibit the alchemy of working with found branches and saplings. With each new project Dougherty sets about gathering local materials, which could be debris from a manicured property or saplings rescued from the path of bulldozers clearing land for development.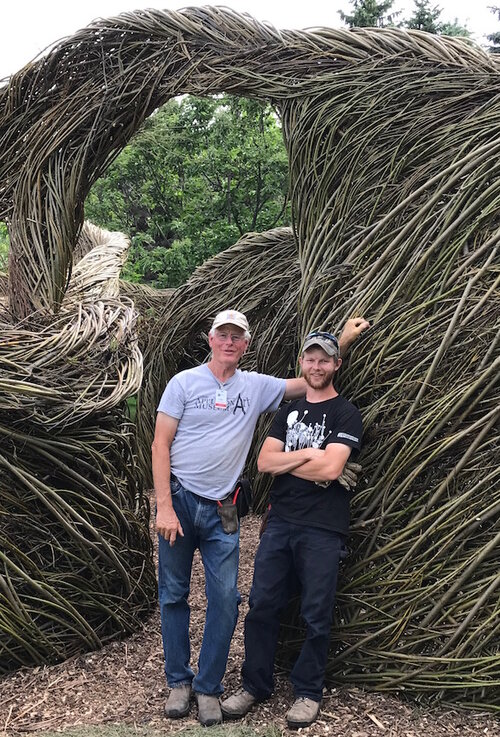 Art is a family affair. Patrick's son Sam, a potter, is his full-time construction assistant, and his wife Linda is chief curator at the North Carolina Museum of Art.
---
UPCOMING INSTALLATIONS
06/2021 Sandhills Community College, Pinehurst, NC
08/2021 The Wild Center, Tupper Lake, NY
09/2021 Sidewalk Detroit, Detroit, MI
10/2021 Savannah College of Art and Design, Savannah, GA
11/2021 Naples Botanical Garden, Naples, FL
---
Featured header image: Installation view of Patrick Dougherty's Cutting Corners (2019) at Mounts Botanical Garden, West Palm Beach, FL
---
Art Things Considered is an art and travel blog for art geeks, brought to you by ArtGeek.art  — the only search engine that makes it easy to discover 1600 art museums, historic houses & artist studios, and sculpture & botanical gardens across the US.

Just enter the name of a city or state to see a complete catalog of museums in the area. All in one place: descriptions, locations and links.
Use ArtGeek to plan trips, to discover hidden gem museums, and to find temporary art exhibitions that have special appeal to you — wherever you are or wherever you go in the US. It's easy to use, and it's free!