In the 19th-century, during her lifetime Rosa Bonheur was one of the most famous artists in all of Europe and North America. Required to obtain a cross-dressing permit in order to venture into the world of men — for the sake of her art — she took that world by storm!
My earliest art-related memory is my mother telling me that her favorite painter was the 19th-century French artist, Rosa Bonheur. She was an "animalier" – a painter of animals – and her work was appealing to young sensibilities. Mom showed me a handful of reproduction images of Bonheur's paintings, and she instantly became my favorite artist too.
Some years later, though, I began to think there was something that didn't compute.
I studied art history in high school and college. Rosa Bonheur was never mentioned. I seldom found anyone else who had ever heard of her. How was it that my mother — in the late-1920s in a small prairie town — had studied such a seemingly obscure 19th-century French artist?
Obscure? Hardly!
It turns out that Rosa Bonheur (French, Bordeaux 1822–1899 Thomery) was widely considered to be the most popular and widely-known artist — male or female — of the 19th century. She was the first female artist to be awarded the Legion of Honor in 1865 and, 30 years later, was the first woman to become an Officer of the Legion of Honor. At the height of her career, she was the darling of royalty, statesmen and celebrities on both sides of the Atlantic.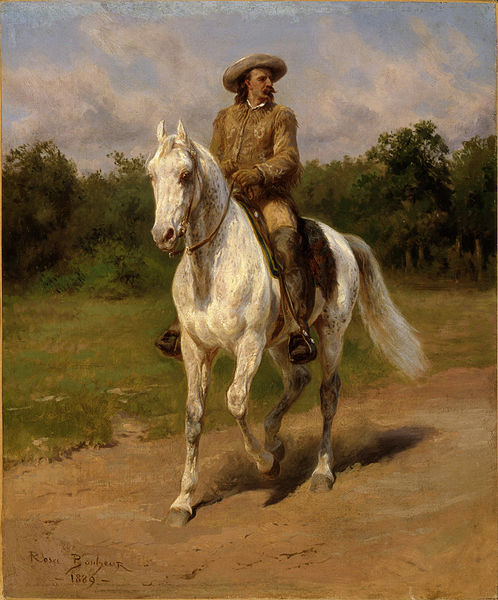 When "Buffalo Bill" Cody's Wild West show traveled to Paris in 1889, Bonheur visited the grounds of the show to sketch the exotic American animals and the Indian warriors in the troupe. She and Cody became friends and she painted his portrait on horseback when he visited her chateau.
One American fan shipped a favorite stallion to France so she could paint its portrait for him. It was too wild for her to work with, so she didn't paint it. She gave it to Bill Cody instead, figuring he could use it in his Wild West touring show.
---
Rosa Bonheur once referred to her art as "a tyrant, demanding heart, brain, soul, body."
At age 19, two of Bonheur's small paintings were accepted to the Paris Salon, including Two Pet Rabbits, shown here. A few years later she won a special prize from a committee that included the leading painters of the time, Eugène Delacroix, Jean-Auguste-Dominique Ingres and Jean-Baptiste-Camille Corot. Her talents were widely recognized and accepted early on.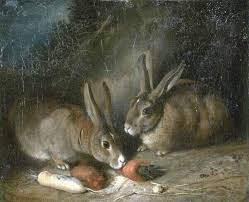 While still in her mid-twenties, she was commissioned by the French state to paint Ploughing in the Nivernais. Exhibited at the Paris Salon of 1849, it was called "a masterpiece." One critic declared that the magnificent painting showed "much more vigor…than you normally find in the hand of a woman."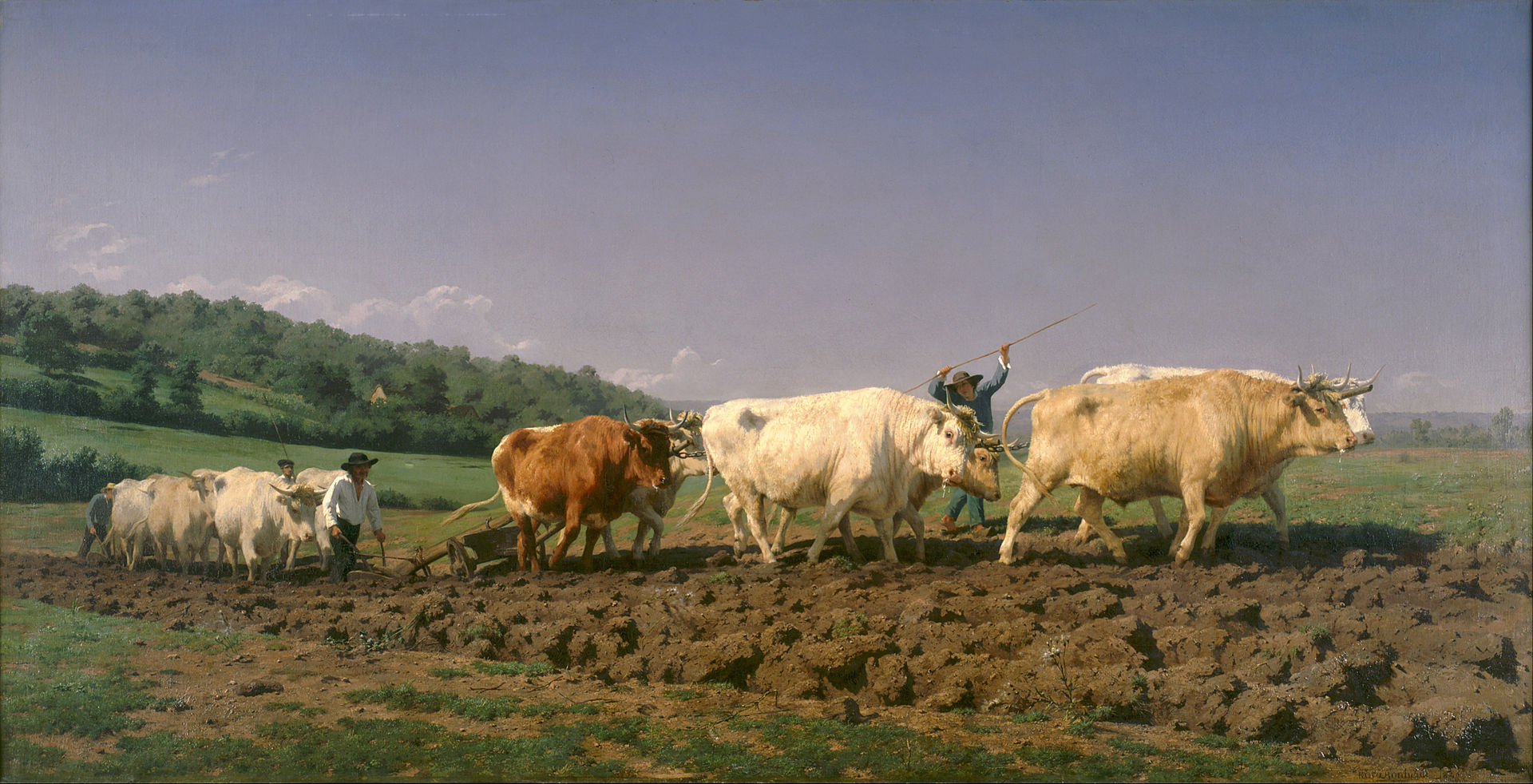 She insisted on going where women didn't go – abattoirs and livestock markets – to study the animals she would paint and sculpt. To do so, she rejected as impractical the long skirts that were expected of her, and in order to wear trousers she obtained a special permission de travestissement (cross-dressing permit) from the Paris police, to be renewed every six months. She took to wearing men's clothing as her regular habit.
"That she was a woman with a gift for self-promotion contributed to her celebrity—and her notoriety," writes Elaine Sciolino in a recent article about Bonheur. "So did her personal life. She was an eccentric and a pioneer who wore men's clothes, never married and championed gender equality, not as a feminist for all women but for herself and her art."
But as the century waned so did the appeal of traditional realism, displaced by Impressionism as the standard for what was deemed to be "good art". In France, Bonheur's celebrity died with her. Her fame shone on in North America for a while longer, but rapid industrialization, and the American Modernist movement it engendered, eventually pushed her style and themes out of the mainstream.
Post-impressionist Paul Cézanne disdained her painting, Plowing in the Nivernais, saying, "It is horribly like the real thing."
By then, though, wealthy American art collectors had acquired a good deal of her work during their European travels, so that many museums across the country now include Rosa Bonheur in their collections.
---
Years ago, during one of my first visits to the Metropolitan Museum of Art in New York, I was stopped in my tracks by a vast painting that I recognized, bubbling up from deep memory. It was Bonheur's The Horse Fair (1853), depicting dealers selling horses at the Paris horse market. Stretching a massive 16.5 feet wide by 8 feet tall, this was one of the pictures my mother had shown me as a child, reproduced small enough to fit the page of a book. Of course I had not grasped the sheer monumentality of the piece. It left me breathless, and I was stunned into a renewed devotion to Rosa Bonheur.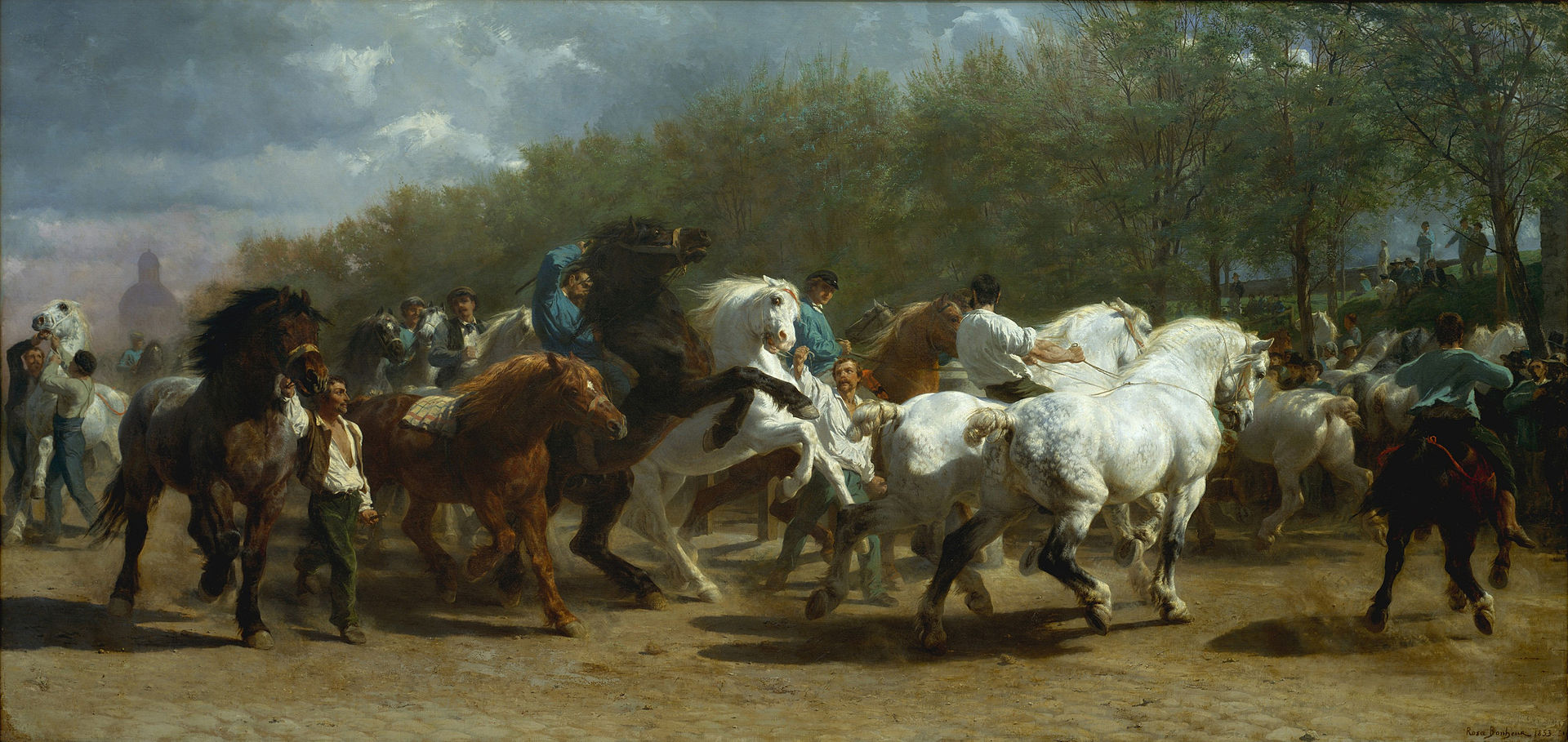 Every time we return to the Met, we make a point of stopping at The Horse Fair. It is kept on permanent display, as it is one of the museum's most popular works.
Over the years, I've been delighted to see Bonheur paintings in a dedicated exhibition at The Dahesh (a New York gallery which sadly no longer exists), and in the collections of the Musée d'Orsay in Paris, the National Museum of Wildlife Art in Jackson WY, the Princeton University Art Museum, the Buffalo Bill Center in Cody WY, and elsewhere.
Then six years ago, browsing in an art gallery in Santa Fe NM, I was again stopped in my tracks by a Rosa Bonheur. This time it was a small watercolor sketch of a dray horse, initialed R.B, dated Feb 6, 1851, labelled "Clipston St." We had not been planning to buy art, but how could we resist owning a Rosa Bonheur?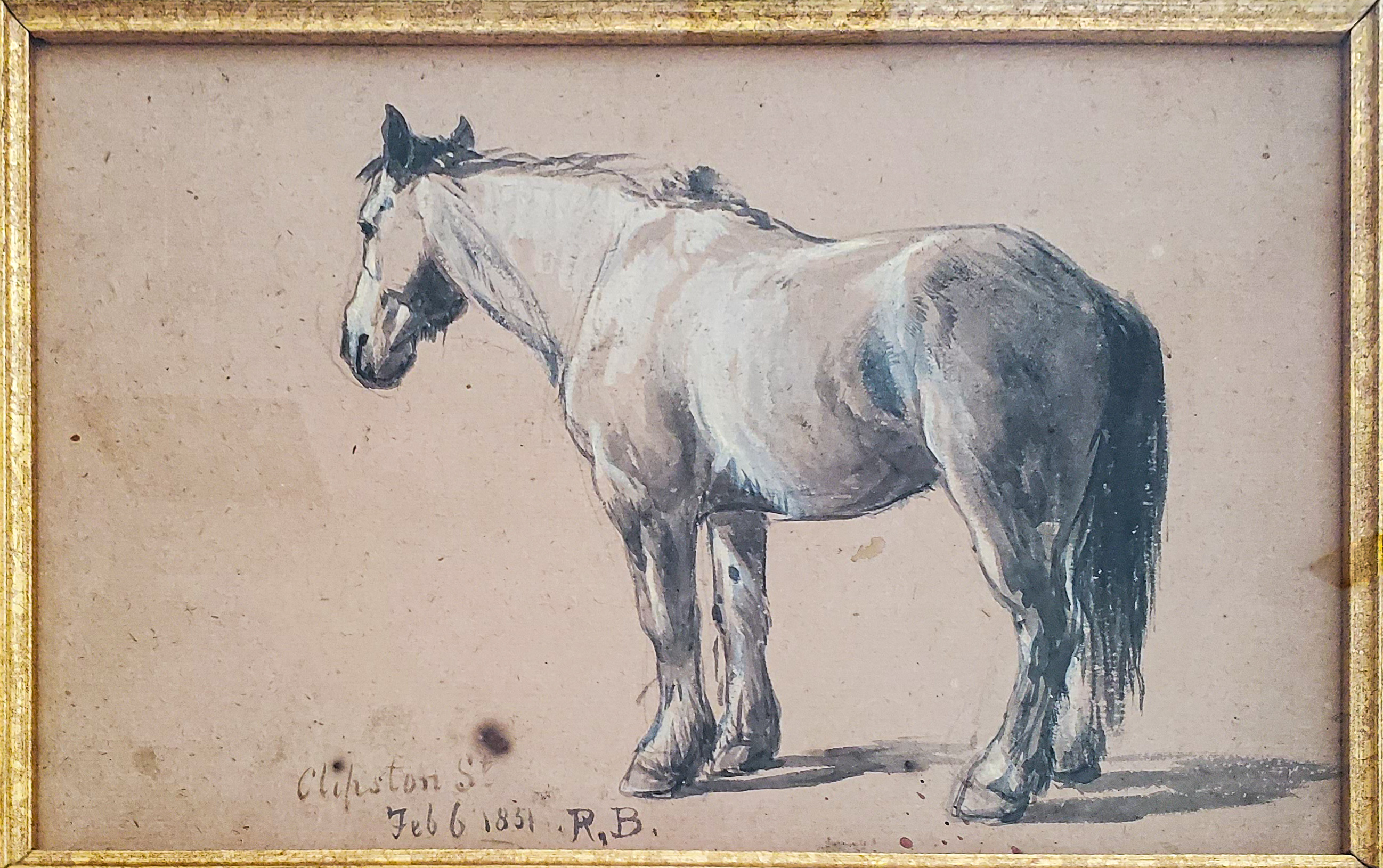 The dealer wondered why I was so excited to have found this quiet little sketch, so I told him the story about my mom and my lifelong fascination with the artist. A trained artist and art educator himself, he somewhat sheepishly admitted that he had never heard of the woman who was once one of the most popular 19th-century artists in the world. I take all the credit for turning him into a Bonheur enthusiast!
---
Increasingly, Rosa Bonheur is being rediscovered. Her work speaks for itself, but today another big part of her appeal is her unconventional character. She was a woman who did not curtsy to a man's world. She simply followed her intentions, on her own terms.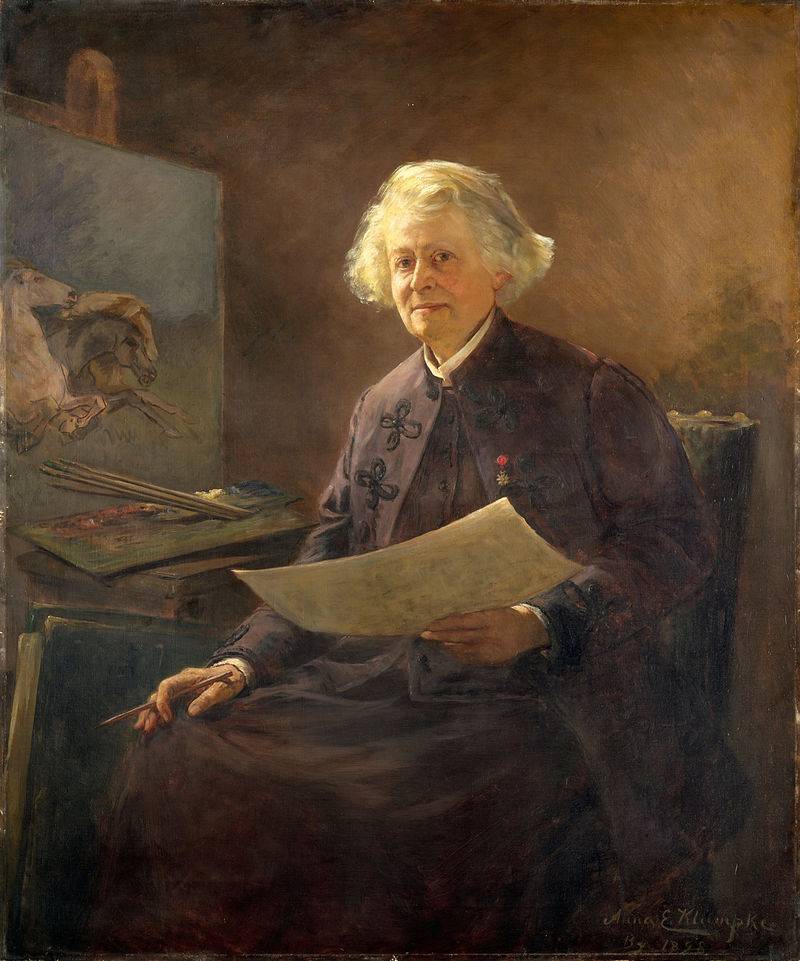 Her talent earned her leeway, and riches, and she established herself in the lifestyle of her choice by simply doing irrefutably great work.
Elaine Sciolino's article in the Smithsonian Magazine, The Redemption of Rosa Bonheur, beautifully summarizes her extraordinary life and her art, and reveals that the Château de By, Bonheur's home for 40 years, has been purchased by a French woman, Katherine Brault. Brault first visited the chateau as a child on a school outing. "We were told she was a local woman who painted, nothing about her international reputation," Brault recalled. "The chateau was dusty, dark and rundown. It was scary. After that, when we'd drive by the place with our parents, we'd say, 'Ah, there's the witch's house!'"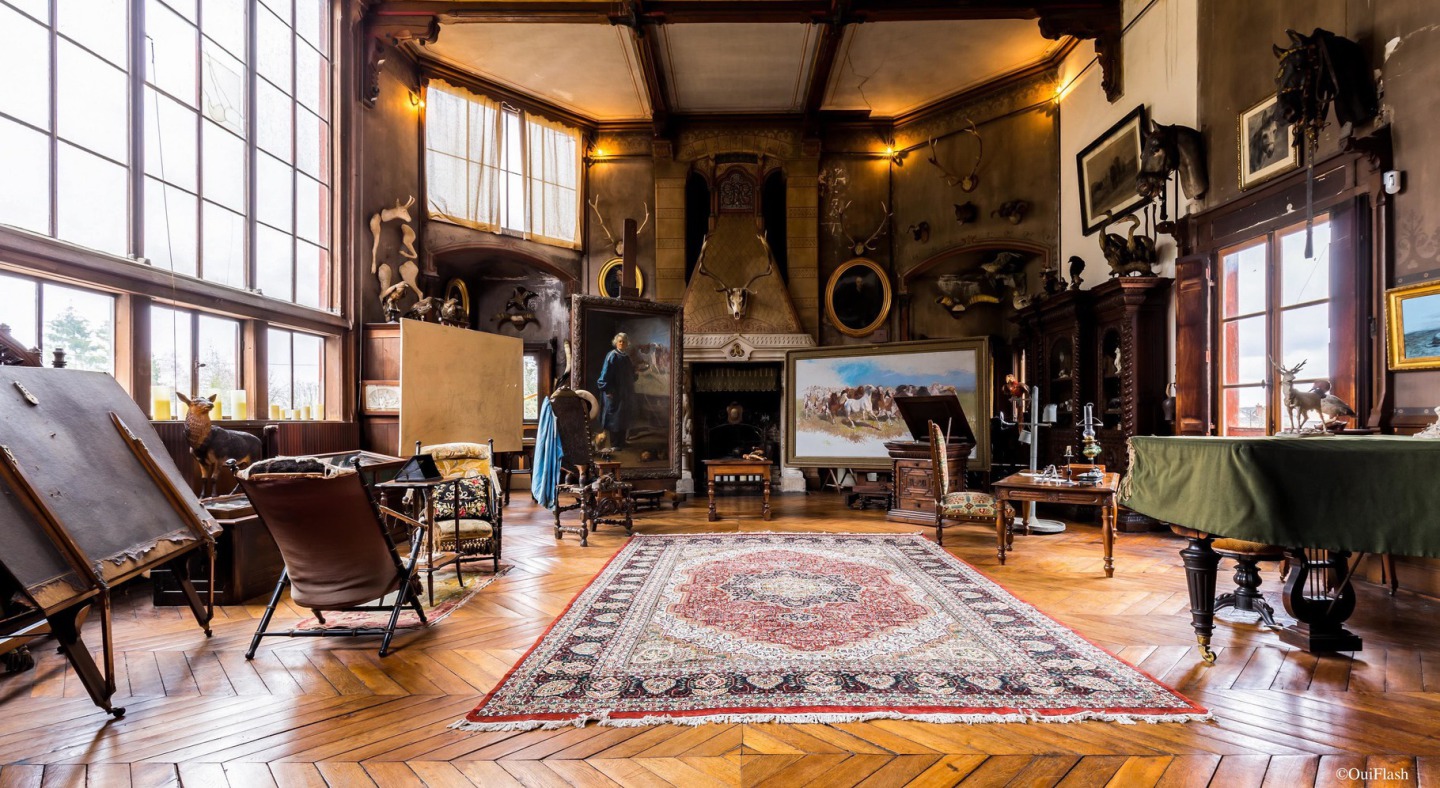 Parts of the chateau, including Bonheur's studio, can already be visited by guided tour, but Brault is bent on restoring the site and transforming it into a full-scale Rosa Bonheur museum and research center. "Every day brings new discoveries of works by and about Bonheur that have been crammed into the attics and cupboards for more than a century," she says. That prospect would certainly get me out of bed in the morning!
The Musée de l'atelier Rosa Bonheur has taken a top spot on my bucket list!
---
Featured image: Édouard Dubufe (French, 1819-1883). Portrait de Marie-Rosalie dite Rosa Bonheur, 1857. Oil on canvas, 51" x 37", Musée de l'atelier Rosa Bonheur, Thomery, France. With the permission of Édouard Dubufe, the artist, Bonheur painted in a bull where he had painted a table.
---
Art Things Considered is an art and travel blog for art geeks, brought to you by ArtGeek.art — the only search engine that makes it easy to discover 1600 art museums, historic houses & artist studios, and sculpture & botanical gardens across the US.

Just enter the name of a city or state to see a complete catalog of museums in the area. All in one place: descriptions, locations and links.
Use ArtGeek to plan trips, to discover hidden gem museums, and to find temporary art exhibitions that have special appeal to you — — wherever you are or wherever you go in the US. It's free, it's easy to use, and it's fun!
---