The Chihuly Collection at the Morean Arts Center in St. Petersburg, FL is a textbook example of the artist's creative genius, from his work in glass to exhibition design.
As ubiquitous as Chihuly has become, a visit to an exhibition of his work delights. We find that, every five years or so, a hit of Dale Chihuly's vivid creativity is a good thing!
The curation of the Chihuly Collection at the Morean Arts Center begins with a biographical display of images, from Dale Chihuly's early studies in interior design and architecture at the University of Washington, to the Fulbright Fellowship that took him to work at a prestigious glass factory in Murano, Italy, and forward to today.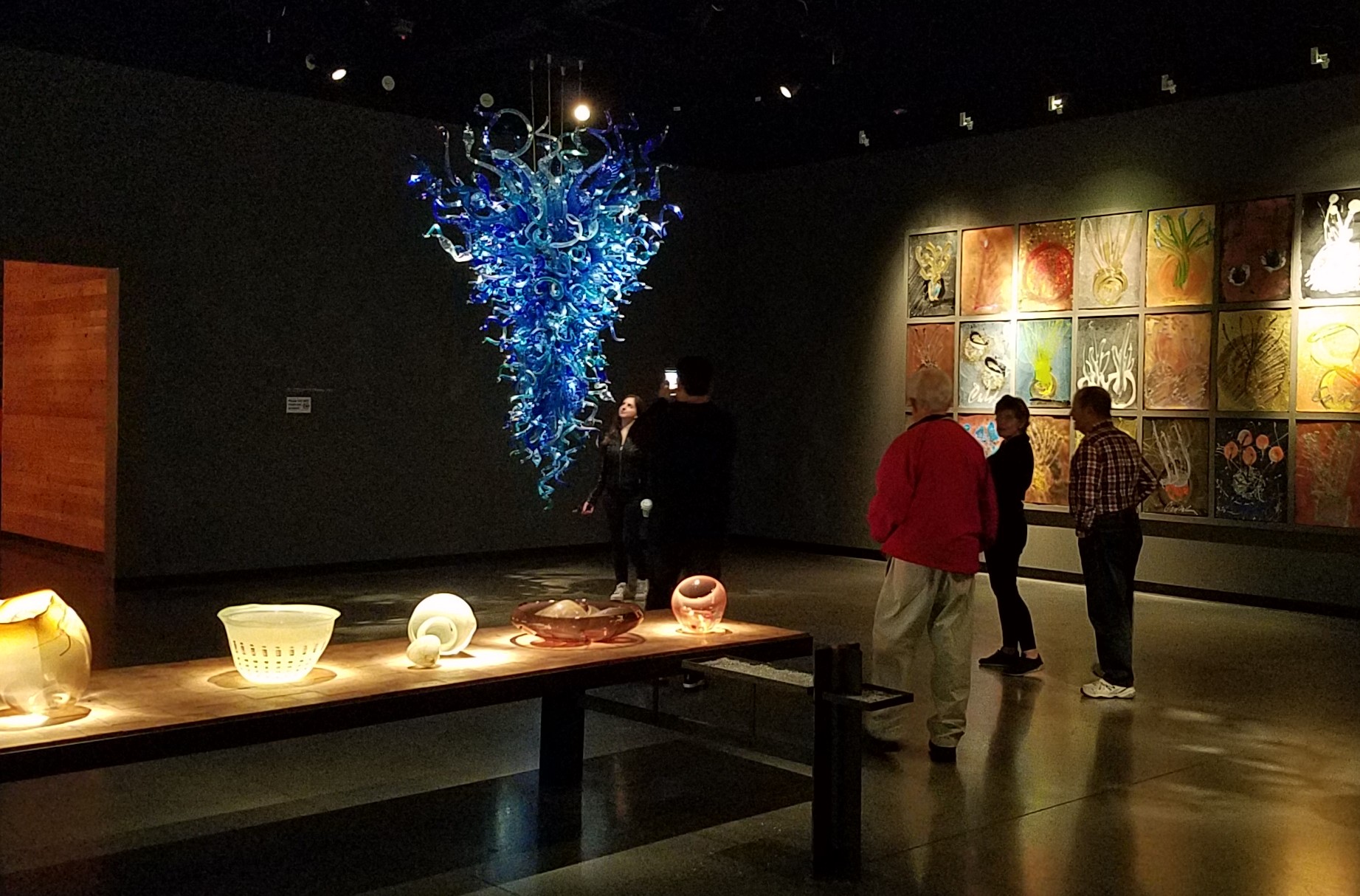 In the past we've found that — be it a dedicated Chihuly museum or a special temporary show — exhibition design contributes enormously to the experience. The Chihuly Collection at the Morean Arts Center is a textbook example: the galleries are typically dark, with spot lighting and reflective surfaces used to great effect to highlight the glass objects.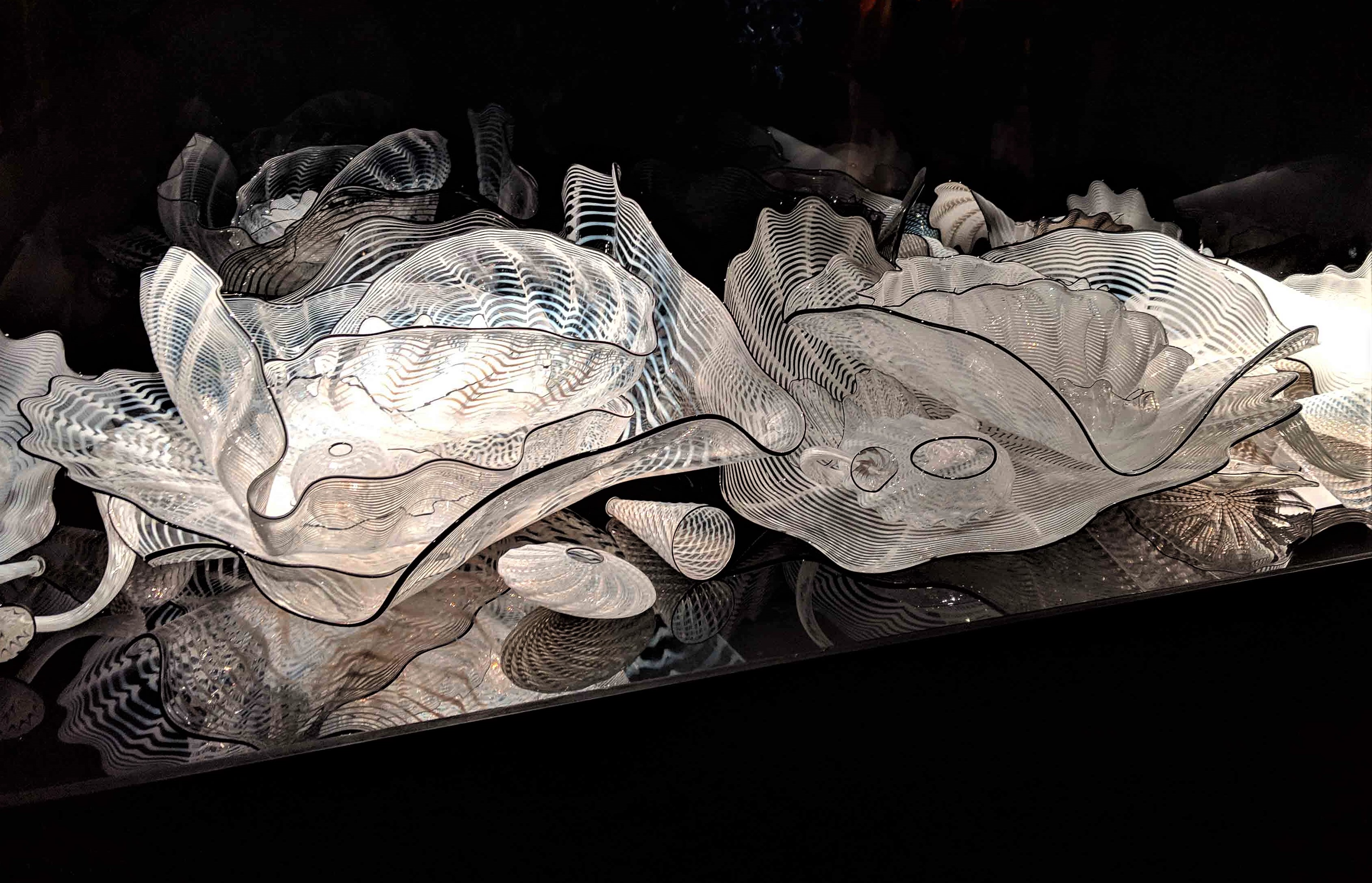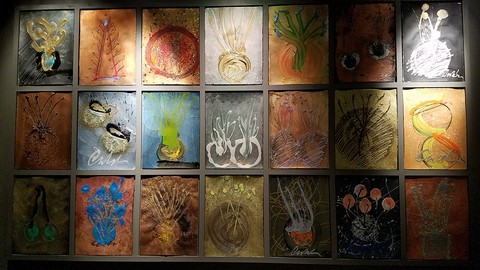 In the first gallery, a wall of colorful, energetic drawings showed a side of the artist that was new to us. The adjacent text tells us that Chihuly once used drawings as "illustative tools to direct and inspire his visions for glass", but that drawing has become increasingly important in his artistic practice. He is quoted as saying that drawing "is a very physical thing. […] The bigger the drawings are, the more physical they are".
Seemingly just a passageway to move through to the next gallery, in fact the Sunset Persian Wall is a glorious display of vitreous color and form that creates a stunning other-worldly effect of light, shadow and reflection.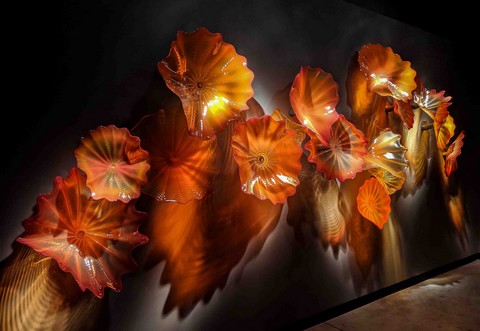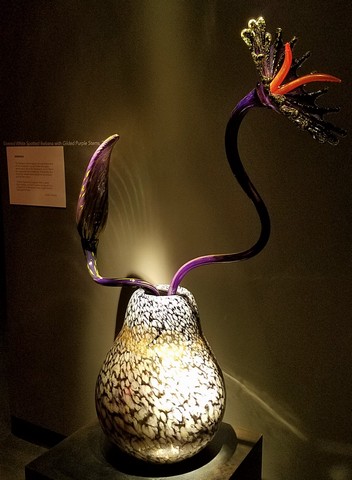 The expected Float Boat room, Glass Flower Ceiling passageway, and Fiore garden are all brightly present and accounted for, but among them also is an intimate gallery showing examples of Chihuly's Ikebana series. This series comprises long, flower-like stems, set in simple gourd-shaped vases. "I want my work to appear like it came from nature, so that if someone found it on a beach or in the forest, they might think it belonged there," the artist has said.
Rarer than a four-leaf clover, wouldn't that be a lucky find!?!
The next gallery provides a total-immersion experience, the entire room steeped in blue light around a single Tumbleweed.
The series called Tumbelweeds is made up of neon-sculptures with twisted shoots of neon tubing that drive electric energy in all directions.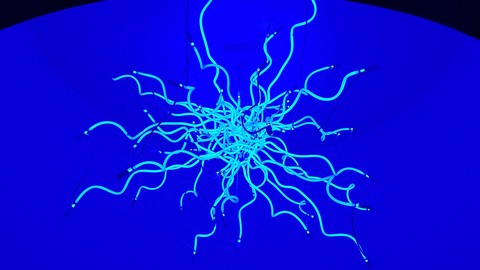 Next up was what I think of as the fantasy room — where those of us who cannot afford to collect Chihuly's work can fantasize about which piece we'd want if we could! An array of glass vessels is displayed for close inspection, presented to show off the fragile yet substantial vitreous qualities of each piece. The thin "body wrap" of contrasting color that outlines the mouth of each vessel challenges one's sense of the possible.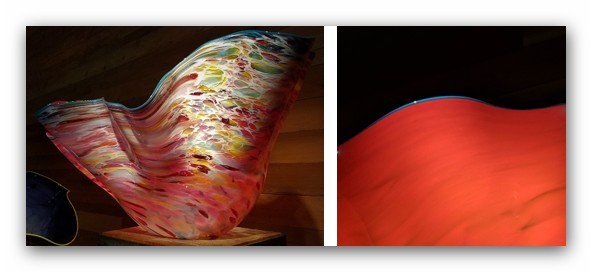 Because we're very familiar with Chihuly's work, the $20 price of admission struck us as a tad steep. But the engaging short film at the at the tail end of the show changed that impression, and we recommend that you not miss this peek into Chihuly's process. We also hadn't realized initially that the entry fee also includes a live glass-blowing demonstration at the Morean Glass Studio "Hot Shop" across the street. Great entertainment!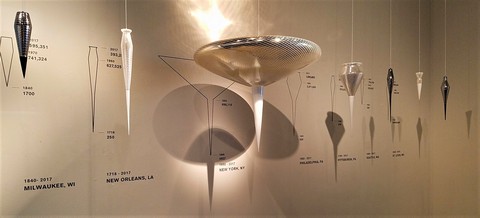 The last space we passed through before exiting held a temporary exhibition, Norwood Viviano: Postindustrial (Nov. 10, 2018 – Feb. 28, 2019)
This site-specific installation of suspended hand-blown glass shapes conveys American Industrial cities' historical population timelines. It took a moment to decipher what we were looking at, but we were drawn in as the concept revealed itself.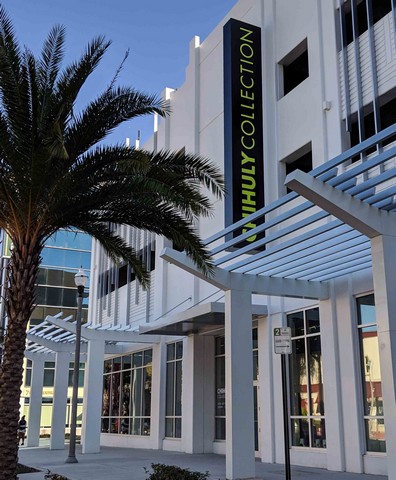 The Chihuly Collection
720 Central Avenue, St. Petersburg, FL
727-822-7872
Open Daily: Monday-Saturday 10AM – 5PM Sundays: 12PM – 5PM
Closed Thanksgiving and Christmas Day
It's always a good idea to call to verify before your visit.