---
A young museum with an exceptional collection of Navajo and Hopi pre-1940s textiles; classic and contemporary Southwestern paintings, including works by highly-regarded artists of the Southwest.
Because of its name, the Desert Art Museum is sometimes confused with the Arizona-Sonora Desert Museum — the zoo and botanical garden northwest of Tucson — even by locals. But, because of the high quality of the collection and exhibitions at this young art museum, we expect that misconception will soon peter out.
Located on the east side of town, the Tucson Desert Art Museum opened to the public just over 5 years ago, in a 25,000 square foot building that includes exhibit space, classrooms, painting studio, gathering spaces and a library.
Founded on the private holdings of a single art collector, the Museum has an extraordinary collection of Navajo and Hopi pre-1940s textiles. The collection also features classic and contemporary Southwestern paintings, including works by Maynard Dixon, Thomas Moran, Albert Bierstadt, Gerald Cassidy, Ed Mell, Ray Roberts, Peter Nisbet, Howard Post and other highly-regarded artists of the Southwest.
The museum's intention to support the "visualization of history through art" quickly became apparent to us. To the left, just past the entry, is a hallway lined with American landscape paintings (plus a Corot), from the 19th-century through contemporary. Some of the pieces in this ongoing display have adjacent explanatory text — beyond artist name, title and dates — adding contextual dimension to the works.
But it's in the next permanent display area — spacious, well-lit, and resplendent with Native American textiles — that context really kicks in. This small-scale, large-impact display provides an excellent overview of indigenous weaving traditions. Take a little time and you'll learn much from the historical information provided about chief's blankets, Navajo saddle blankets, optical art textiles, Yei weavings and more.

For example, we didn't previously know this anecdote of history: The "whirling log symbol," which looks very much like a swastika, represents a traditional cultural story about knowledge, and has appeared in Navajo weaving since the 1880s. But, in 1940, the Navajo, Tohono O'odham, Hopi, and Apache people renounced any further use of the symbol in their decorative arts, "due to the malappropriation of this historically revered symbol by the Nazi Party."
Physically separate but thematically-connected to this display of weavings, is another ongoing exhibit, Colors to Dye For, that explores the traditions of Navajo dye-making, particularly indigo and red, and how wool is made into yarn and yarn is turned into beautiful textiles.
---
In the room beyond the weavings is a special exhibition (on through June, 2018) that explores the impact of Spanish equestrian traditions on Western horsemanship. We thought we'd breeze through this exhibit, but Vaquero and Charro: An Enduring Legacy, turned out to be really engaging.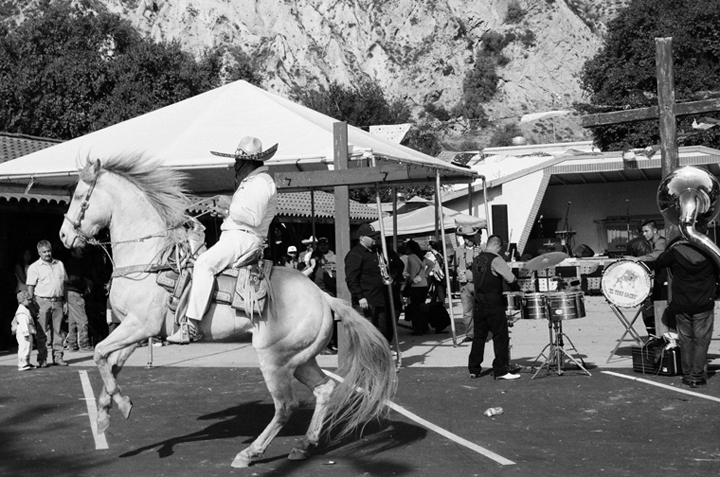 Insightful photographs by Cody Edison combined with artifacts from the Arizona Historical Society — including exquisite examples of vaquero and charro clothing — and extensive text present an engaging foray into the Spanish equestrian roots of these Mexican and southwestern working cowboys, their skills and influence.
The Spanish terms vaquero and ranchero (cowboy and rancher) are similar to charro but with differences in culture, etiquette, mannerism, clothing, tradition and social status.

I sometimes think about the challenge exhibition curators face to come up with new ways to present art that will be meaningful and compelling. A second, more extensive special exhibition, Desert Hollywood: Celebrity Landscapes in Cinema, (on through June 30, 2018) is a terrific example of inventive curation. It's a unique, multi-faceted, and appealing installation.
The exhibition develops the concept of "celebrity careers in film and television" of prominent Southwestern landscapes, through video clips, stills, movie posters, and behind-the-scenes photography, along with contemporary landscape photography, Road Runner cartoons and 1950s lunch-boxes!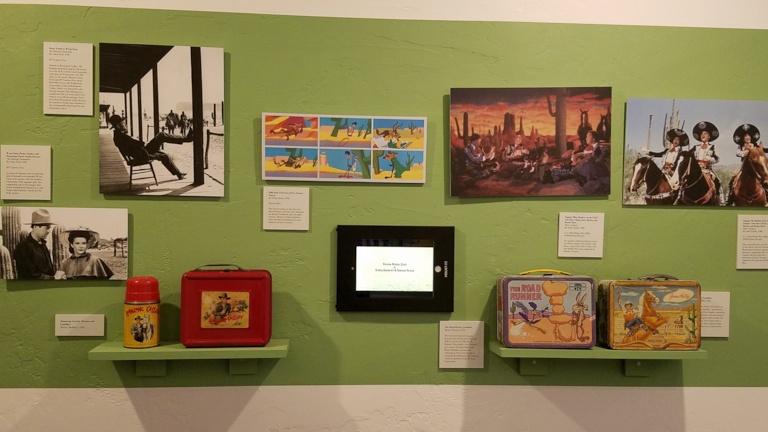 A few famous western landscapes like Monument Valley have been featured in film after film, starring across genres from westerns to sci-fi. They have become familiar, even iconic, through their prominent movie roles — although not always with 100% veracity. A fun fact: saguaro cacti only grow in the Sonoran Desert … but, despite their susceptibility to freezing temperatures, saguaros have occasionally appeared in other movie landscapes, like Monument Valley, because they are so darned picturesque!
For assured truth in landscape, though, there is a series of images by Cindy Bernard. Bernard chose scenes from 21 well-known Hollywood movies — one for each year between 1954 and 1974 — and photographed each location from the cameraman's original vantage, maintaining the big-screen aspect ratio. No saguaros in Bernard's Monument Valley!

Our thanks goes to Genie Sherman Walker, Event Coordinator and self-described factotum, who was very generous with her time, providing background information about the Desert Hollywood exhibition and the museum itself.
A relatively recent addition to the Tucson art scene, the Desert Art Museum has an exceptional, focused permanent collection, and has already established a track record of varied and well-curated temporary special exhibitions. The Desert Art Museum is a Tucson treasure.
Tucson Desert Art Museum
7000 E. Tanque Verde Road, at Sabino Canyon Rd
Tucson AZ
520-202-3888
Open Wednesday – Sunday, 10:00AM – 4:00PM
Closed on all major Holidays
As Always, it'ss a good idea to call before your visit
By ArtGeek.art on January 27, 2018.
Exported from Medium on January 12, 2019.