If a priceless 15th century marble sculpture falls in a museum and nobody hears it, did it actually break?
If the pedestal supporting a priceless 15th century marble sculpture collapses, and nobody hears the statue smash on the hard marble floor, did it actually break into 28 large pieces and hundreds of small fragments? Unfortunately, yes.
A security guard doing his normal rounds at New York's Metropolitan Museum of Art on Sunday, October 6th, 2002 was first to come upon the shockingly unexpected scene at around 9:00 PM.
Sometime that evening the plywood pedestal supporting Tullio Lombardo's 15th century marble statue of Adam collapsed, dropping all 770 pounds of the 6'3" figure to the ground. Adam was decapitated, the torso flung across the floor, the left arm broken into seven pieces, the right leg into six.
Until that moment, the smooth unblemished surface of the carving had been one of Adam's most illustrious features.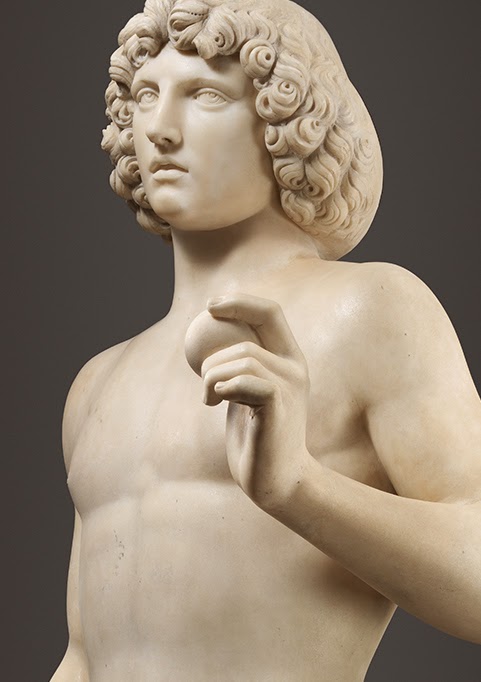 Originally commissioned for the tomb of the Doge Andrea Vendramin (d. 1478) in the church of Santa Maria dei Servi in Venice, Lombardo's Adam was placed in a niche next to the sarcophagus of the Doge in the center of the monument. A statue of Eve, attributed Francesco Segala, stood in the balancing niche on the other side.
When the church of the Servi was demolished by Napoleon in 1812, the Vendramin tomb was moved to the choir of the church of Saints Giovanni e Paolo, but without Adam and Eve. In keeping with the times, the classical nudes were deemed indiscreet, and they were replaced by two warrior figures.
Adam and Eve were moved to the Palazzo Vendramin Calergi where Eve remains to this day. But in 1865 Adam was sold at auction in Paris, and eventually made it's way into the collection of the Metropolitan Museum, in 1936. The acquisition was a triumph: Adam is widely considered to be the most important Italian Renaissance sculpture in North America.
Not just "another Renaissance sculpture", Tullio's Adam was recognized not only as the first classically-inspired monumental nude carved since antiquity, but as a masterpiece in its own right.

But according to the fascinating entry on The History Blog, the conservators subsequently decided "to take a far more meticulous approach, studying every aspect of the reconstruction in detail before drilling holes in it and piecing it together with adhesives and pins. Instead of two years it took 12, but they were 12 years well spent".

On November 11th, Adam is going back on display at the Met, and the story of the restoration is part of the exhibition. The statue, originally intended for a niche and therefore less worked in the back than in the front, will now be viewed in the round so people can see it the same way the conservators did. The Met has made some videos explaining the epic 12-year conservation project …. and you can preview them now . They are fascinating.