When a man's life is cut short at a young age one wonders what his future might have been – especially when he had already accomplished notable things. This is the case with Donald Beauregard. "Who?" You might well ask. Beauregard was an artist most of us have never heard of, but one who might have become widely recognized had he had time to develop his style and his reputation.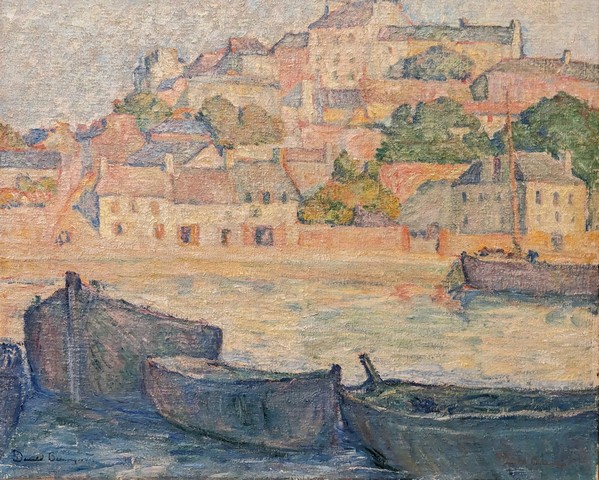 Donald Beauregard (1884-1914) passed away from cancer at age twenty-nine, leaving an innovative body of work that suggested great work to come. The exhibition titled An American In Paris (at the New Mexico Museum of Art, Santa Fe NM, through Oct 22, 2023) introduces this talented artist with a revelatory selection of his work, accompanied by contextual signage, that makes us regret his early passing, wishing for more.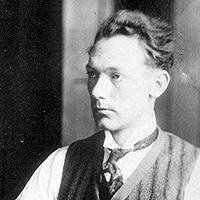 The exhibition focuses on the connections in his work with the exciting artistic developments that were occurring in Europe in the early years of the 20th century. Leaving his home state of Utah, he first travelled to Paris in 1906 to study at the Académie Julian. When his funds ran out three years later, he returned to the US and worked as an artist on various archeological teams in Arizona and New Mexico, including Edgar Lee Hewitt's expedition to Frijoles Canyon — within present-day Bandelier National Monument, NM.
He found a patron in Frank Springer, a prominent attorney and New Mexico booster, and through Springer's largesse, he returned to Europe in 1911. Beauregard traveled and painted in France, Switzerland, and Germany, experimenting with Modernism, influenced especially by the distinct approaches of Cezanne, Gaugin, and Van Gogh. "Expressive brushwork and non-representational colors characterize his work from this period." (gallery text)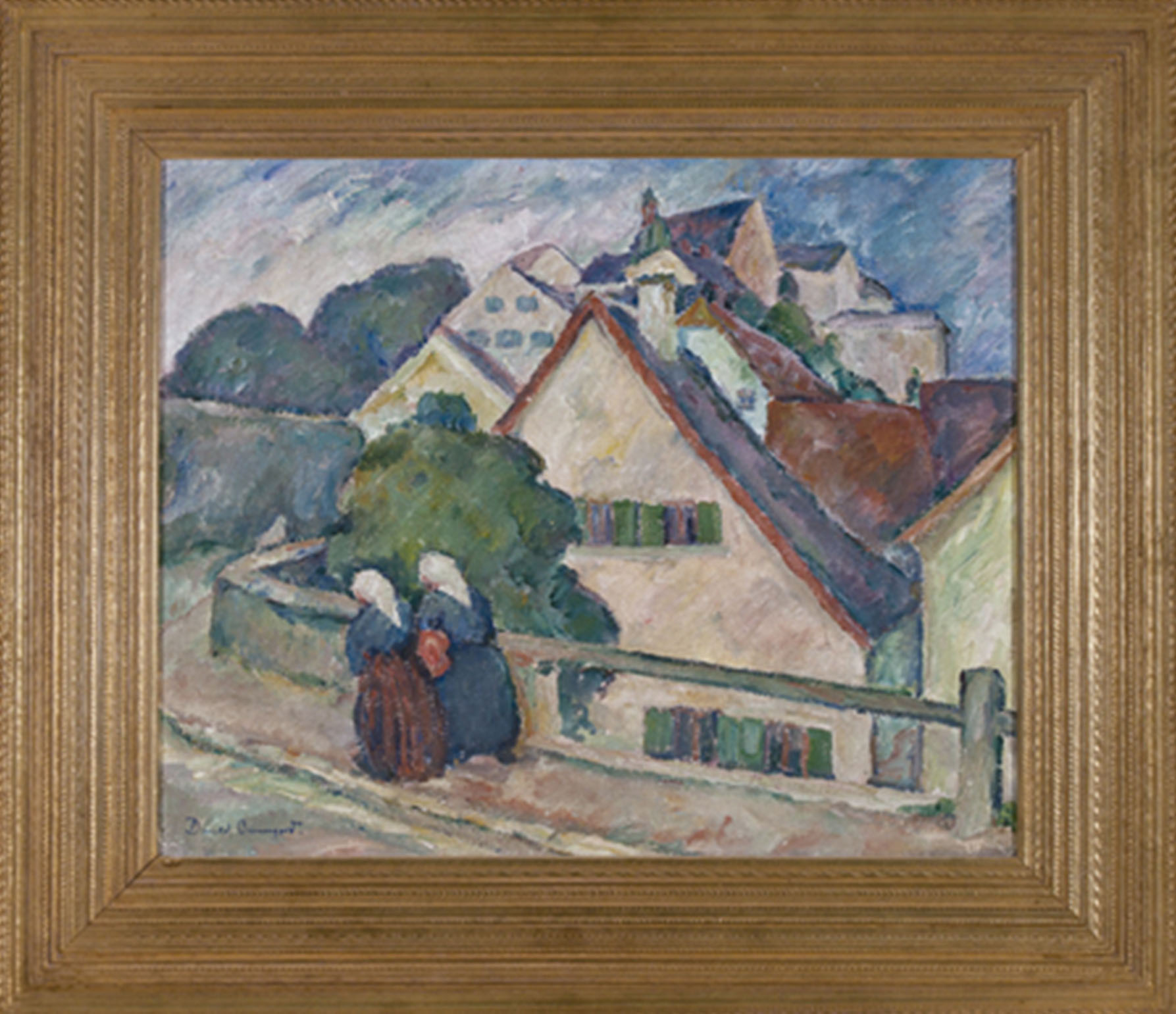 He spent time painting in Douarnenez, a fishing village in Brittany, and then in Leysin, Switzerland, seeking a pristine experience of nature and wanting to develop "an individual note" in his style. These were his most productive and experimental years; the work from this period are strikingly innovative in comparison to his American contemporaries.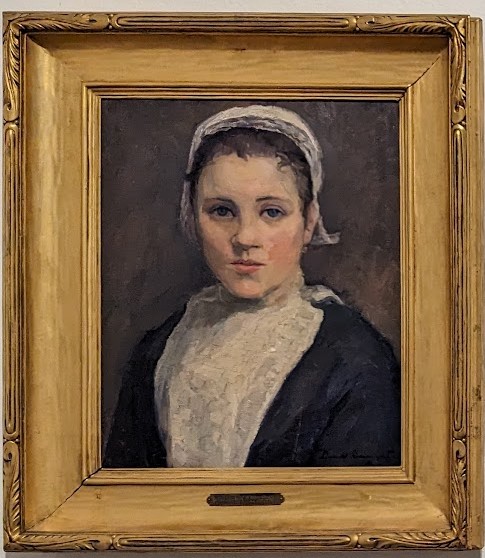 "Easel painting continued to be a vehicle for experimentation, and Beauregard's style became increasingly expressive. He explored historical subjects and mythology for the first time in his career, preferring visionary and imaginative themes of romanticism." (gallery text)
---
Edgar Lee Hewitt, who was also the founder and first director of the Museum of New Mexico, asked Beauregard to develop mural designs for the New Mexico Building that was to be constructed for the 1915 Panama California exposition in San Diego, and he suggested that the artist solicit similar commissions from other states. As a result, Beauregard switched his focus to mural decoration, making a few trips to Italy to study Renaissance frescoes and other masterworks, including the work of Fra Angelico. He also studied contemporaries such as French artist Pierre Puvis de Chavannes.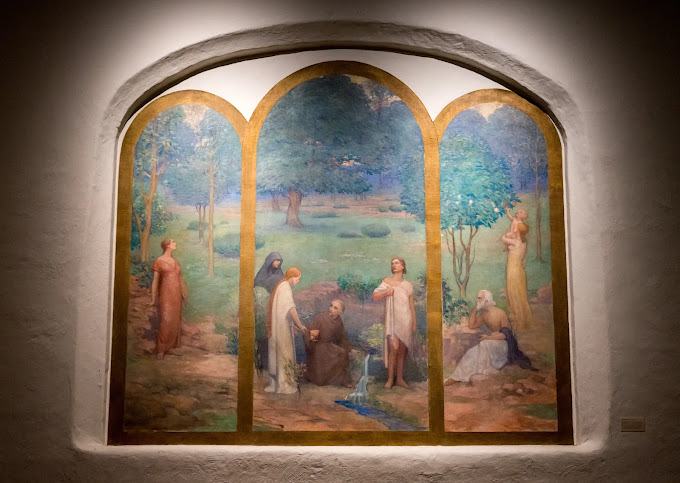 To prepare for the project, Beauregard immersed himself in the writings of St. Francis and visited European locations connected with St. Francis.  In an article in 1917, El Palacio magazine said, "Being decidedly modern in his trend, a superb colorist, he conceived a St. Francis without the traditional halo, without the stigmata and insignia that are characteristic of most paintings of this holy man. He represented him as a very human young noble…"
By 1913 Donald Beauregard's health had begun to fail and he moved to Santa Fe, where he hoped to complete the New Mexico Building commission. Sadly, he was diagnosed with cancer a year later and he returned to his family home in Utah, where he died in May, 1914. He left the mural commission unfinished, but artists Kenneth Chapman and Carlos Vierra were brought in to finish the work. The mural cycle now hangs in the New Mexico Museum's St. Francis Auditorium.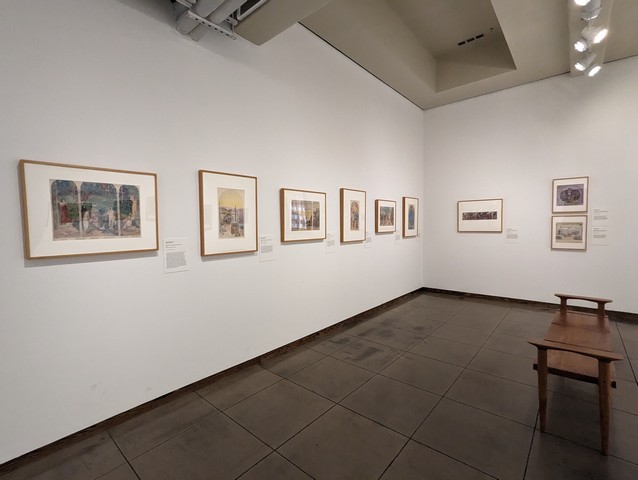 Although Beauregard didn't have time to fully develop his talent, with his studies in Europe he developed strong impressionist and cubist tendencies, bold brushstrokes, and a love of color. His work has been called "muscular." After his death, Beauregard's patron, Frank Springer, said of him: "In the opinion of every competent observer …, American Art lost one of its brightest lights."
---
Hmmm … maybe it's time to plan a little trip …
An American in Paris, on through October 22, 2023
New Mexico Museum of Art
107 West Palace Avenue, Santa Fe, NM
505-476-5072
---
Art Things Considered is an art and travel blog for art geeks, brought to you by ArtGeek.art — the only search engine that makes it easy to discover almost 1700 art museums, historic houses & artist studios, and sculpture & botanical gardens across the US.

Just go to ArtGeek.art and enter the name of a city or state to see a complete interactive catalog of museums in the area. All in one place: descriptions, locations and links.
Use ArtGeek to plan trips and to discover hidden gem museums wherever you are or wherever you go in the US. It's free, it's easy to use, and it's fun!
© Arts Advantage Publishing, 2023