The term self-conscious takes on a particular meaning in this era of social media, with millions of off-the-cuff selfies posted every day. But this exhibition shows us that to paint or draw ones self-portrait requires self-consciousness of quite a different sort.
A travelling exhibition created to commemorate the National Portrait Gallery's 50th anniversary, Eye to I brings together 60 indelible self-portraits by some of America's iconic artists of the 20th and 21st centuries, from every decade, starting in 1901 and continuing through 2015. The national tour kicks off at the Boca Raton Museum of Art, March 24 through June 14, 2020.
"These artists looked inward in ways we can connect with in our modern time. They created a lasting mirror effect for future audiences that most of them could not have foreseen," says Irvin Lippman, the executive director of the Boca Raton Museum of Art. "[They] steered self-portraiture away from the traditional poses of the past into new realms of self-reflection. Their self-depictions cut across time through multiple pathways of creating art that ring true today," Lippman adds.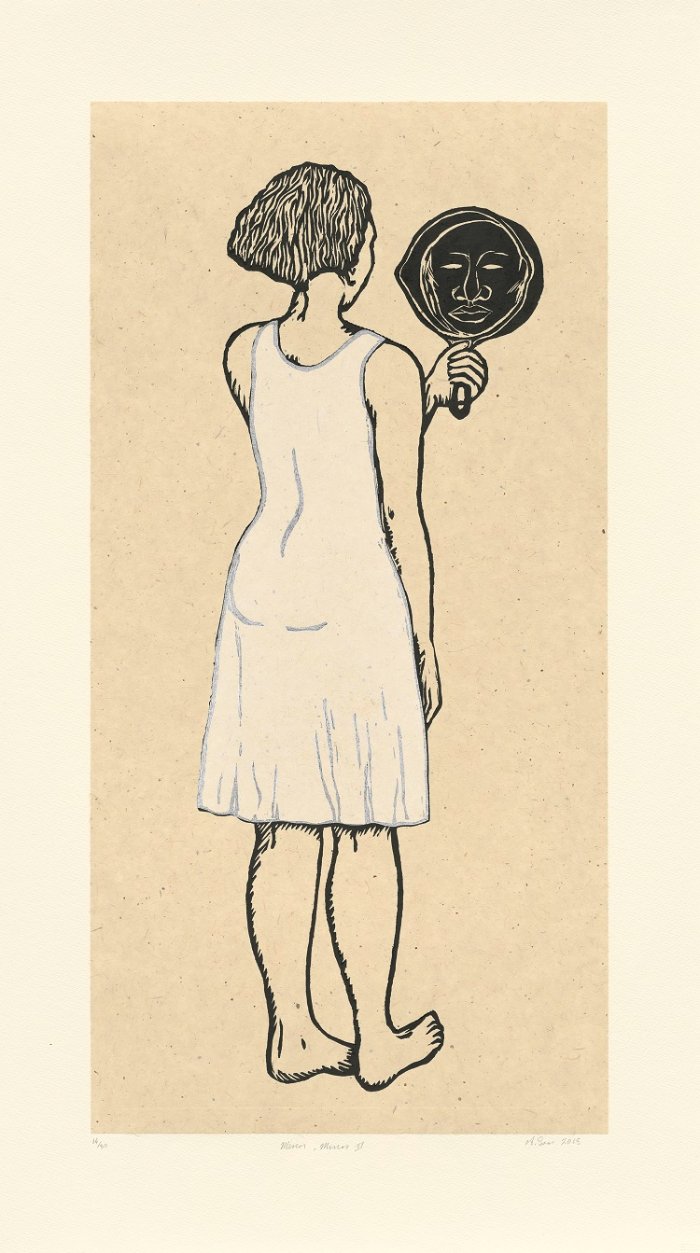 The show includes works by some of art history's prominent American artists, as they turned their perceptive eyes on themselves. The list runs from Edward Steichen and Edward Hopper, through Deborah Kass, Elaine de Kooning, Alexander Calder, Irving Penn, and composer George Gershwin (who was also a painter) to contemporary artists Ana Mendieta, Chuck Close and Alison Saar — and many more.
This star-studded roster tells us that the works cover a wide range of styles and media, ranging from caricatures to photographs, from colorful watercolors to dramatic paintings and time-based media. The exhibition traces the revealing process of self-portraiture, from gazing into the mirror to looking into the camera; from painted and drawn surfaces to mechanical reproductions such as prints and photographs; from static forms to video.
---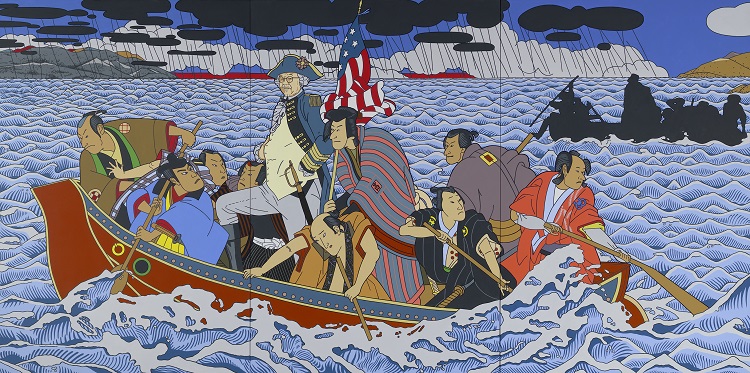 The first thing visitors will see as they enter is Roger Shimomura's monumental work, Shimomura Crossing the Delaware. The mammoth painting takes up an entire wall. During World War II, Shimomura and his family were imprisoned at an internment camp, so he was deeply familiar with the widespread xenophobia occuring at that time in the 1940s. In the painting, Shimomura cast himself as George Washington and replaced the Revolutionary soldiers with Samurai warriors, while a silhouette of the original painting by Emanuel Leutze haunts the background.
"These individuals have approached self-portraiture at various points in history and using different tools, but their representations ─ especially when seen together ─ all raise important questions about self-perception and self-reflection," says Brandon Brame Fortune, chief curator at the Smithsonian's National Portrait Gallery.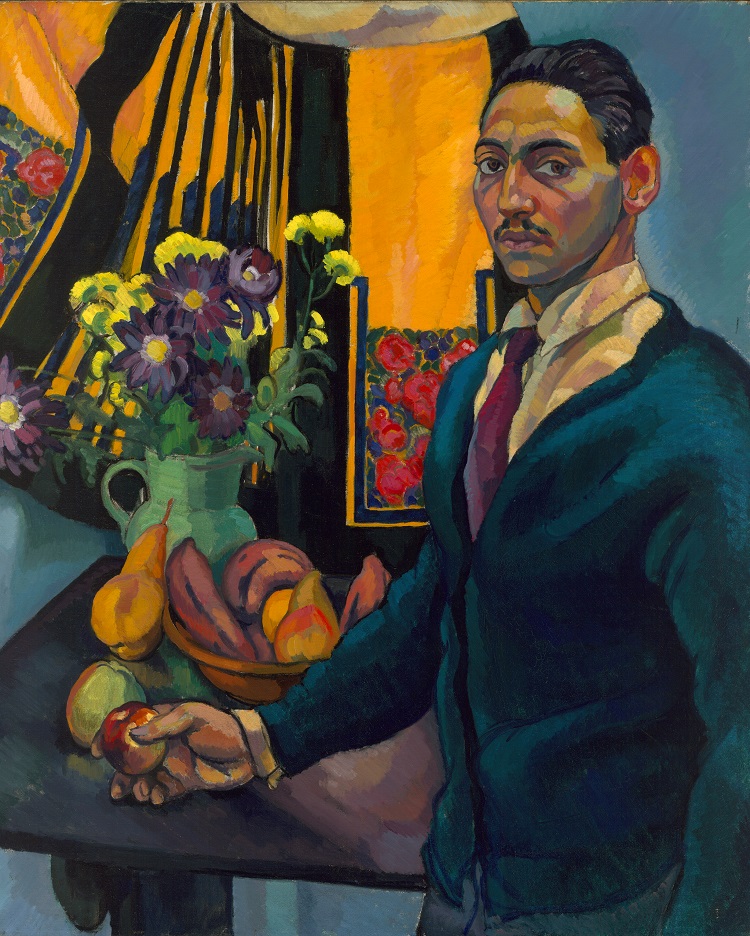 "Some artists reveal intimate details of their inner lives through self-portraiture, while others use the genre to obfuscate their private selves or invent alter egos," she adds. The examples selected here show different ways painters choose to depict themselves, sometimes posturing, sometimes baring all, and sometimes simply documenting themselves as artists.
In his sinewy Self Portrait with Rita, Thomas Hart Benton evokes the type of posturing so prevalent on Instagram today. He was fascinated with Hollywood and here channeled his inner movie star. He had recently seen Douglas Fairbanks in the 1924 film, The Thief of Baghdad.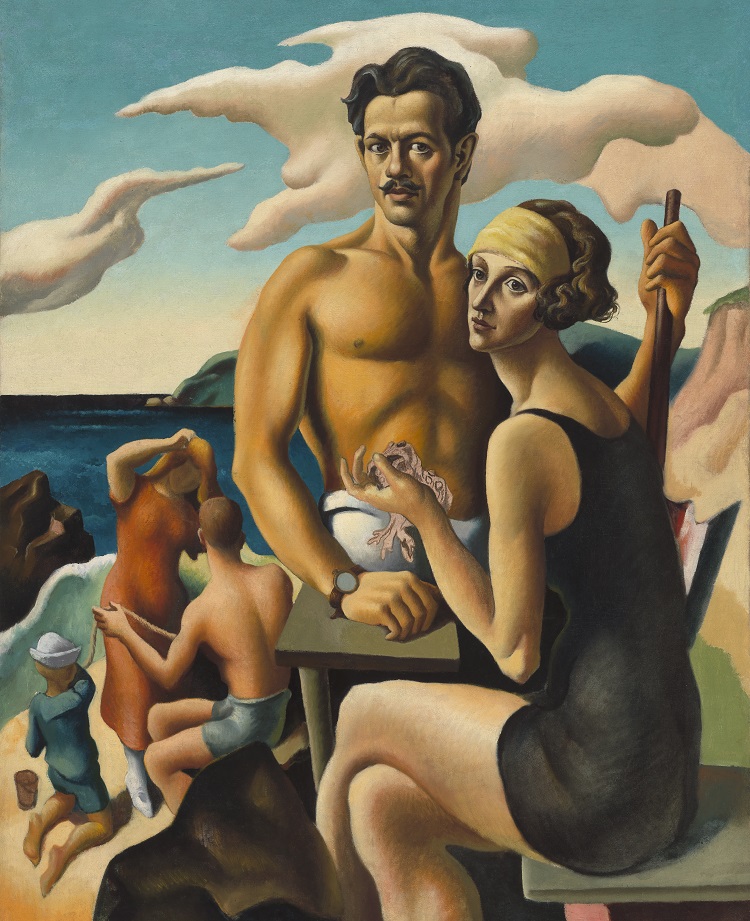 In 1975, Alice Neel began her shocking, endearing, and utterly unconventional self-portrait that took her five years to complete. She foreshadowed by decades the use of "this is the real me" selfies to challenge gender and body-image stereotypes. Neel took on the history of male artists depicting nude women and flipped it around completely, with absolute control of her image.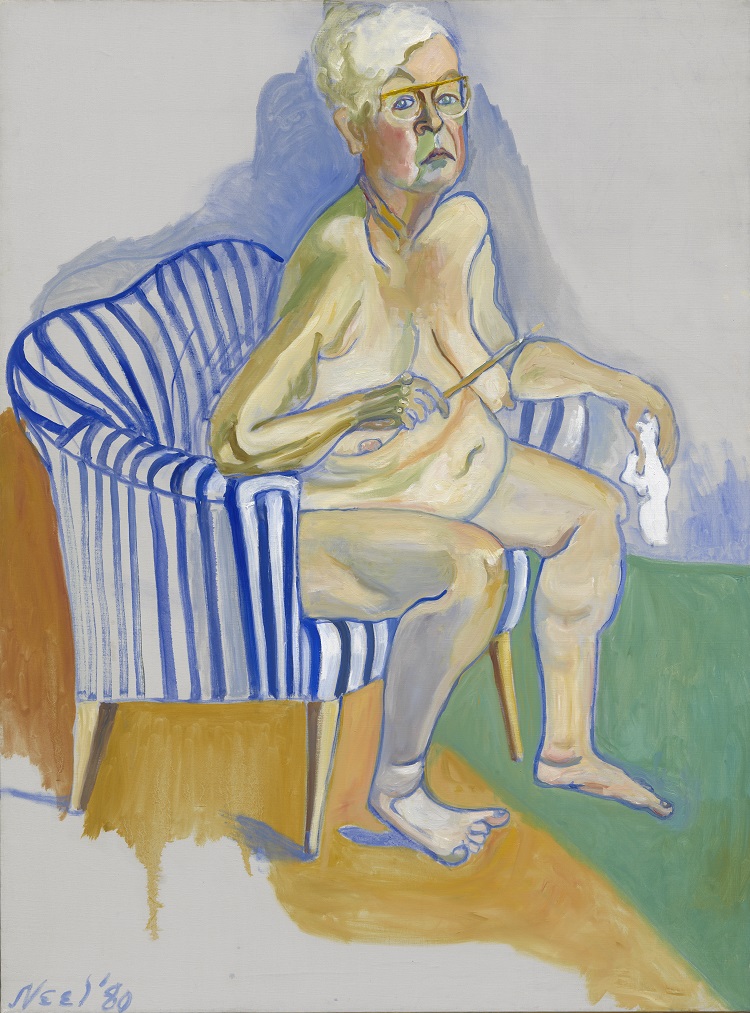 Chosen as the cover for the exhibition catalogue, Maria Magdalena Campos-Pons used her own body to map out feelings of translocation from place to place. The bilingual title of the series is part English, part Spanish — meaning When I am not Here, I am There. She stands with her eyes closed, as though transported between territories while holding on to her Afro-Caribbean talismans.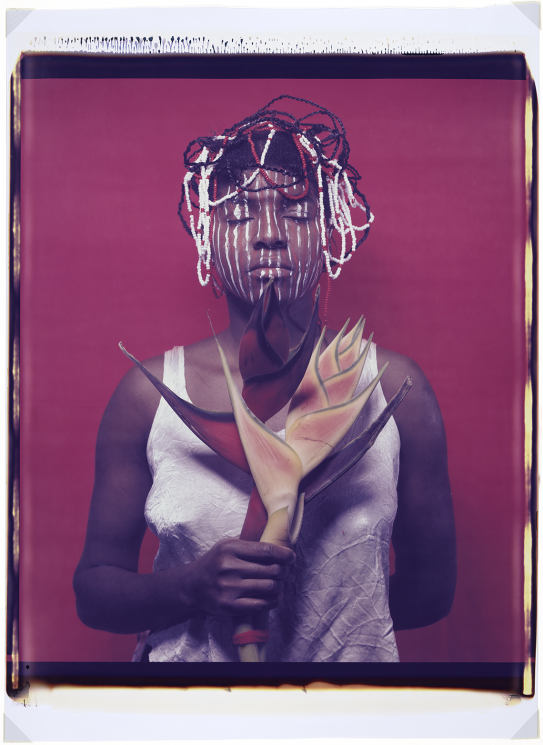 The exhibition represents people at different points in their life journey – including the end. Self Portrait with Grey Cat was the last self-portrait by Fritz Scholder before his passing, made in 2003 when he was battling complications brought on by diabetes. The dark, moody canvas features the artist boldly facing the viewer as he leans on his cane. His eyes are covered by tinted glasses, and the tubes from his oxygen tank are visibly running from his nose to the ambiguously shadowy floor, which has been described as a reference to the "shadow of death."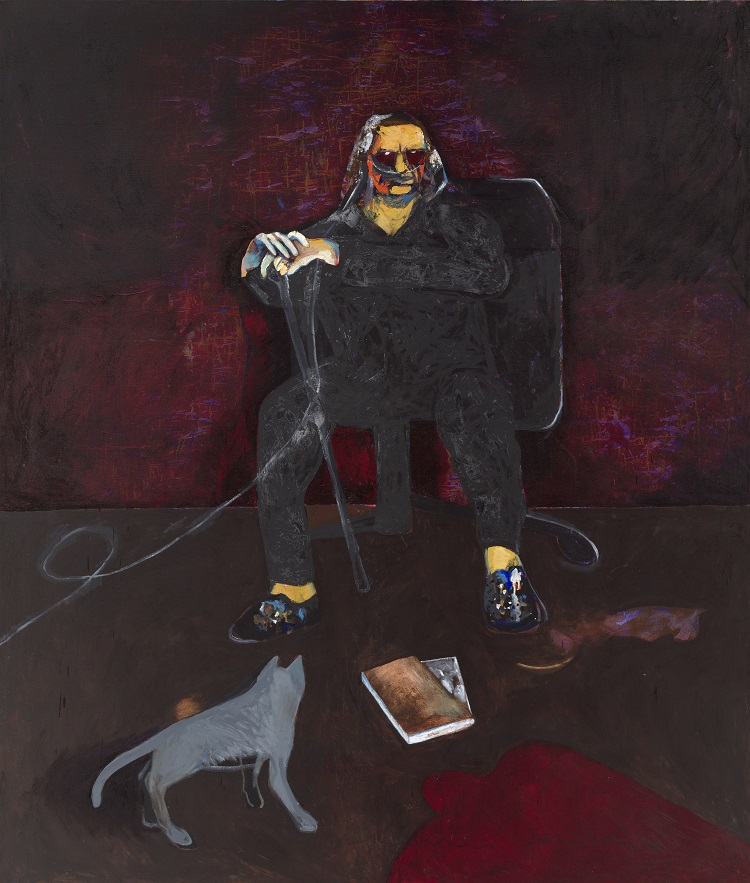 James A. Porter founded the field of African American art history. He chaired Howard University's Art Department and directed the university's art gallery from 1953 until his death in 1970. He studied in France, Cuba, and Haiti and traveled in West Africa, Egypt, and Brazil. These trips abroad impacted his work, including this self-portrait which conveys the influence of Parisian artists.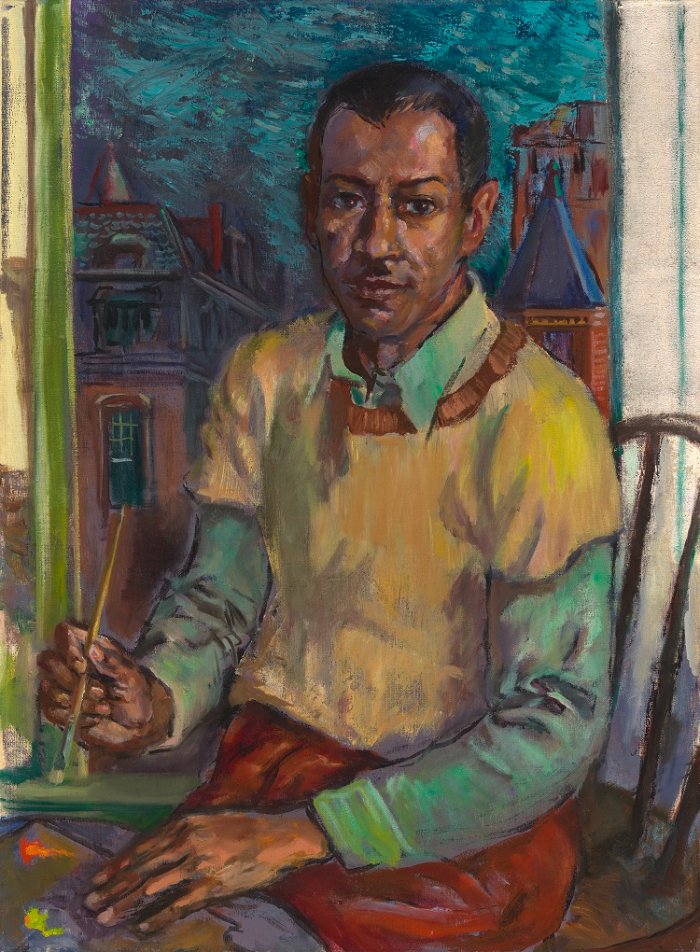 Eye to I: Self-Portraits from the National Portrait Gallery features a nicely illustrated companion volume with an introduction by Brandon Brame Fortune and nearly 150 entries about key self-portraits in the museum's collection.
Following its run in Boca Raton FL, the exhibition travels to Albuquerque NM (July 11 – Sept 20, 2020), Springfield MO (Oct 17, 2020 – Jan 17, 2021), and Corpus Christi TX (Feb 11 – May 6, 2021).
Boca Raton Museum of Art
501 Plaza Real, Boca Raton, FL
561-392-2500
Hmmm … maybe it's time to plan a little trip?
Banner image: Elaine de Kooning Self-Portrait. Oil on Masonite (1946). National Portrait Gallery, Smithsonian Institution
Art Things Considered is an art and travel blog for art geeks, brought to you by ArtGeek.art — the search engine that makes it easy to discover more than 1300 art museums, historic houses & artist studios, and sculpture & botanical gardens across the US.