Reuben Garrett Lucius Goldberg is not a name everyone would recognize. But drop half the letters and it becomes an adjective in the dictionary!
Every English dictionary has a "Rube Goldberg" entry. Ours says, "ingeniously or unnecessarily complicated in design or construction."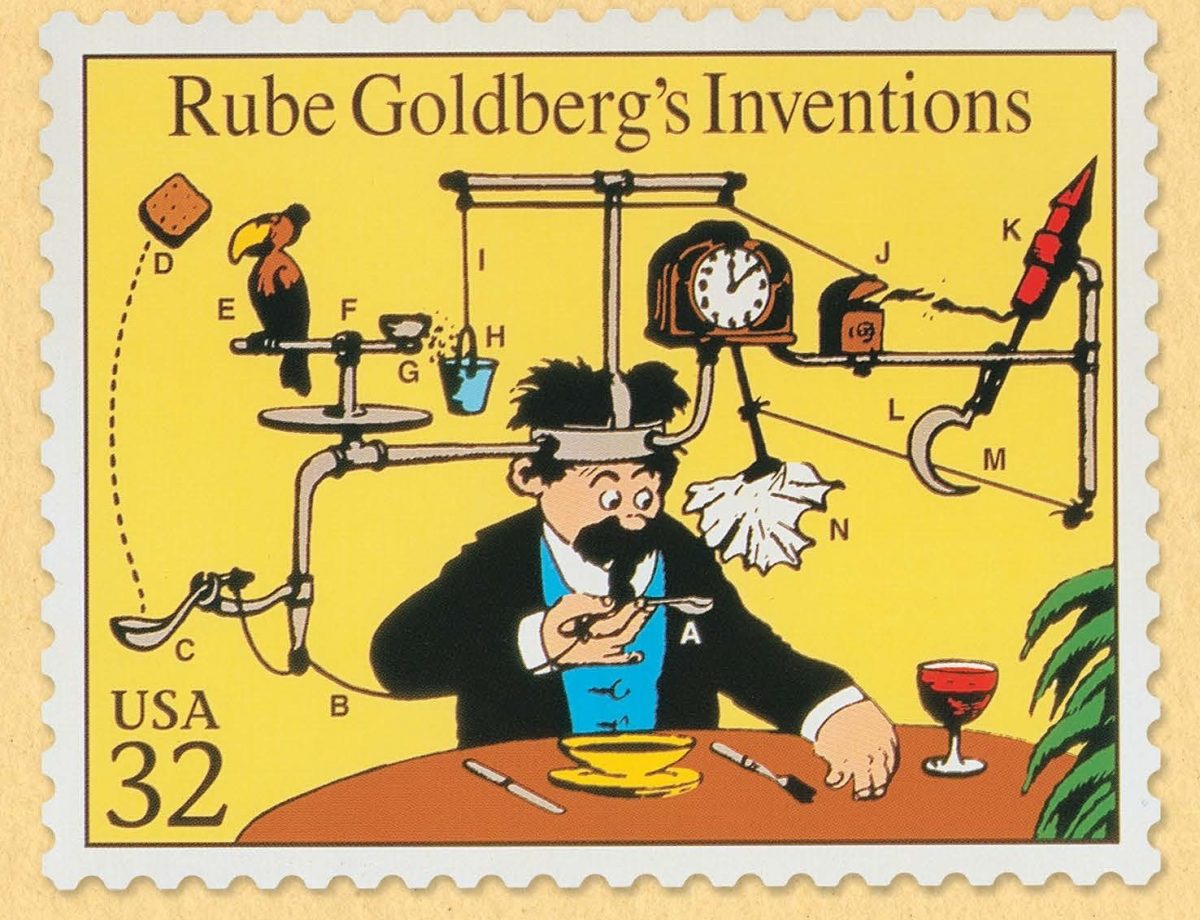 You know his name, you know his whacky contraption illustrations, you may even recognize his cartoons. But what do you know about Rube himself?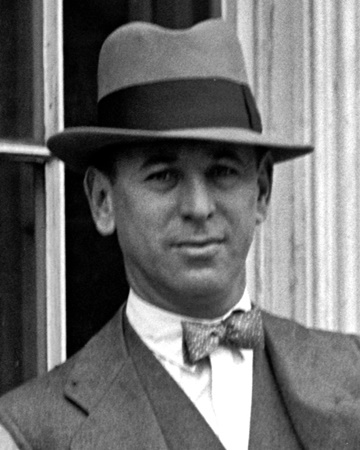 Born in San Francisco in 1883, Rube Goldberg studied engineering at UC Berkeley. When he graduated in 1904, he got a job mapping water mains and sewer pipes. "I studied engineering because my father thought that all cartoonists were, you know, good-for-nothing," he said in a 1970 interview.
But he always loved drawing – as a kid he took art lessons from a sign painter – so, after six months he quit his unfulfilling job and became a cartoonist. After a stint as a sports cartoonist at The San Francisco Chronicle, in 1907 he moved to New York to ply his trade. New York City to him was "the front row." Success came quickly, and national syndication of his cartoons made him famous and very well-off. By 1922 he was earning a jaw-dropping $200,000 a year, reaching millions of viewers.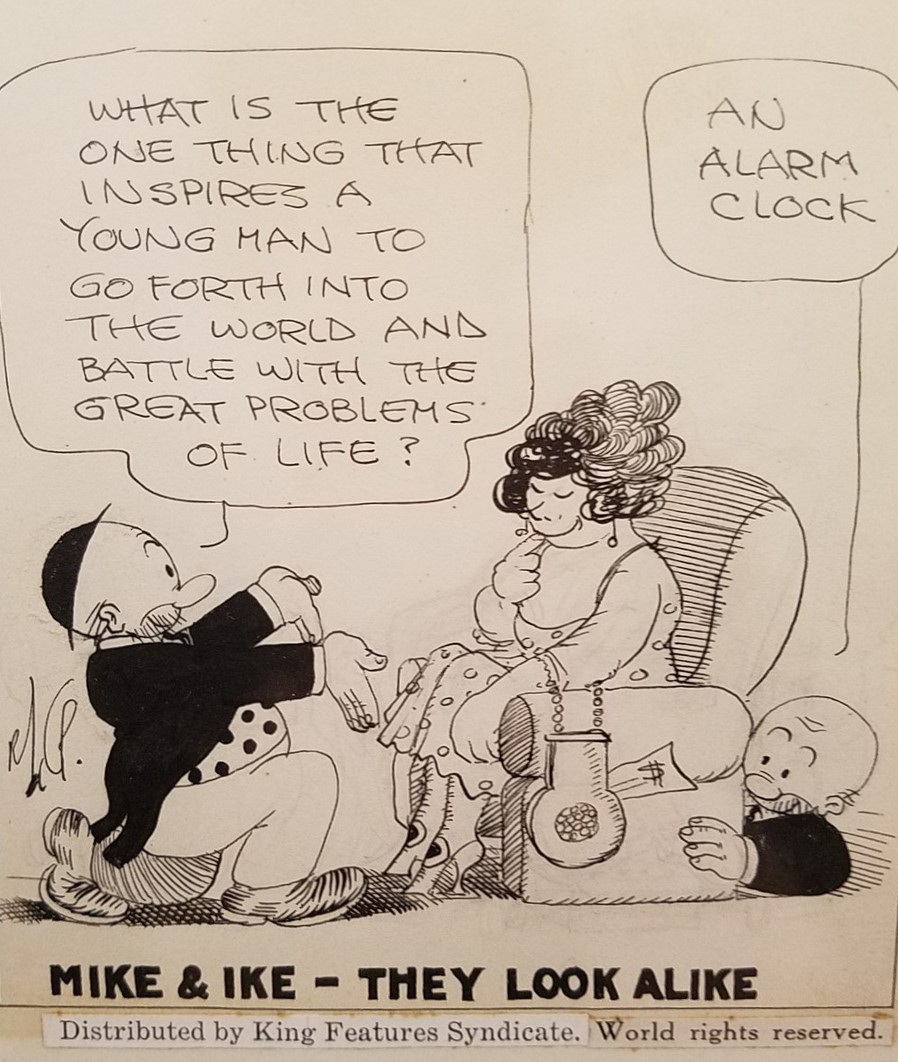 He was surprised by his fame. "I incorporated those [chain reaction machine inventions] in my regular cartoons and, for some reason or other, they were taken up. They stood out and I'm typed as an inventor; I'm a crazy inventor … and my name is in the dictionary and I'm very pleased," he once said.
In the mid 19-teens he started to draw the complex contraptions which brought him lasting fame. The younger you are, the less likely you are to recognize his now old-fashioned cartoon style … but the Rube Goldberg Machine lives on.
We visited the Queens Museum with high expectations for the exhibition, The Art of Rube Goldberg (on through February 9th, 2020).
Much of the exhibit consists of Rube's cartoons, framed. Imagine walls lined with sheets of intricately-drawn comics with small-font storyline text, apparently hung by a very tall person. We quickly tired of standing on tip-toe, focusing on tiny writing, light reflecting off glass. We soon stepped back to simply appreciate the overall sense of Rube's output.
Early on we began to think this was a case where "the book is better than the show." We thought wistfully about sitting in a comfortable chair with the companion publication in hand, chuckling over all these once-upon-a-time-hugely-popular cartoons. Such an amusing window into what seems to us today to be simpler times.
Fortunately, there was much else of interest in the exhibition to keep us engaged and glad we came.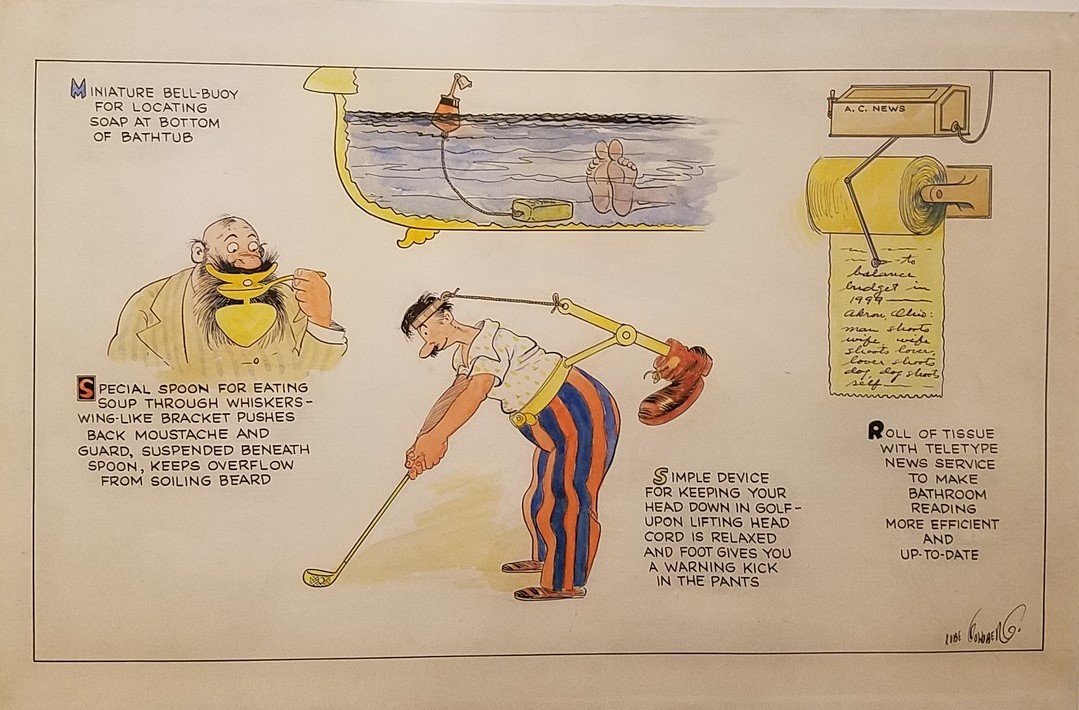 There were fewer invention drawings than we had hoped for, but those that were there delighted. Wall text provided historical context for Goldberg's parodies of an increasingly automated world:
"During Goldberg's lifetime, technology changed dramatically: the horse and buggy made way for the automobile; handwriting for typeface; and hand illustration for photography. Telephones, motion pictures, and airplanes: the Machine Age had arrived. Goldberg's slapstick humor, together with his background in engineering, made him uniquely suited to riff off technology's promise to simplify and fulfill daily lives."
A finely executed ink drawing of a violinist demonstrates the depth of Goldberg's artistic talent. To learn that he produced it when he was just 12 was astonishing!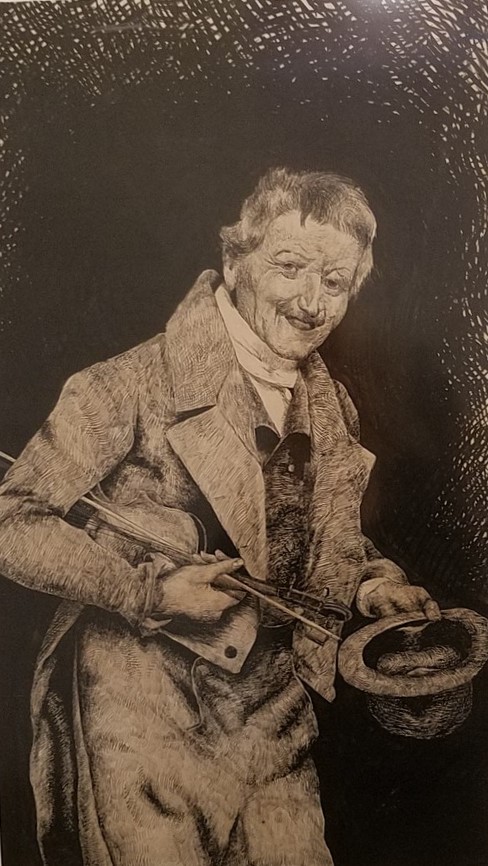 Another surprise: Goldberg wrote the first Three Stooges movie, Soup To Nuts. He designed many set pieces and furniture for the film, too, and even appeared in a cameo role. In another film, Modern Times, his inventions took center stage as Charie Chaplin's Tramp struggled to live in new-fangled industrial times.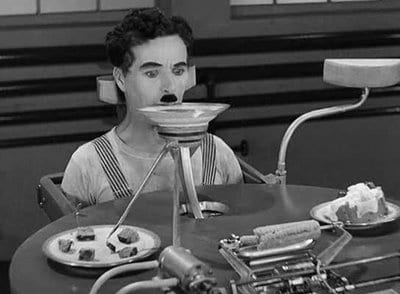 Over the course of his career, Goldberg chronicled almost every notable aspect of modern American life, touching on fashion, sports, gender, politics, and international affairs.
Of political cartoons, Goldberg said they "were easier for me than the inventions because they were almost pure idea, and the draftsmanship relatively simple. I could do two political cartoons a day, but an invention sometimes required a week." Some of his political images were timeless.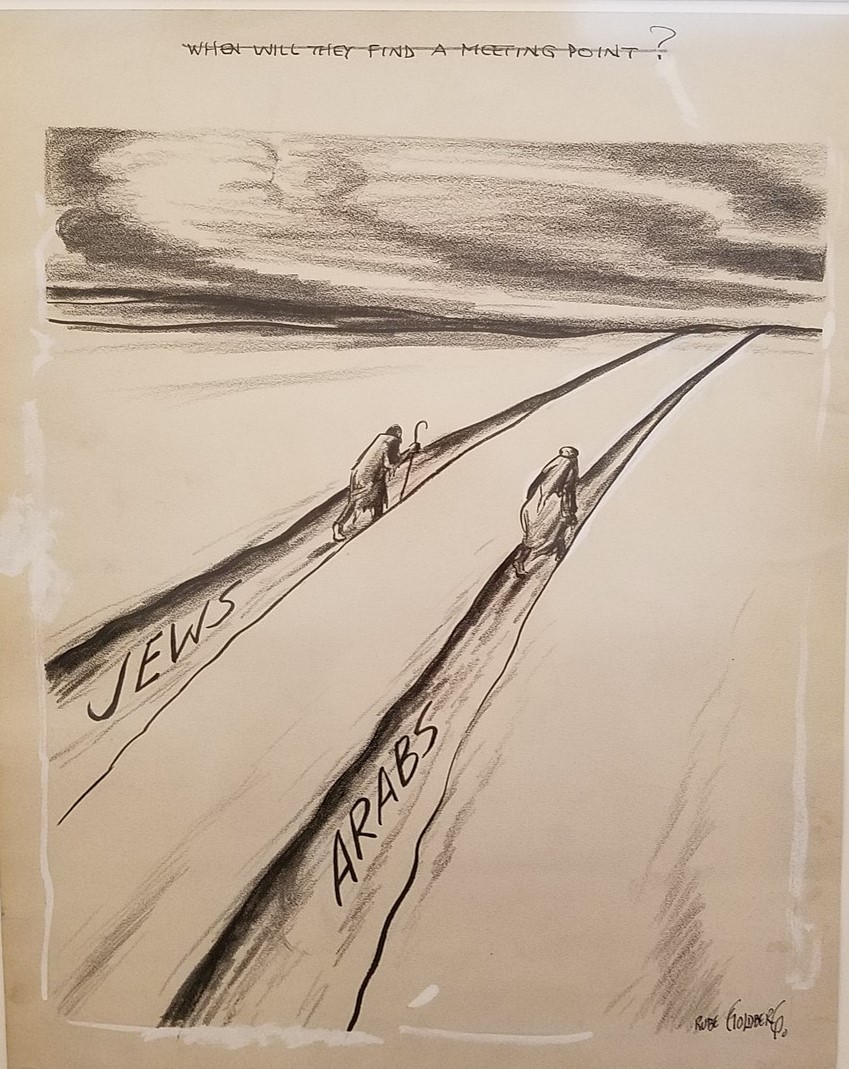 With our need in the modern digital age to keep track of a plethora of security passwords, one cartoon, The Numbers Blues, still resonates today. Substitute "passwords" for "numbers" and it is still on the money!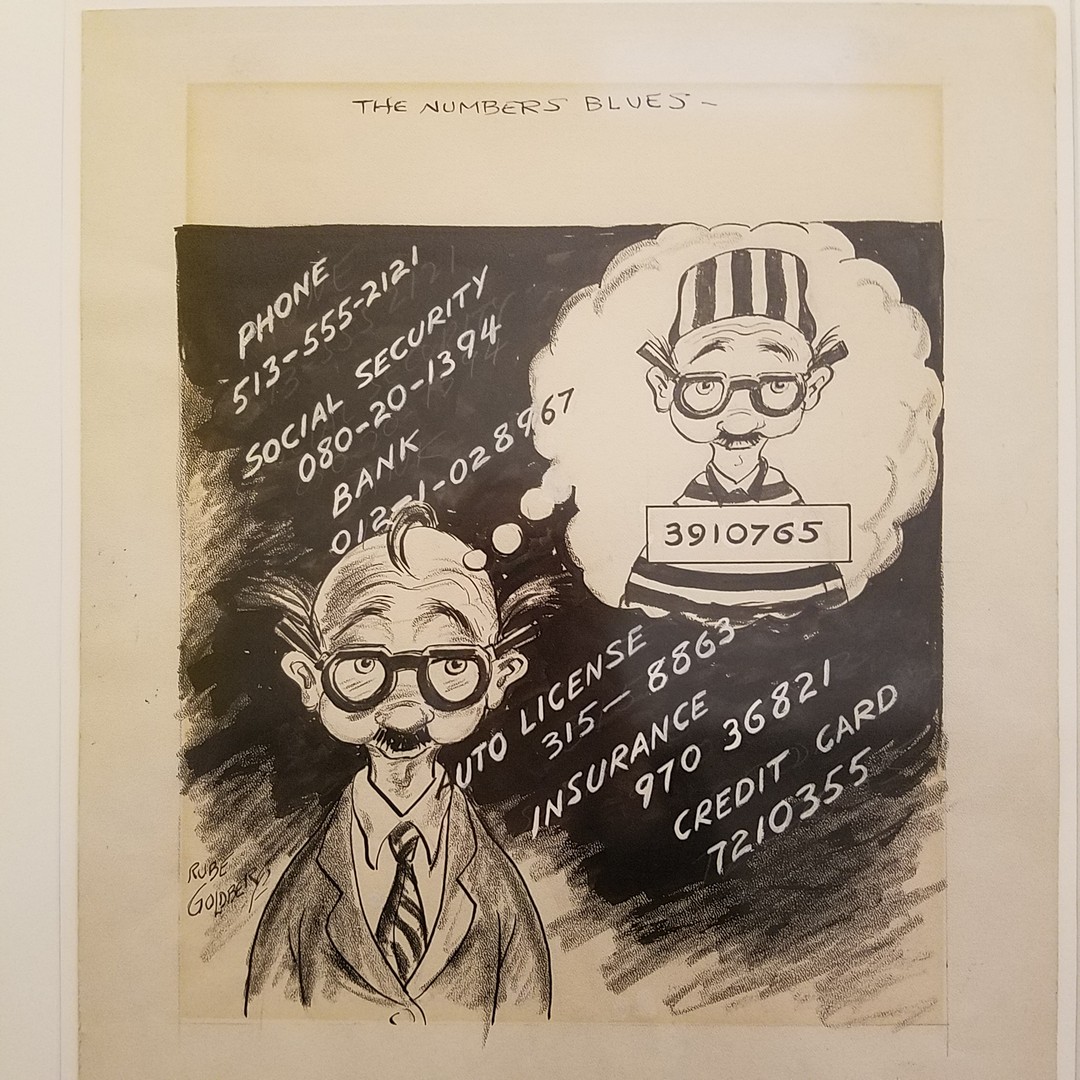 Rube Goldberg's work, usually humorous, sometimes serious, always reflected an insightful, thoughtful intelligence. The man was no rube!
Hmmm … maybe it's time to plan a little trip?
---
If you can't make it to the show — or even if you do go — consider the exhibition companion publication, written by Goldberg's granddaughter. In his 72-year career he wrote and illustrated nearly 50,000 cartoons. The most famous cartoonist of his time, best known for his comical inventions, he was also a humorist, sculptor, author, engineer, and inventor. The book covers his very first published drawings in his high school newspaper and college yearbook to his iconic inventions, his comic strips and advertising work, and his later sculpture and Pulitzer Prize–winning political cartoons. Also included are essays by noted comics historians, rare photographs, letters, memorabilia, and patents. Brilliantly designed and packaged to capture the inventiveness of Rube Goldberg's work, The Art of Rube Goldberg is a coffee table book the whole family will enjoy.
---
The Queens Museum
Flushing Meadows–Corona Park, New York City, NY
718-592-9700
Art Things Considered is an art and travel blog for art geeks, brought to you by ArtGeek.art — the search engine that makes it easy to discover more than 1300 art museums, historic houses and artist studios, and gardens across the US.
Featured headline image: Entrance to The Art of Rube Goldberg exhibition. Newly-commissioned, viewer-operated multimedia machine, inspired by Goldberg's invention drawings.